August 2020 Newsletter
Dear Members,
The summer is in full swing, and I hope you are enjoying yourselves!
On July 17th we lost a pillar of our society, John Lewis. He fought for the rights that many of us take for granted, like the right to vote and to protest peacefully. Both of these important markers of a free democracy are being put to the test right now. As  our former president, Barack Obama, said at the powerful memorial of John Lewis: "….we now all have our marching orders – to keep believing in the possibility of remaking this country we love until it lives up to its full promise." Let's work together to make this possibility a reality!
Every Vote Counts Campaign
Democrats Abroad Germany is reaching out to all our members to cover costs in reaching the 120,000+ US citizens living in Germany. Every Vote Counts covers postage, online ads, social media ads and print ads in military papers. The first ad are running in the Stars and Stripes now.
We need your help! Can we count on you to transfer a donation to the DAG account, no matter how small, to support us in getting the word out? It would be much appreciated!
Please transfer your donation to:
Democrats Abroad Germany
DE04 5405 0220 0140 2702 99
Verwendungszweck: Every Vote Counts
Meet, Greet and Mobilize
As the November 3rd election looms ahead, there are many ways you can support us in getting more fellow Americans to the polls and requesting their absentee ballots.  Here are a few ways you can stay in touch and help our cause:
phone banking: unsure of what phone banking is all about? get started by taking our phone banking training on August 5, 2020
handing out voting information
hanging up tear-off sheets
coloring postcards
join on-line meetings on Zoom
help with local Vote From Abroad info stands
join us for our upcoming Letter-writing Meetup/Social Event in Bad Canstatt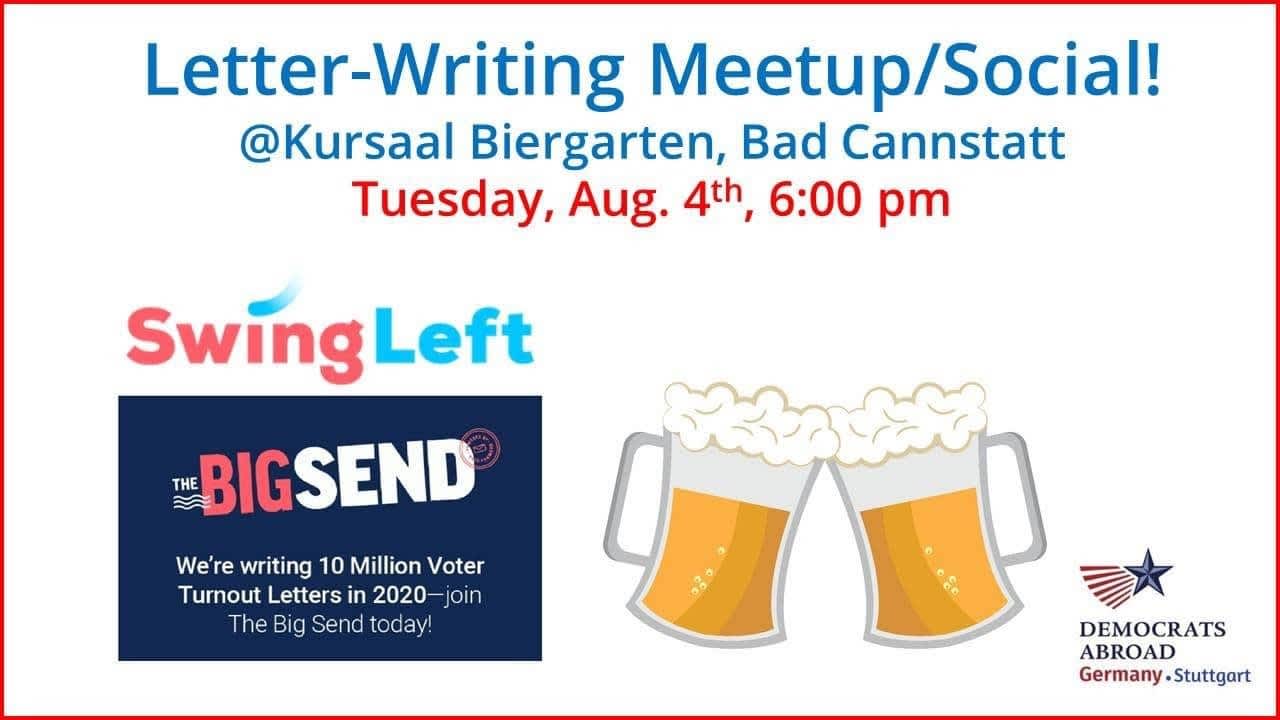 If you're curious about other ways you can get involved, go to HELP2020 at the Democrats Abroad Germany webpage.
And if you haven't done so, go to  Vote From Abroad to request your absentee ballot. Count on delays, so get your ballot in the mail as early as possible! Democrats Abroad Global has a Voter Protection Team working hard to make sure your ballot arrives on time and is counted.
If you need assistance requesting your ballot or you have other voting-related questions, drop in every Sunday for direct one-on-one help.
Join the Election Protection Team
We have all sorts of great merchandise! From masks, totes, T-shirts, cups to window signs, plus much more! Order now to help reach more US voters and support the cause!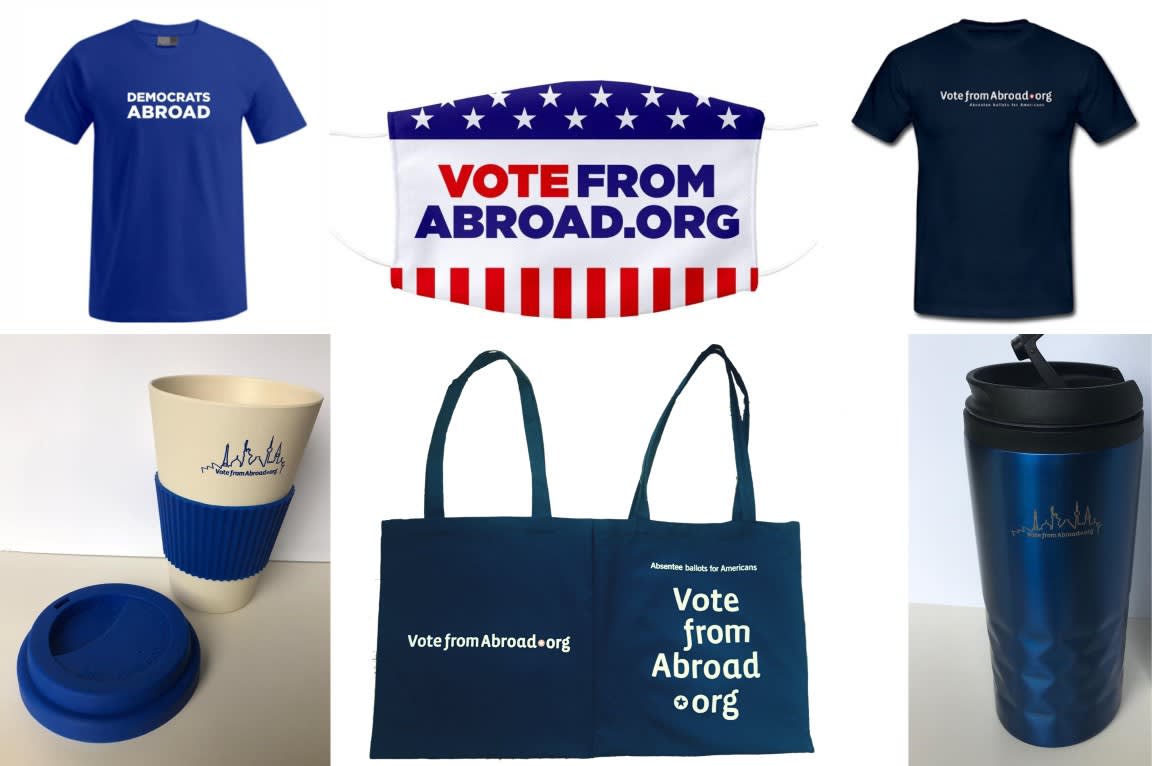 ►Order now, gear up to reach more American voters abroad. 
Upcoming Events:
Voter Registration Training
Mon., August 3, 2020, 7-8:30 pm
Online Zoom call (RSVP for link)
Letter-writing Meetup/Social Event
Tue., August 4, 2020Bad Cannstatt
Phonebanking Training
Wed., August 5, 2020, 5 pm
Online WebEx meeting (RSVP for link)
Vote From Abroad Info Stand
Sa., August 29, 2020 from 12-3 pm
Am Elbenplatz, in front of the coffee shop Frechdax
(please RSVP if you have time to help!)
Thank you to all of you who have volunteered! We couldn't do it without you! If you have time and would like to support us, please get in touch. Just like every vote counts, so does the tremendous effort of every volunteer!
In the words of John Lewis: "Be bold. Be courageous. Never be afraid to speak up and speak out." May his grace, his kindness and his dignity be with us as we face the challenges ahead.
Do you like this post?