Democrats Abroad Stuttgart Chapter
September 2021 Newsletter
"It was the worst day we have ever seen, but it brought out the best in all of us." -Senator John Kerry
This year we commemorate the brave heroes of 9/11 for the 20th time. We pay tribute to the thousands who lost their lives, the scores of first responders who valiantly tried to rescue as many people as possible, the hospital workers, families and all those who tried to help make sense of the bitter tragedy. They shall never be forgotten.
The American Military Community in Kaiserslautern/Ramstein is working to collect donations in order to support those who have been recently evacuated from Afghanistan. The drop-off is at Ramstein Air Base, Building 1123. If you would like to support the evacuees, these are some of the items that are needed: 
*adult flip-flops, socks, conservative undergarments,   *disposable underwear for women, warm clothing
*feminine hygiene products (NOT tampons!)
*baby food (no glass containers, no meat)
*baby & toddler formula
*baby spoons, powder, diapers, wet wipes, pacifiers,    plastic bottles, sip cups
*kids socks, underwear, warm clothing
For more information you can contact the [email protected]
DA State Teams are meeting virtually on September 12th at 3 pm. Some of the discussion points will be outreach, fall events and exchanging ideas for future projects. Join this lively group to help build a community of activists working to get out, protect and defend the vote! For more information, please contact Jennifer von Estorff: [email protected]
Stuttgart Chapter Meeting: will be held on Thursday, September 16th at 8 pm. Please contact me for the meeting link.
Since Oktoberfest is not taking place this year, we decided to celebrate Oktoberfest virtually! There are two events planned that give us the opportunity to have fun together, meet members from other chapters and socialise online.  
DAG will also be hosting an Oktoberfest prize draw and silent auction. Every chapter is putting together a basket of donated goodies, so your donations for our Stuttgart Chapter basket are highly appreciated! 
Items we would like to add to our Stuttgart basket can be anything, such as American (Halloween) candy; unique products from Baden-Württemberg; funny, politically themed trinkets; a voucher for something you specialise in or have to offer (translation work, legal expertise, vacation home use, etc.); fine wines, etc. etc. Please contact me at [email protected] if you would like to donate something for our chapter basket!
If you are interested in joining one of our varied caucuses, these are a great way to connect with people from different chapters that have similar interests. Many events are planned online with the Climate, Progressive, Black and Veterans & Military Families Caucuses, to just name a few. If you are interested or would like to get involved, please send an email to [email protected].
We also have a new postcard coloring campaign! We are starting to stockpile the newly designed postcards to be sent out to all DA Germany members to remind them to register early for the 2022 mid-term elections. If you would like to get creative and support our cause, please reach out to me at [email protected] to request a stack of blank cards!
If you would like to support DAG, you may donate to us directly (Democrats Abroad Germany, IBAN DE04 5405 0220 0140 2702 99) or support our cause by buying some of our awesome merchandise!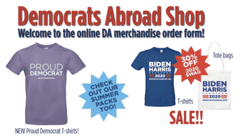 Wishing everyone a great fall,
Sasha Arrington
Stuttgart Chapter Chair
Democrats Abroad Germany 
Do you like this post?