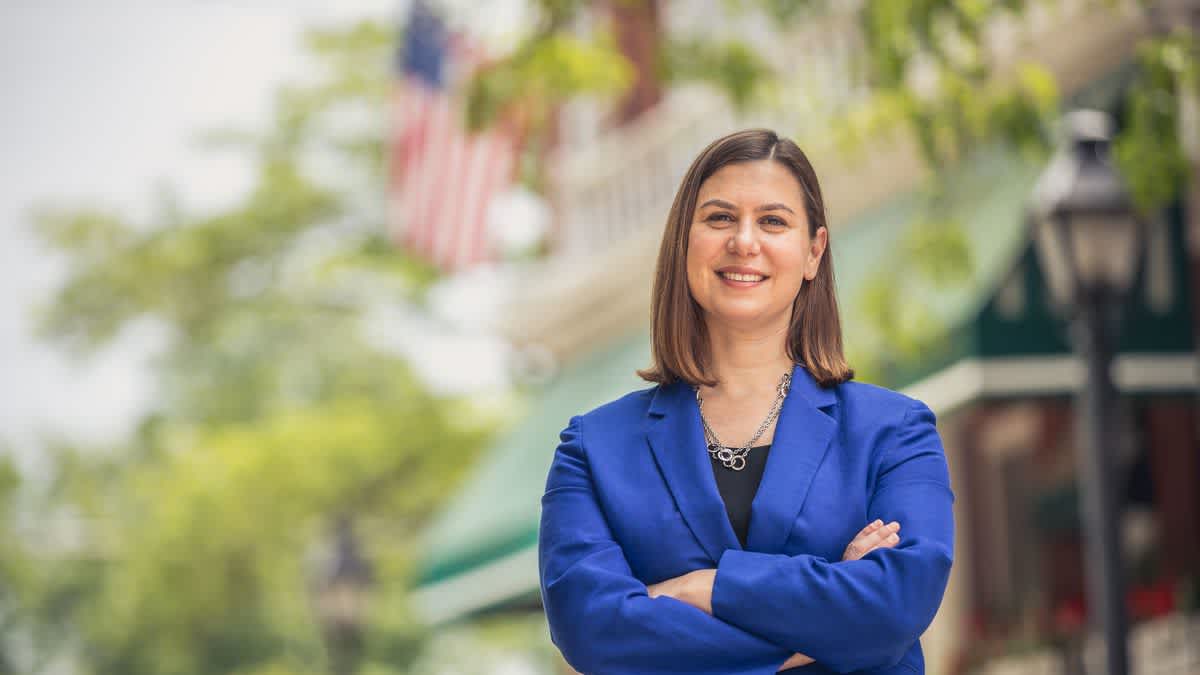 WHO IS SHE?
A freshman congresswoman who has shown she can get things done in Washington DC, Elissa Slotkin is running for re-election in MI-08 on a record of accomplishment. Elissa is an honest-to-goodness Midwestern Democrat with credentials in national security, a moderate persona, and a family farm in Holly. Displaying decency, integrity, and humility in politics is no easy feat this election. However, Slotkin exudes all this and more as Congresswoman. A 3rd generation Michigander, Elissa spent her early years growing up on a working farm in Holly. Her family is well known in the area because her great-grandfather started Hygrade Foods. Based in Detroit, Hygrade created the famous Ballpark Frank that was first sold at Tiger Stadium. Elissa's ties to Michigan run deep and so does her love of country. 
During her first year in grad school, the attacks on 9/11 changed her trajectory from student to CIA. After that dreadful day, she knew she wanted to work in national security. She was recruited by the CIA as a Middle East analyst. In this role, she served 3 tours in Iraq. This led to national security positions under the Bush and Obama Administrations in the White House. Taking on leadership roles in the Department of Defense, Elissa took a straightforward, common sense approach as the acting Assistant Secretary of Defense for International Security Affairs. Serving in the military is a thread that weaves throughout Elissa's family. Elissa is married to Dave, a retired US Army Colonel. Dave was an Apache helicopter pilot and served two tours during Operation Iraqi Freedom. Elissa's two step daughters are serving as well, one as a US Army officer and the other as a VA hospital physician. Today the Slotkin's live in Holly but her work in DC has already changed the lives of her Michigan constituents. 
WHAT IS SHE FIGHTING FOR? 
In her first term, Congresswoman Slotkin worked to pass extensive legislation on a number of issues. She spent her time in Congress working on the concerns that she hears most from people across MI-08: bringing down the skyrocketing cost of prescription drugs, providing opportunities for our veterans, and protecting Michigan's environment and water systems from PFAS, the "forever-chemical" that has been found in hundreds of sites across the state. 
LOWER DRUG COSTS: Congresswoman Slotkin helped pass the bipartisan Real Time Benefits Act and the Lower Drug Cost Now Act –– both of which tackle the out-of-control prices of prescription drugs. The Real Time Benefits Act would allow patients to see the cost of prescriptions, compare generics, and shop pharmacies before they leave the doctor's office. In tandem with the Lower Drug Cost Now Act, which would allow the government to directly negotiate with pharmaceutical companies, Elissa fought and won for her constituents who are paying exorbitant prices for drugs. Unfortunately, both of these bills are sitting on Mitch McConnel's desk and haven't passed the Senate.
SUPPORT FOR VETERANS: Coming from a service family, veteran care is personal to Elissa. She wants to ensure that returning veterans are given opportunities to successfully reintegrate, through more support for education, apprenticeship, and job training. She worked on the bipartisan PAWS Act which helps veterans get connected with service dogs and the bipartisan Support for Veterans in Effective Apprenticeships Act, which will help expand the number of registered apprenticeship programs veterans can access with their benefits. 
CLEANER ENVIRONMENT & WATER SYSTEMS: Living only 20 minutes from Flint, Elissa knows how important clean drinking water is to Michiganders. As part of the annual National Defense Authorization Act, six of her provisions related to PFAS protection, monitoring, and remediation were passed and signed into law by the President. The Department of Defense must stop using PFAS based firefighting foams and National Guard bases will receive funding to support remediation efforts to clean up PFAS because Congresswoman Slotkin worked across the aisle to include these provisions for Michigan families. As a result of her PFAS Monitoring Act, communities across the country will be required to monitor for PFAS contamination. 
WHY HER?
MI-08 is a microcosm of the industrial Midwest. This community echoes the same concerns as many swing state voters across the country. As a MI-08 representative these last two years, Elissa has gone out on listening tours in her community. After thousands of conversations, she knows that the middle class is under direct threat and people are working harder for less. Congresswoman Slotkin will continue to fight to preserve the American Dream in Michigan if re-elected to Congress. 
This year it's a presidential election and all eyes will be on Michigan. A swing state that is leaning blue, particularly after Governor Whitmer went head to head with the White House. Women are leading in Michigan. This district just needs a boost in voter turnout as it will be won on the margins. If you call Michigan's 8th district home, your vote could be the one that wins it for Slotkin.  
HOW CAN I SUPPORT HER?
Get involved with supporting Elissa! Visit her website and follow her on social media for the most up-to-date information on the campaign:
Learn more: elissaforcongress.com
Facebook: Elissa Slotkin for Congress
Twitter: @ElissaSlotkin