"I work every day in Congress to fight for the well-being of my district and our nation."
- Representative Lucy McBath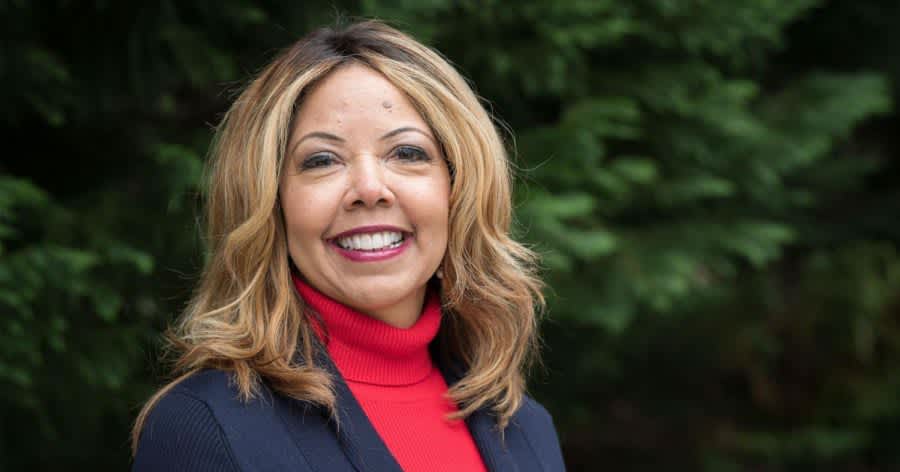 WHO IS SHE?
Lucy McBath is a retired flight attendant-turned-gun control advocate and Congresswoman for Georgia's 6th District. In 2018, Congresswoman McBath narrowly defeated Republican incumbent Karen Handel to become the first African-American to represent Georgia's 6th District.
However, the Congresswoman is probably best known for being Jordan Davis' mom.  Her son, Jordan, was tragically shot and killed in 2012 over an argument at a Florida gas station in what became known as the "Loud Music Shooting."  He was 17 at the time.
After Jordan's death, Congresswoman McBath became a self-described "mother on a mission," channelling her grief into activism.  She became the national spokesperson for Mom Demand Action and Everytown for Gun Safety, spending years advocating to local, state, and federal legislators for common-sense gun reform.
A few factors contributed to her eventual run for office -- the election of Donald Trump and subsequent undoing of gun reform measures.  She initially considered a bid for the Georgia State House in 2017, but after the Parkland shooting at Marjory Stoneman Douglas High School, she decided to step up and run for the US House of Representatives. 
Her victory in Georgia's 6th District against Karen Handel is considered one of the biggest upsets of the 2018 midterms, and the two women are scheduled for a rematch in 2020.
The Cook Political Report classifies this race as a Toss Up.
AN INTERVIEW WITH CONGRESSWOMAN MCBATH ON THE ISSUES & WINNING IN NOVEMBER
What are the key issues of concern for voters in your district and how do you plan to address them?
McBath:  The people of my district care about many different issues but are all united by the common goal of keeping our families safe and healthy. I work every day in Congress to fight for the well-being of my district and our nation. On gun violence, I am proud to have sponsored legislation which became the first major gun safety legislation to pass the house in decades. I also passed legislation closing the Charleston gun show loophole. I have also worked extensively fighting for our veterans. I am proud to have introduced the HAVEN Act, a bill which protects our veterans facing financial hardship. I passed the bill through the House, Senate, and even saw it get signed into law by the President. We've made tremendous strides in the right direction, but we have so much left to accomplish.
Your political identity is closely tied with gun control reform. Can you discuss what your priorities are at the moment on this issue and in the next Congress, if re-elected?
McBath: I am proud to have many accomplishments on gun safety legislation, but I am also proud of my work on healthcare. As a two-time breast cancer survivor, I know the importance of having quality and affordable healthcare. This Congress, I introduced legislation to lower the cost of prescription drugs and ensure healthcare for those with pre-existing conditions like myself. Additionally, I introduced legislation to improve the data collection and interoperability of the CDC with local and state health departments, and I was relieved to see this legislation rushed into the nation's coronavirus response.
The COVID-19 crisis is disproportionately affecting African-Americans, with the CDC reporting that black Americans are 2.5 times more likely to die from COVID-19 than their white counterparts. Can you discuss this disparity of outcomes as it relates to our health care system and what should be done to rectify this problem?
McBath: The COVID pandemic has exposed deep wounds within our nation across racial and geographic boundaries. We must address the longstanding health disparities in this country by approving the quality of our healthcare across the board. When I was receiving chemotherapy for breast cancer - I was fortunate to have some of the best care in the nation. However, I know many others in this country are denied that access, so I am committed to fighting to expand access to healthcare in this country - regardless of zip code. Our representatives have a duty to protect every American, regardless of their skin color.
In the wake of George Floyd's death and so many others, what police reforms do you believe are necessary regarding the use of deadly force?
McBath: These last few weeks we have witnessed tragic headlines roll across our TV screens over and over again. Each of these incidents remind me of the hole left in my heart from the murder of my own son. We have lost far too many young Black Americans in this country, and we must act. In the House, I am a co-sponsor of the George Floyd Justice in Policing Act which increases accountability of misconduct, enhances transparency and data collection, and reduces discriminatory practices in policing. I am also proud to have co-led and co-sponsored legislation which would create a commission to study the disparities among African American men and boys in this country. That bill has been passed by the House and the Senate, and is now on the President's desk.
What are your thoughts on a rematch with Karen Handel and do you have any concerns about Republican tactics for the upcoming election, both nationally and in Georgia?
McBath: In 2018, we were able to flip a seat which had been Republican since the 1970's and was once home to Newt Gingrich. I beat the NRA-backed incumbent, Karen Handel, who has been running over and over in Georgia politics since the early 2000's. And she is running against me again this election cycle and has proved she and the national Republican party will do and say anything to take this seat back. However, I do not plan on letting them, and with your help I am able to keep this seat.
How do you envision your path to victory?
McBath: With the help of our amazing volunteers and supporters, I know we will win again. I am proud to say I have held the first in person town halls in my district in years - and I plan to win by continuing to be open and accessible to all my constituents. I will continue telling my story and speaking out on all of my work for my constituents.
HOW CAN I SUPPORT HER?
McBath: I would be honored if you considered pitching in to support my campaign. Any amount you can give will help me ensure that we can hold this seat. Please, signup on my website to donate or volunteer at www.lucyforcongress.com.
If you would like to support or learn more about Hillary, please visit:
Learn more: www.lucyforcongress.com
Facebook: Lucy McBath For Congress
Twitter: @RepLucyMcBath