"I lead by example. People will follow a leader who deescalates the tensions that are rising in the country and who puts divisions aside to focus on doing the right thing. In our campaign, we're focused on core kitchen table issues that we know both parties care about, like keeping harmful PFAS chemicals out of our water, and making healthcare affordable for all Americans."
-Hillary Scholten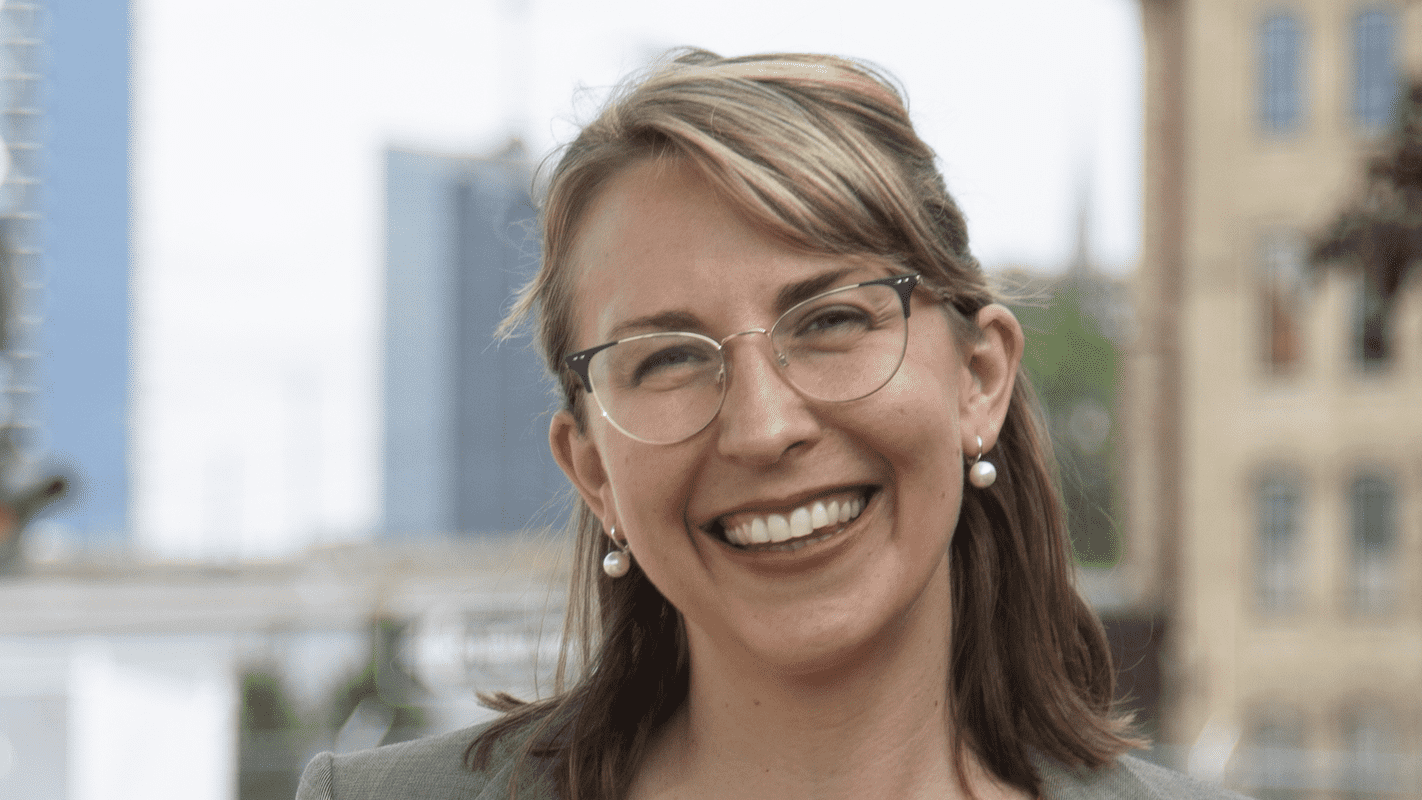 WHO IS SHE?
Hillary is raising her kids in Western Michigan, where her family has been living for generations. Growing up, her mother worked with students and families at a high-poverty school. Seeing these families struggle, despite working hard and playing by the rules, inspired Hillary to fight injustice and help others. She began her career helping homeless women and children get back on their feet at Mel Trotter Ministries. Hillary went on to graduate college with a degree in social work. She became a caseworker for the AIDS Action Committee, where she fought for LGBTQ+ members against housing discrimination.
Motivated to fight for a system that works for everyone, Hillary went to law school. She went on to clerk for the U.S. Court of Appeals for the Second Circuit, as well as work for the Department of Justice under the Obama administration. At the DOJ, Hillary focused on crafting strong and just immigration policies. Continuing her work on immigration reform, Hillary joined the Michigan Immigrants Right Center. Further, Hillary volunteered her time as an attorney for the Times Up Legal Defense Fund in order to aid in the battle against sexual harassment in the workplace. 
How has your background as a lawyer inspired and equipped you to run for Congress? 
Scholten: "As a lawyer, I represented individuals facing all kinds of issues, including unsafe workplaces, discrimination, and harassment. I saw how the policy coming out of Washington was hurting people here, and I realized that I had to raise my hand to run for Congress because they just weren't getting the representation they deserve."
WHAT IS SHE FIGHTING FOR?
What are the key voter concerns in your district, and how do you plan to address them?
Scholten: "My priorities are based on what voters tell me they need. That means better healthcare, clean drinking water, and rebuilding a fairer economy in the wake of COVID-19. When I get to Congress, I'll get to work right away on making people's lives better here in West Michigan."
Hillary's highest priority is bringing down the costs of healthcare, including the costs of prescription drugs. She will work tirelessly to ban insurance companies from raising rates on people when they get sick, denying coverage for pre-existing conditions, and increasing premiums while reducing coverage. She is fighting to defend and expand the Affordable Care Act, as well as create a public option. 
In Congress, Hillary will be an advocate for small businesses. She will work to increase the minimum wage, fight for collective bargaining rights, invest in our infrastructure and roads, and support trade deals that put American workers first. She will create green, good paying jobs by investing in a new energy economy with tax credits for renewable energy. She will also ensure everyone has access to paid family and medical leave. Hillary will strengthen Michigan public schools, create opportunities for low and middle income students to attend college, help Michigan families escape student debt, and look for ways to expand job training and apprenticeship programs. 
Hillary will also champion criminal justice reform. She will end the incarceration of more nonviolent drug offenders and promote efforts towards crime prevention instead of detention. Hillary will work for positive bail reform, protecting the financially vulnerable against unfair criminalization at higher rates. She is working to create thriving communities in Michigan, where individuals can successfully re-enter public life after incarceration. 
What is your leadership style, and how will you use it to unite our divided polity after the election? Further, what common issues and core beliefs do you believe Michiganians and Americans are ready to rally around together? 
Scholten: "I lead by example. People will follow a leader who deescalates the tensions that are rising in the country and who puts divisions aside to focus on doing the right thing. In our campaign, we're focused on core kitchen table issues that we know both parties care about, like keeping harmful PFAS chemicals out of our water, and making healthcare affordable for all Americans."
WHY HER?
Hillary Scholten faces the newly-independent incumbent Justin Amash. Without the backing of his national party in a battleground district, Amash is vulnerable and his seat ready for the taking. Michigan's 3rd congressional district election presents a prime opportunity for Democrats to expand their majority in Congress and gain traction in a swing state. 
Having seen firsthand the way policies disproportionately impact the disadvantaged, Hillary is the candidate to bring a fresh perspective to Washington. She will address the national problems that Michiganders feel daily at home, such as housing shortages and the immigration crisis. 
Donald Trump won Michigan by less than 1% in 2016. Michigan, along with the rest of the Rust Belt, will be decisive in forming our government for the next two-to-four years. Given the current political climate in Michigan and elsewhere, why might traditionally Republican voters be ready to vote for you? 
Scholten: "I grew up in a Republican-leaning household. Traditionally conservative voters are now considering voting another way because they see the way leaders have failed them, and I'm offering a message they can get behind. It's not abstract for me - they're my family, my friends, and attend my church."
What is the current state of your race, and how do you envision your path to victory?
Scholten: "As of today, we're in a dead heat. We'll win by continuing to speak to the issues people really care about. It won't be easy - we know there's going to be almost unlimited money spent against us, but people's power will win every time."
HOW CAN I SUPPORT HER?
If you would like to support or learn more about Hillary, please visit:
Learn more: hillaryscholten.com
Facebook: Hillary Scholten for Congress
Twitter: @HillaryScholten