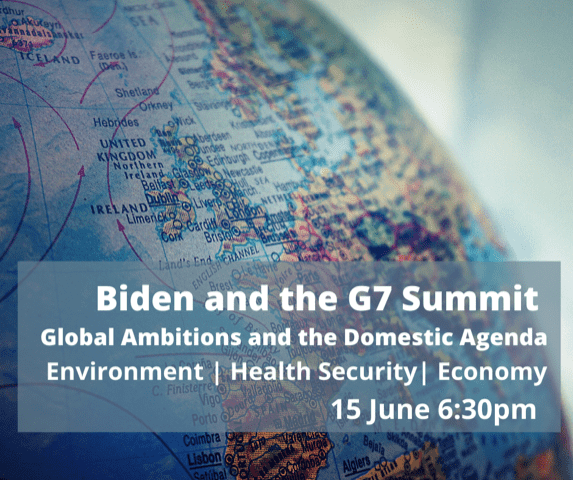 President Biden's June G7 Cornwall visit will focus world-wide attention on key Democratic issues of global health security, climate crisis and economic recovery.  His first trip abroad as President will raise the visibility of his agenda back home and highlight how governments cooperate to tackle global threats.
Join an online DAUK G7 panel of specialists to discuss the outcome of the summit, the global interconnectedness of the three themes (health, economy and climate), and how the Biden Administration and Congressional Democrats are moving forward.
Moderated by Wen-Wen Lindroth, DAUK Chair, with panelists Naomi Ages, Leader, DA Global Women's Caucus Climate Action Team; Deborah Rozansky, Co-chair, DAUK Health Policy Committee; and Matilda Bress, Office of US Rep Antonio Delgado (D-NY). 
Agenda:
6:30 p.m. Opening remarks from the host -- Wen-Wen Lindroth
6:35 p.m. Presentations from the panelists -- Naomi Ages, Deborah Rozansky, Matilda Bress
7:20 p.m. Moderated Q&A
7:45 p.m. Closing remarks
Thank you to the G7 working group for their support: Monica Tanouye (Chair), Maya Buchanan, Peter Dallow, Emily Kulesa, Rebecca Lammers, Wen-Wen Lindroth, Michael Macy, Carol Moore, Tangy Morgan, Annabel Nater, Deborah Rozansky, John Scardino, Linda Skeats
Supported by the DAUK Policy Network and Resolutions Committee and DA Global Women's Caucus
For more information, contact Monica Tanouye [email protected]
Members of the press are excluded from this event.
WHEN
June 15, 2021 at 6:30pm - 8pm London Time
Who's RSVPing
Do you like this post?