As the mid-terms approach, a recently arrived donkey is refreshing our determination to change Congress.
by Ed Ungar
From mid-April 2016 forward, when some members of DA heard about an outdoor art installation at the upcoming convention in Philadelphia, the destiny of one soon-to-be-born Equus asinus (donkey) was clear. The party's convention coordinating committee, along with Philadelphia's Mural Arts Program and a non-profit local arts organization, would place 57 plexiglass donkeys around town from July to September. Each convention delegation (the 50 states, the five territories, the District of Columbia, and most important to us, Democrats Abroad) was to have its dedicated donkey. After September, each delegation would get its donkey as a gift!
Delegations were told that all they had to do was arrange and pay for the shipping. Since DA Canada is the DA location closest to Philadelphia, it made sense that the ultimate home of the DA asinus would be Southern Ontario. After all, the beast's left flank depicts Niagara Falls (Mt. Fuji and the Eiffel Tower appear elsewhere on the donkey's body). The trip to Canada was only 11 hours in a rented van. Surely others in Democrats Abroad would see this clear logic, we thought.
Alas, that was not the case. Instead, at the DA international meetings in Washington this spring, the donkey was used as a cash cow and was put up for auction among the delegates. Thankfully, like a superhero, Ken Sherman, our former chair and Hamilton, Ontario, chapter leader, swept in to save the day with the winning bid.
A week later, Marnelle Dragila of our London, Ontario, chapter saved our asinus by driving a rented van to pick up our co-vice chair and Philadelphia native, Ed Ungar, along with the donkey, at a suburban Philadelphia warehouse. From there, Marnelle barreled up the highways to the Buffalo - Fort Erie Canada border crossing. At that point, a bemused customs officer encountered her first ever plexiglass donkey and waved the van through. The donkey statue was home, where it can fulfill its destiny of attracting Americans to DA street fair booths and helping them to become voters.
Our donkey had its public debut in front of the Kimmel Arts Centre, home of the Philadelphia Orchestra. Its Canadian debut occurred this summer at Toronto's PRIDE events. If you happen to be in Southern Ontario, Quebec, or, who knows, maybe other places in Canada, look out for the DA donkey at a street fair or other venue near you.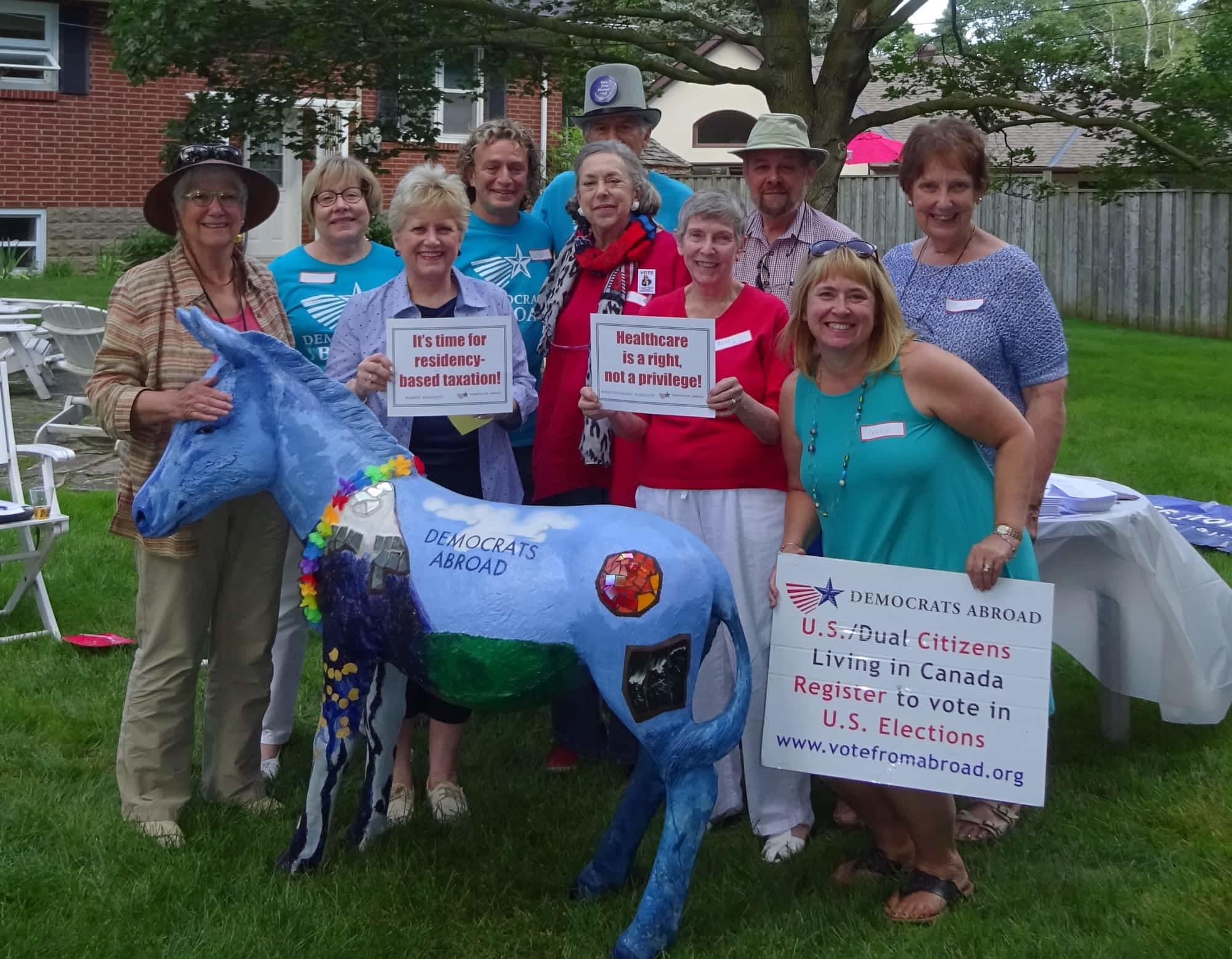 *The DA donkey is available to make appearances at DA Canada events. If you are interested, please contact: Ken Sherman, email: [email protected]