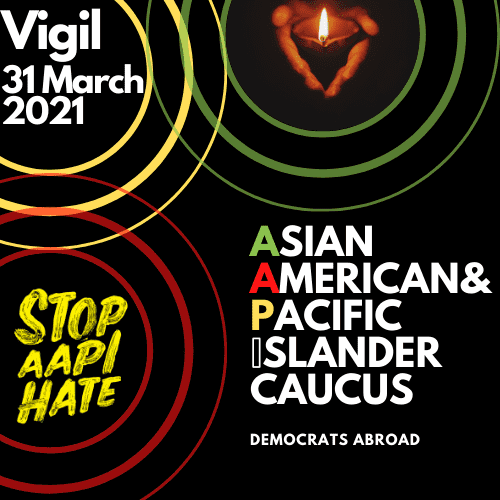 Racism targeting Asian Americans and Pacific Islanders is not a new phenomenon. But the rise in attacks against Asian Americans and Pacific Islanders (AAPI) and the tragic mass shooting in Atlanta on March 16, 2021 make it clear: AAPI communities around the United States are targets of racism and racist violence. The time has come to stand up against this hate. Join the Democrats Abroad Asian American and Pacific Islander Caucus for an online vigil.
During our vigil, our members and allies will come together to speak out against these anti-AAPI attacks and show their support for the AAPI community.
Please also consider joining our virtual vigil. To participate, you can share the graphics we created and/or you can print out this sign, fill in your information, and take a picture of yourself holding the sign. All graphics and posters are available here.
All are welcome to share pictures of themselves with our posters or self-made posters on social media. Make sure to send them to [email protected] and to tag us on Twitter, Facebook or Instagram (tag @demsabroad & @DemsAbroadAAPI (Twitter)/@aapiglobal (Instagram) and we'll re-share!). If you don't feel like taking a picture, feel free to submit a written statement here. This is a rolling action, and we'll keep adding pictures to our vigil page as we receive images in the coming weeks.
| | |
| --- | --- |
| Auckland, New Zealand | 11pm |
| Melbourne, Australia | 9pm |
| Seoul, South Korea | 7pm |
| Beijing, China | 6pm |
| New Dehli, India | 3:30pm |
| Berlin, Germany | 12pm |
| Washington, D.C. | 6am |
WHEN
March 31, 2021 at 7pm - 9pm Seoul Time
CONTACT
Democrats Abroad Asian American and Pacific Islander Caucus ·
Who's RSVPing
Do you like this post?