Tuesday, May 16
Thessaloniki, Greece
Hello DAGR members at-large!!
RSVP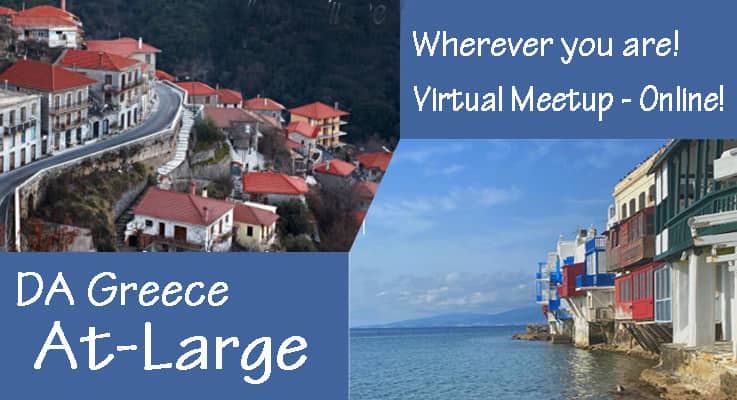 A message and invitation from your Representatives at Large
Hi to all – and especially to you DAGR members who do not live in or close to Athens or Thessaloniki. We're Gina Billy and Daniel Roberts, your recently elected DAGR Representatives at Large. You can find out a bit about us here. What we would like very much is the chance to get to know you.
To that end, we're inviting all DAGR members - especially those who live beyond the country's two main metro areas - to join us in a series of virtual (Zoom) get-togethers. We plan to host these meet-ups every month or so. The first one will take place on Tuesday, May 16th, 2023 from 8:00 p.m. to 9:00 p.m. (RSVP to receive the link.)  
We envision these bi-monthly, virtual gatherings as being an informal and fun way to share bits of our stories and life journeys with each other. We're especially curious about things like: What led you to Greece? What prompted you to join DAGR? Which issues are most important to you? And what you would like to see DAGR do more of /less of, etc. Mainly, though, we'd just like the chance for us to get to know each other and learn how we can best represent you.

We hope to see as many of you as possible on the 16th of May – and watch for announcements of future gatherings in upcoming newsletters, DAGR social media posts, and your email inbox.

Best from us to you,

Gina (on southern Crete) and Daniel (in Thessaloniki)

p.s. You are also more than welcome to drop as a line via email:
[email protected]
WHEN
Tuesday, May 16, 2023 at 08:00 PM Athens Time
WHERE
ZOOM
Thessaloniki
Greece
Google map and directions
CONTACT
Jan Sanders
[email protected]
7 RSVPs