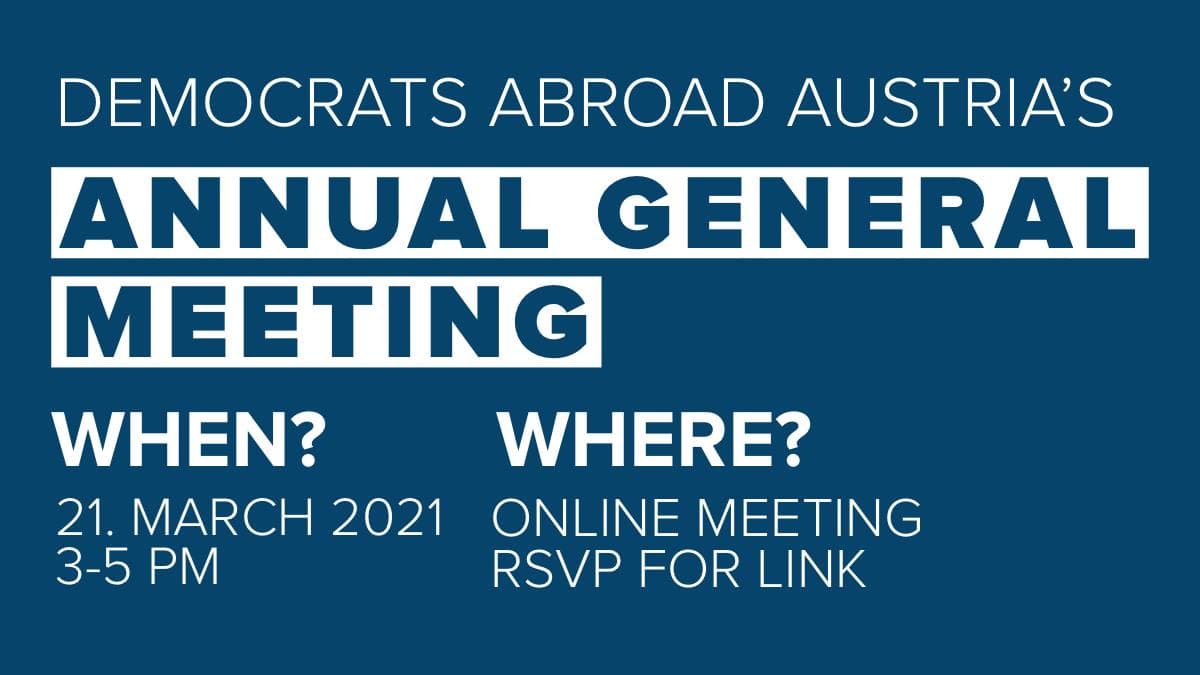 DA Austria's Annual General Meeting will be held online on Sunday, March 21, 2021 at 3 p.m. All DAA members are welcome to participate in the elections and join the meeting. We especially hope to see many of our members who live outside of Vienna and may not normally attend the AGM! Any American 18 or older by the next federal election and residing in Austria may also join the meeting and vote.
Come for business –
Special guest DA Global Chair Julia Bryan will give her expert insights into the fantastic work that was accomplished by Democrats Abroad members around the world in the 2020 and Georgia runoff elections. She'll also talk to us about DA's outreach with our representatives in DC in order to inform them on the issues that matter most to all Americans who live abroad.
At the meeting we'll present brief reports on 2020, discuss plans for the upcoming year, and conduct a vote on amendments to the DAA Bylaws. https://drive.google.com/file/d/1N9QT0oBpMKD6hYT21KueiQNw3HNYrflB/view?usp=sharing. There will also be an Elections Meeting to elect an Executive Committee for the 2021-2023 term.
Join us for a free wine-tasting – 
DA Austria is required by our By-Laws to hold an Annual General Meeting prior to March 31 of each year. We also have a quorum requirement to make the meeting valid. Please help us meet these challenges by joining us in our online AGM!
As a thank you for your loyalty and help through this difficult period, AGM attendees will be able to attend a wine- tasting fundraiser with Seymann's Winery for free! We'll set the date just as soon as restrictions are lifted.
Your participation, activism, and donations have made Democrats Abroad Austria a strong and vital organization for more than seventeen years. In 2021, we'll continue working to strengthen the voice and vote of all our members.
Please RSVP for the meeting here. You will receive a confirmation email with the meeting link. 
Thank you for your support,
– DA Austria Executive Committee
WHEN:
March 21, 2021 at 3pm - 5pm Austria
Do you like this post?