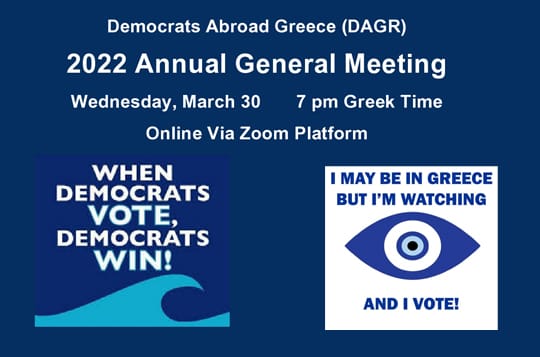 Democrats Abroad Greece 
Annual General Meeting (AGM)
Wednesday, March 30 
Online – 7 pm Greek time
Members of Democrats Abroad Greece are invited to attend the 2022 Annual General Meeting that will take place online on Wednesday, March 30 at 7 pm Greek time.
Wednesday, March 30, 2022
7 p.m. EEDT
Online via Zoom
Aside from reporting the state of our finances at DAGR, as well as what we have accomplished in 2021 and what our hopes are for 2022, we also will vote on some changes to our bylaws. This requires a quorum, so your presence is essential.
The annual general assembly is always a great opportunity for our members to come together and share their voices. And with democracy and rule of law under such blatant threat our solidarity to preserve and protect is needed now more than ever.
The business meeting will take about an hour. However, we will be voting on amendments to our Bylaws, as outlined in the email members were sent on February 27. There will be ample time for discussion.
Agenda
Minutes of 2021 Annual General Meeting
Treasurer's Report – Fiscal 2021 to-date
Chair's Report
Committee and Chapter Reports

GOTV Membership
Communications
Events – FOJ, Kafeneion
Issues
Fund Raising
Chapters: Athens, Thessaloniki
At-Large

Vote: Proposed Amendments to the DAGR Bylaws
Present: 2022 Field Plan and Budget
If you plan to attend the meeting and have not received the Zoom link by email to the meeting please contact DAGR Secretary at [email protected]
Do you like this post?