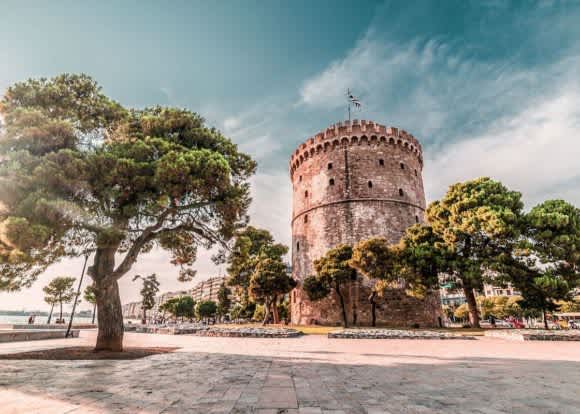 From May 16th and for the foreseeable future, we'll cease posting to the Thessaloniki Chapter  page and direct readers to check the DAGR main Facebook page and/or join one of our two closed groups, set for DAGR member exchanges of thoughts and comments.
We'd love to hear your thoughts on this, so we can plan "human-cost-effective" outreach into the future. 
Why are we doing this? Well ...
Eleven years ago, Facebook was the up and coming meeting place online, and DAGR got its first Facebook page.
Then, the Thessaloniki Chapter was formed up and someone added a page for ThessChap. Great!
No one added a page for Athens Chapter (AthChap). It just sort of oozed into the country committee page. And the confusion over whether Athens was Greece dribbled along.
Back in the very old days, ERT had a series about hinterland doings called 'Ολη η Ελλαδα δεν ειναι η Αθήνα'. (Greece Is Not Just Athens!) But no one paid much attention.
In the years since, DAGR has staged the big Fourth Of July (FOJ) event, in Athens. It looks 'countrywide.' Thessaloniki Chapter has also had several FOJ events. One was in that first year. Then it went quiet until Peter Baiter hosted two in his garden (before the plague).
In the last two or three years, Thessaloniki folks, spearheaded by current Chapter Chair Randall Warner and Rep Peter Baiter, have mounted registration tables at Farm School events, a Global Presidential Primary (GPP) Voting Center before lockdown in early 2020, and most recently, they've organized one of the online "Kafeneion" programs. They also turned out a bigger-than-ever part of quorum for the Annual General Meeting in March! Pretty impressive.
Still, the odd asymmetry of the Facebook pages held on. Thessaloniki never had a volunteer step up to 'admin' its page. And, in truth, with Covid-curtailed physical events, there hasn't been a lot to post. Mostly, the ThessChap page has gotten 'shares' of posts from the DAGR main public page. And the main-page admins did that.
At the same time, AthChap never had its own page with an admin, either. And it hasn't had a live event since the GPP in March 2020. AthChap did organize the March Kafeneion on "Women and Finances". Both chapters have committed to organizing future Kafeneion programs on a rotating basis.
Re Facebook, as admin fingers (and patience) wore thin, and new hands didn't step up, we started to ask what made sense.
Two routes appeared. Either we start an Athens Chapter Facebook page, for which we don't have an admin, OR we take down the ThessChap page and post both chapters as well as countrywide items on the DAGR main page.
We still operate the closed-to-DA-members Facebook groups – Issues and Womens Caucus – where matters of current interest are discussed. Or not. And we also have our At-Large Reps in Crete and Thessaly (Pelion), with the possibility of new chapters getting organized there, as well as in Epirus, the Aegean islands, or Thraki.