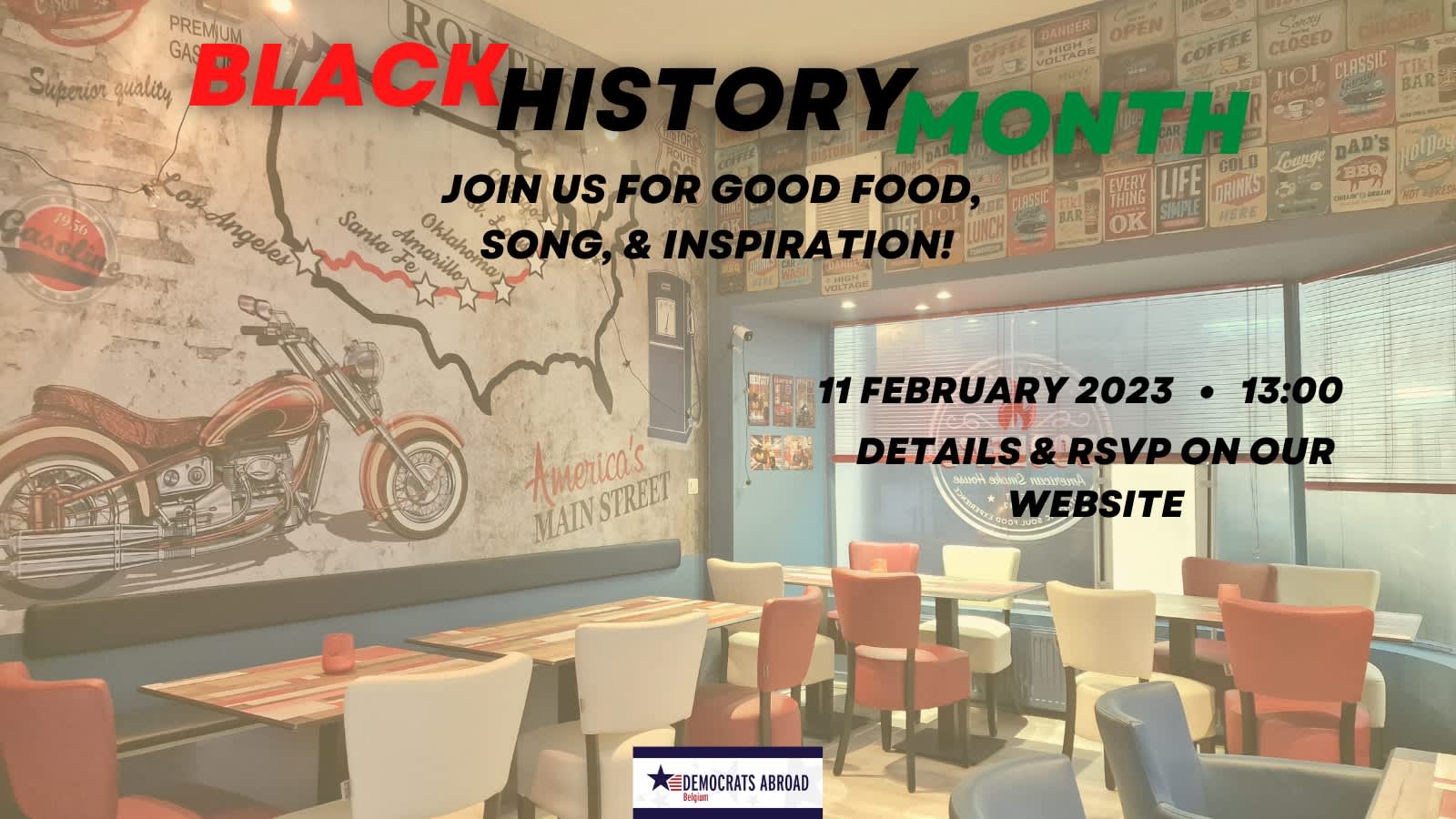 **THIS EVENT IS CURRENTLY SOLD OUT - BUT CHECK WITH US AT [email protected] IN CASE THERE WAS A CANCELLATION! **
Our live Black History Month Luncheon is back!  The deadline to reserve & pay is Tuesday, February 7th, 5pm…but attendance is very limited, so the first to RSVP will be the first served! 
We'll enjoy a welcome drink, family-style meal, and slice of cake at Dooley's American Smoke House in Brussels, with a program of song & inspiration from our DAB Community, including:
Briana Ashley Stuart, a performing artist, choreographer and dance entrepreneur, originally from Detroit, Michigan.
Dorrie Wilson, an independent researcher, writer and cultural curator on her talk to the European Parliament, "People Are Trapped in History and History is Trapped in Them".
Wilford Simmons, a North Carolina voter, retired from the military, who lives and coaches sports in Mons.
Prices are as follows (food is served on platters, family-style, to be shared at the table):
Classic Soul Food Combo Menu (variety of smoked meat & sides) - €22
Vegetarian Soul Food Menu (variety of smoked veggie delights & sides)- €19
Menu for Kids 12 & under (sliders, chicken nuggets, fish fingers) - €12
Homemade Iced Tea - €10 (for a pitcher of 5 glasses)
Homemade Lemonade - €10 (for a pitcher of 5 glasses)
Please RSVP here and we will email you instructions for payment and other details soon! And if you are bringing children, please just RSVP for the number of adults in your party and then respond to our confirmation email to let us know how many children you will bring. Thank you!
WHEN
February 11, 2023 at 1:00pm - 4pm Brussels Time
CONTACT
Pauline Manos · · +32 497 59 18 97
Who's RSVPing