AMERICAS REGIONAL VICE CHAIR ELECTION
KRYSTAL GRULLON 
DOMINICAN REPUBLIC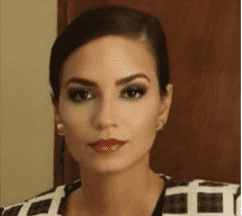 My name is Krystal Grullon, I am an American citizen born in New York City. I am also a citizen of the Dominican Republic. I have a Bachelor's Degree of Architecture from Pratt Institute with a Master's of Science in Architecture and Urbanism from Columbia University.
I am currently living in the Caribbean, Dominican Republic, between The North Coast and the Santo Domingo the capital. I work in a project called Playa Grande Golf and Ocean Club owned by Discovery Land Company and Third Point LLC from the USA.
 In the past I have worked for the public sector as well, such as Managing and leading in the Habitability and Environmental Components Unit for the Vice-Presidency of the Dominican Republic l T.D., Cabinet Office of Social Policies Coordination and later as Architect and Urban Consultant for the Ministry of Public Works and Communications. I am also a member of the MASHAV-Israel's Agency for International Development Cooperation, through the Embassy of Israel in the Dominican Republic where we visit various municipalities and provinces learning and helping communities in need.
I adhere to the Democratic Party Principles of the United States and it would be an honor for me to promote its principals as the Democrats Abroad Vice Chair of the Americas Region. I believe in creating communities and in encouraging citizens to be more involved in their environment and be present on important issues. This is one of the reasons I studied urbanism. It plays a key role in politics and in bringing people together, to create and better our sense of place where we live in and present solutions.
If appointed Vice-Chair I would work to get citizens involved by motivating them to do so through informing them of the whole process of voting and in helping them learn more about the various candidates from the different categories. There are many ways to get them involved and understand the process, and I would implement more ideas and listen to the other countries needs in order to meet our goals. The most important is to keep all committees connected and coordinated to make sure we are all on the same page.
In terms of connecting to leaders, their managers and communications team I will do my best in finding ways to do so. When there is a will there is always a way. I will make sure we have presence in the Democratic Party.
Best regards,
Krystal Grullon
Do you like this post?