In perseverance of a prosperous, equal, safe, and healthy future for us all and for future generations, we ask you to join us in our efforts to make a difference during this particularly volatile moment for Democracy around the globe...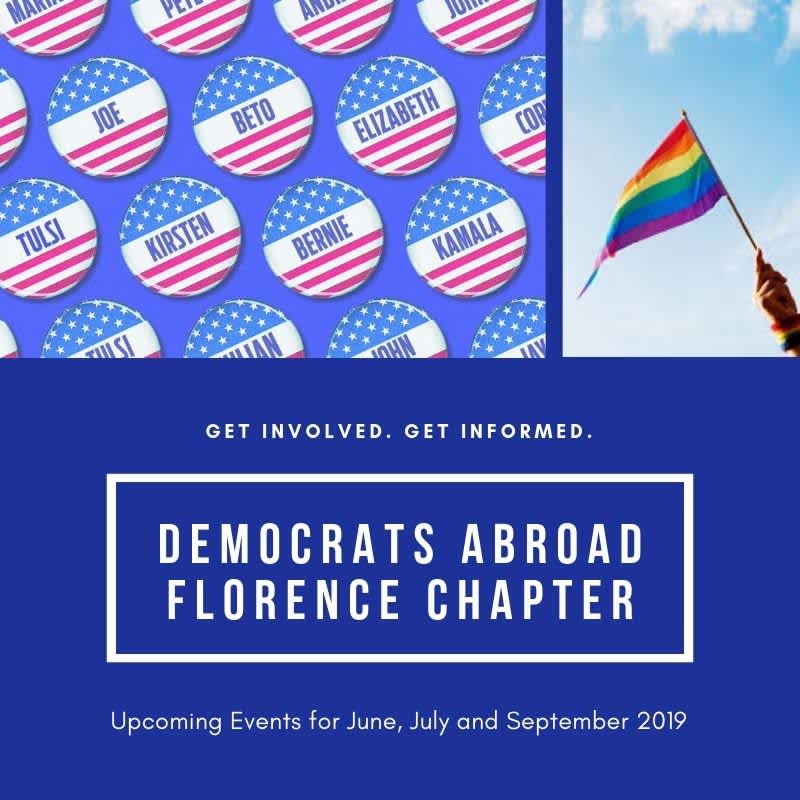 JUNE 15 - CHAPTER MEETING: BREAKFAST AND SOME FUN POLITICAL TALK!

Shake Cafè Firenze, Via del Corso 28; Saturday, June 15 from 11 am to 12:30 pm
We'll also discuss the ongoings in DA Italy and our chapter plans up to the Presidential Primaries. Come join in the planning and help move DA Florence forward.
JULY 2 - FIRST DEMOCRATIC PRIMARY DEBATE WATCH.
WHERE: Ristorante Lorenzo de' Medici in Via del Giglio, 49, 50123 Firenze
WHEN: Tuesday, July 2 from 6:45pm to 9pm.
We'll meet up for an aperitivo or pizza and watch clips from the first round of the Democratic Party Primary 2-night debates that are taking place July 26 & 27. We'll cheer on our favorite candidates, discuss & debate their differences. Don't miss out on the fun!
JULY 6 - TOSCANA PRIDE IN PISA!

Strut your Pride through the streets of Pisa at this year's Toscana Pride. A group from DA will meet up and take the train from Florence. More info to come!
SEPTEMBER 20 - THIRD DEMOCRATIC PRIMARY DEBATE WATCH.

Save the date.. place and time TBA.
Join us for another round of the Presidential Primary debates. 
***********
Make these a friends' night out!! 
Invite 3 friends to each event, members or not, Democrats or not, and make plans to attend together!
***********
For more info, to volunteer in any capacity, and to RSVP for events please contact us at [email protected]