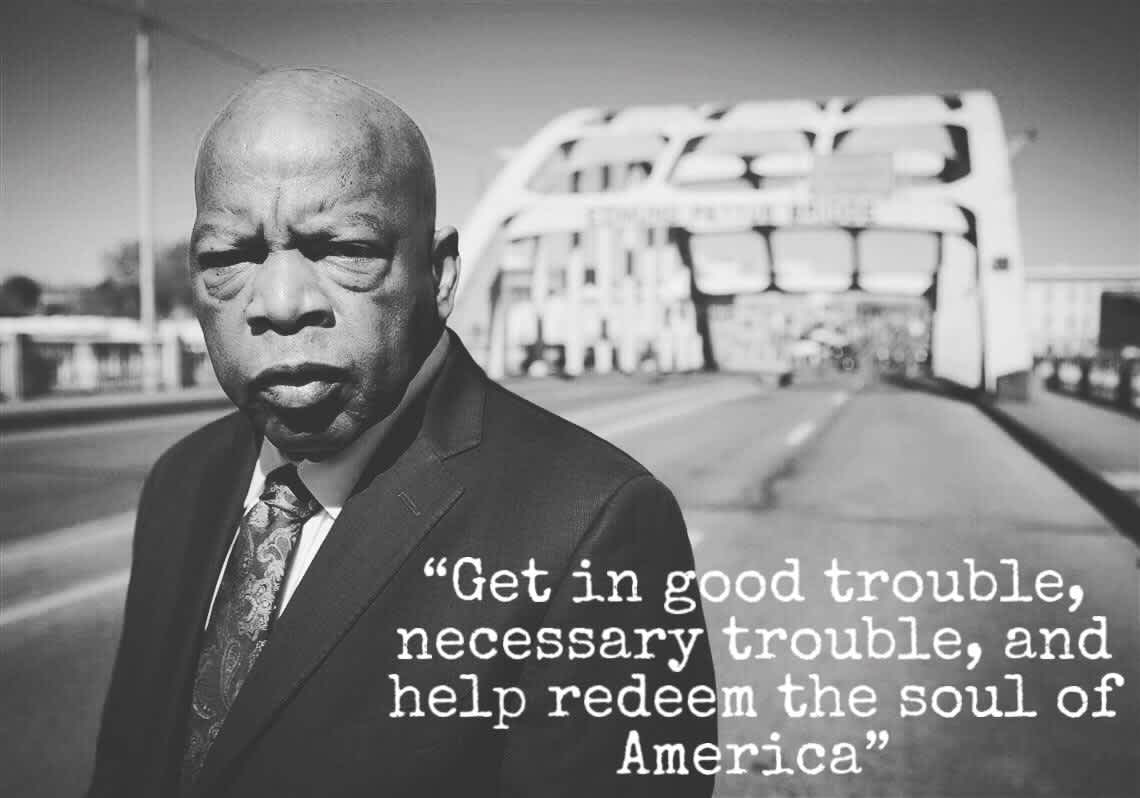 Voices from our Community is a series that aspires to showcase the diverse voices of our Democratic community in Belgium. This essay, commemorating the life of civil rights icon, John Lewis, who passed away on July 18th, is written by Miles Herszenhorn, DAB's 2020 summer intern. Miles will vote for the first time this fall, just after turning 18. In 2018, Miles organized the Brussels March for our Lives event to protest gun violence and the impact on young people.
Shining a Light on the Life of John Lewis
Miles Herszenhorn
Yes, John Lewis was an American hero. But John Lewis was actually so much more than that. He was the greatest American to ever live.
That is not to say that the Founding Fathers weren't patriots or that Abraham Lincoln didn't love the USA, but no one loved and believed in our country the way John Lewis did.
John Lewis started to participate in the Civil Rights Movement when he was still a college student. While he practiced non-violence as one of the 13 original Freedom Riders, he was brutalized and arrested in states across the country by white supremacists and the police. South Carolina, Mississippi, and Alabama where he was beaten and left for dead are just a few of the states where Lewis's non-violence was greeted with brutality. However, Rep. John Lewis never gave up. He pressed on determined to achieve change and make a difference.
In 1963, having been elected chairman of the SNCC at the young age of 23, he helped organized the March on Washington where Dr. Martin Luther King gave his "I Have a Dream" speech. In 1964, while marching from Selma to Montgomery as part of a movement to register Black voters, Alabama State Troopers beat up praying protestors and fractured Rep. John Lewis's skull.
The abuse Lewis faced as a Black American fighting for equal rights in this country was constant. A fraction of that abuse would've made most people flee the country and never look back. But, Rep. John Lewis never gave up. He never gave up fighting for what he believed in. He never gave up fighting for the United States of America.
In fact, not only did Lewis not give up on the United States of America, he served the country for over 33 years as a member of Congress. The same country that beat up and arrested Rep. Lewis in multiple states, the same country that more than once left him for dead bleeding when he tried to peacefully protest, that same country is the one he dedicated his life to serving.
However, Rep. John Lewis didn't change once he went into politics. As he said earlier this year in Selma, "Get in good trouble, necessary trouble, and help redeem the soul of America." Rep. Lewis was arrested 40 times during the Civil Rights Movement and another 5 times while he was a sitting Congressman.
John Lewis loved this country. John Lewis fought for the soul of this country. John Lewis lived for this country and John Lewis died for this country.
We will never be able to thank him enough for everything that he has done, but we must do our best to honor his memory. Let us fight for what is right and get into a whole lot of good trouble.
Do you like this post?