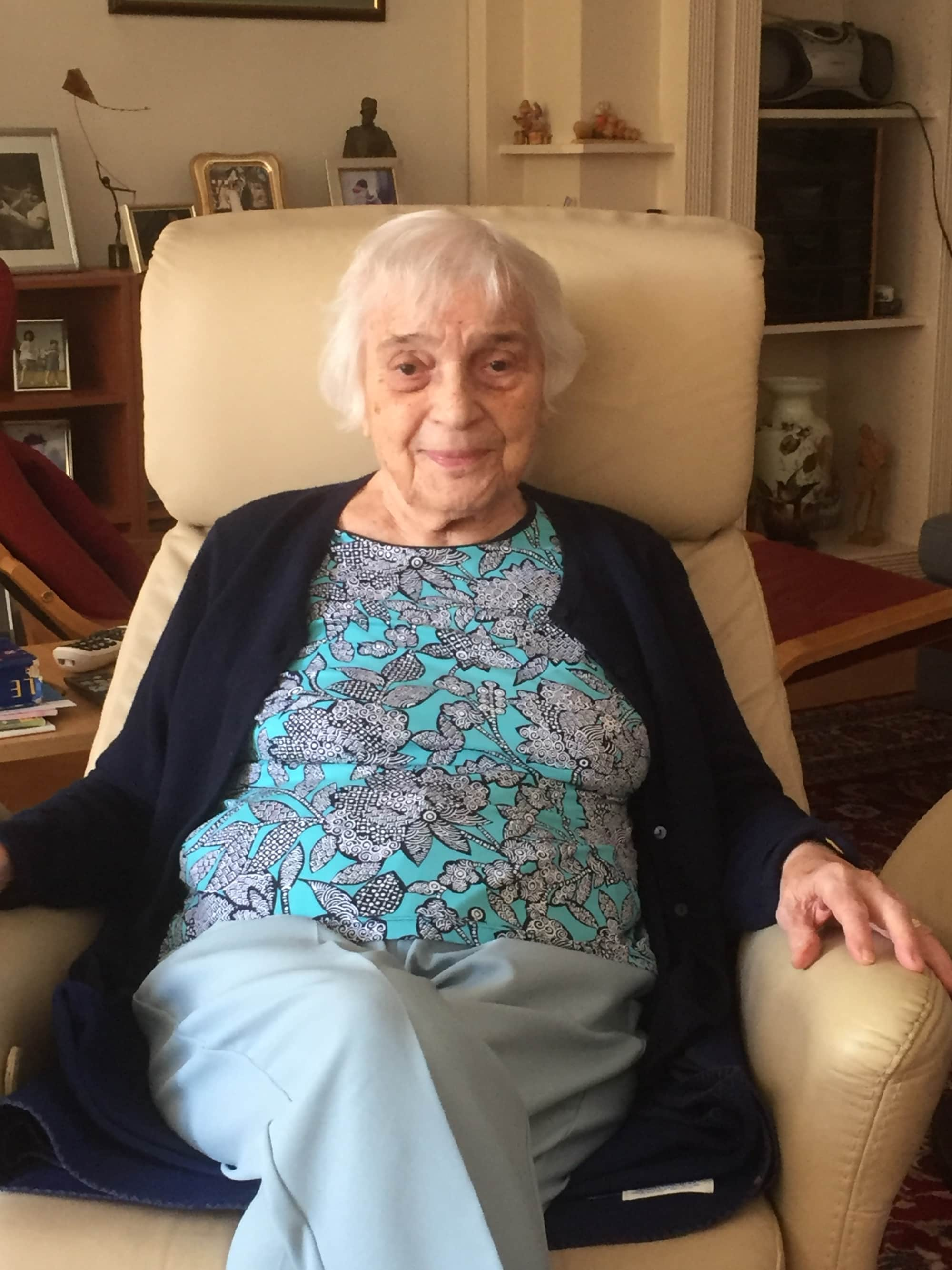 Last month you heard from one of our first-time voters, 17-year old (but 18 by Election Day!) Miles Herszenhorn, who wrote a tribute to Congressman John Lewis. This month, DAB Chair, Pauline Manos, shares the story of Lida Francombe, likely our oldest voter and an inspiration to all of us to do our best this summer to get out the vote. We hope she will inspire you, too.
Lida Francombe was born 97 years ago in what is today the Czech Republic. After World War II, she met a young Englishman while at university and they married, leaving Prague just before the borders closed. "My father had told me we should leave, he had friends in the City Council and they told him things weren't looking good. So we quickly flew to London. The morning after we arrived, I read in the newspapers that 30 Czech brides were blocked from leaving Prague - I was one of the lucky ones."
After a few years in the UK, Lida and her husband emigrated to Pittsburgh, where she began to teach gymnastics and give Russian lessons. Forty years later, now as US citizens, they moved back to Europe, settling in Belgium near their daughter. In October 2016, Lida emailed DAB, asking how to vote, since her ballot had never arrived. I wrote to her about the Federal Write-In Absentee Ballot (the FWAB - stay tuned for more on that!) and asked if she needed help. She immediately replied, "Hello, Pauline, my daughter is helping me with the write in ballot. I shall send it today. Thanks for the offer. Go Hillary!"
Nearly four years later, Lida was even more determined to vote and she reached out again this spring, writing to our Vice-Chair, Jeffrey Edison. "After my husband died I did not care about many things, but this time I consider it my moral duty to vote. I need a lot of help, I am ignorant about many things about computing." Lida found the right person, as Jeffrey also volunteers on our Global IT Team. With a little help from Google Maps and Lida's recollection of her last voting center, they sorted out which of the similarly-named addresses on the VoteFromAbroad.org site was her last one, and completed her Federal Post Card Application (FPCA).
I realized, though, that with this spring's postal crisis, it would be better if Lida were to get her election materials via email and not get a paper ballot, so I reached out. She hadn't yet sent back her FPCA and asked me if I could come over to her house to help her update it. I was a bit hesitant but she insisted, so I donned my mask and finally had the honor of meeting (from a distance!) this incredible woman. It was then that I learned her story and she asked me mine. I told her of my own journey to Europe, about my work with DA, and of our volunteers' occasional difficulty to convince some people to vote. "What do you mean, they don't want to vote? Are they crazy? They want Trump as President??"
That morning, we talked of so many things - the challenges Covid had brought to families spread across continents, our shared conviction that we needed to get Joe Biden and his team into the White House, her tips for healthy living (floor exercises every morning on her gorgeous carpet!).  I finally had to leave, so Lida signed her FPCA, we took a picture of it and emailed it to her Local Election Official, and then decided to walk together to the post office to send in the signed copy, just to be on the safe side. She got her shopping basket, adjusted her mask, and suddenly bent over to adjust her shoe strap…touching her toes at 97! I left Lida outside her post office, determined to keep up my yoga so that I, too, could touch my toes in my 90s and keep making my own voice heard.
If you haven't yet requested your absentee ballot, go to www.VoteFromAbroad.org TODAY. Be sure to request that your election materials be sent to you electronically, NOT by postal mail. We'll be calling, mailing, and/or texting all of our members over the coming weeks to make sure you've received your ballots and have sent them back correctly. If you have questions, don't hesitate to reach out: email us at [email protected] or at [email protected].
Do you like this post?