Saturday, July 01
Montreux, Switzerland
Walk & Talk #3 high above Montreux
RSVP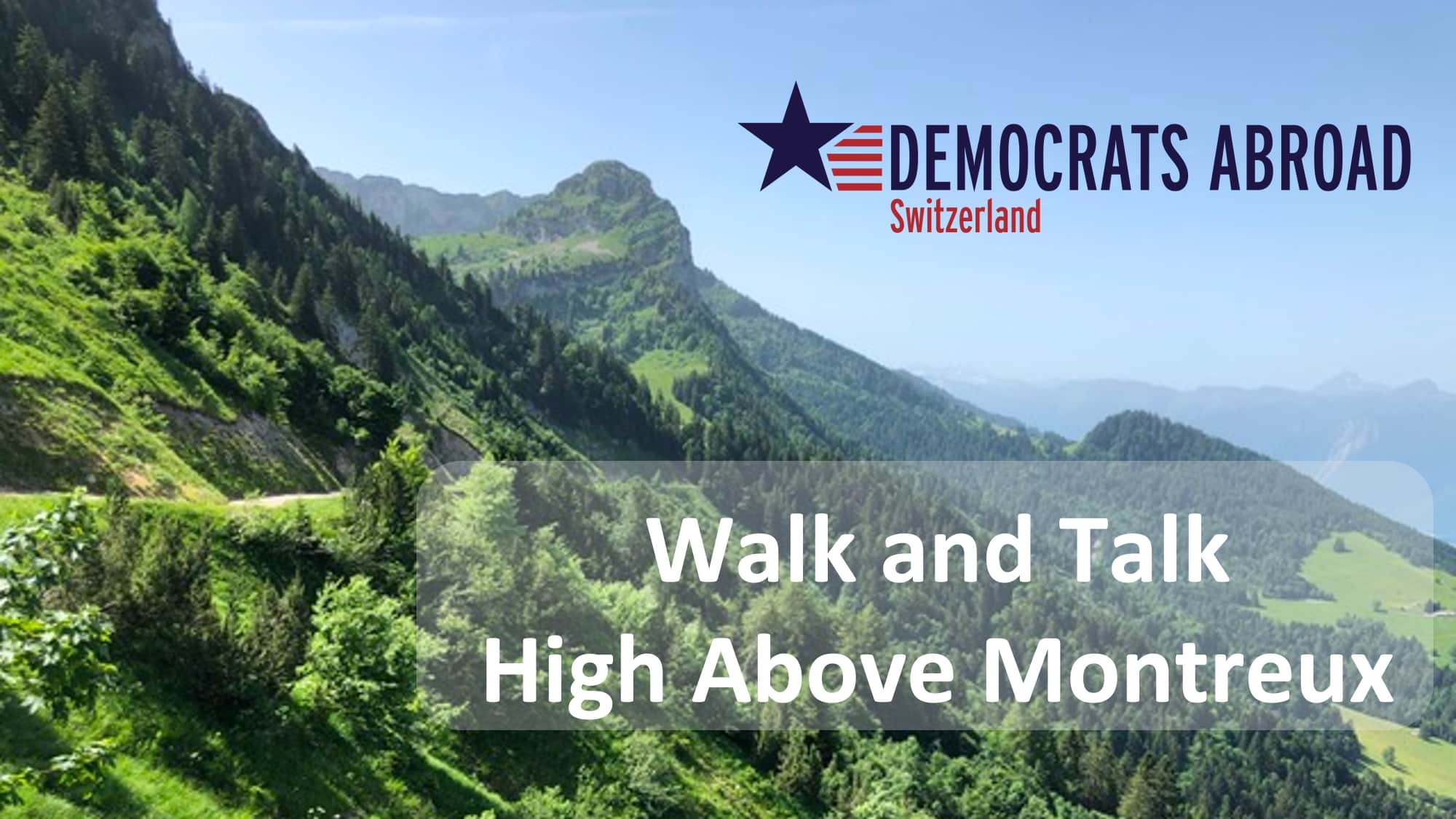 A Saturday walk with Democrats Abroad and an opportunity to meet members, socialize and discuss political action. We will gather topics for which we can advocate a position with elected US officials. See more details in the Preparatory and Post-Walk Activities below.
Details of the walk: Our adventure will begin with a short train ride departing at 10:19 AM from the Montreux station on the line heading to the top of the Rochers de Naye. Purchase tickets to Paccot train stop. Watch out when purchasing your ticket that you have the correct "Paccot". There are many in the SBB database! DO NOT go to Les Paccots or Granges-Paccot,  for instance.
From the Paccot train stop, it is a 9 km walk on trails and gravel roads, with a very gradual 570 m vertical up and 850 m down, which takes approx 3.5 hours at a leisurely pace for plenty of photography, plus an hour's picnic lunch pause at La Planiaz (total 4.5 hours). See route map and profile here.
What to wear and bring: Wear layers and good walking shoes; we will not stay on paved roads. Bring your picnic lunch and beverages.
Public transport: Trains or buses to Montreux.  Car: Paid parking at Montreux station garage.
To stay in the loop for late info, RSVP or write Christine at

  or
  to join the WhatsApp group for the Walk.
Preparatory Activity: We invite participants to consider undertaking a small activity in the spirit of political engagement. For those willing and interested, the process we propose is described here. 
Deadline: Please send your letters to

on or before Sunday June 24. All those who register will receive an invitation to the shared letters folder on Google Drive.
Post-Walk Activities: We'll host a casual gathering with beverages and munchies at our apartment in Montreux upon our return, beginning ~ 3:30 PM. People who didn't walk are warmly invited. 
If you would like to bring something to share, either make it lightweight or bring it to our apartment prior to the meeting time. 
If you would like to tidy up and change attire for the post-walk activities, you can also deposit your extra things at our apartment before taking the train up to Paccot.
The Montreux Jazz Festival starts on June 30. There are many outdoor and free acts starting around 4 or 5 PM CET. The schedule of free concerts can be consulted here.
(Photo credit: Greg Greenwood "Shades of Green in the Shadow of the Dent de Jaman and Les Verraux")
---
WHEN
Saturday, July 01, 2023 at 10:10 AM Bern Time
WHERE
Gare de Montreux
Av des Alpes 45
Platform for Track 8
Montreux 1820
Switzerland
Google map and directions
CONTACT
Christine Perey
12 RSVPs