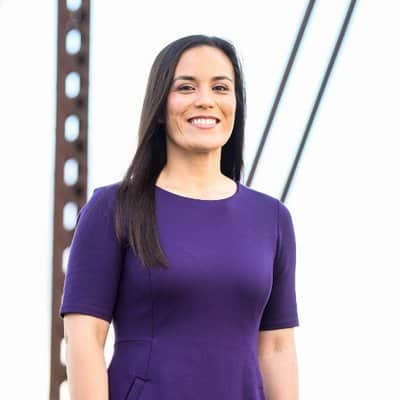 "My lived experience has absolutely shaped my desire to serve and give back to a community and country that has given me so much. It's the reason I spent my entire career in public service, and it's the reason I'm running for Congress today." 
-Gina Ortiz Jones
WHO IS SHE?
With the Texas primary season wrapped up, the Global Women's Caucus is proud to present Gina Ortiz Jones, Democratic candidate running to represent The Lone Star State's 23rd Congressional District!
Gina is a first-generation beneficiary of an ROTC scholarship that enabled her to earn two bachelor's degrees (Economics and East Asian Studies) and an MA in Economics. Following the completion of her studies, she suited up to enter the U.S. Air Force as an Intelligence Officer, shouldering the additional burden of serving under Don't Ask, Don't Tell alongside thousands of other LGBTQ military personnel.
Throughout twelve years of service, Ortiz Jones steeped her resume in national security, intelligence, and defense expertise across Latin America, Africa, and Europe. In addition to serving in several other prestigious posts, she was named to serve as the Senior Advisor for Trade Enforcement, a position situated at the intersection of economic and national security issues that then-President Obama created by executive order.
WHAT IS SHE RUNNING FOR?
Gina is running to flip the district blue after Republican incumbent Will Hurd announced that he will not be seeking reelection in November. After conceding a narrow loss to Hurd in 2018, Gina is back in 2020 with 66.8% of the Democratic primary vote behind her in a time when the urgency to elect Democrats has never been stronger.
The 23rd Congressional district is a melting pot of diversity, but also a hugely rural area home to the second-highest number of military veterans in the country.
Gina believes that success and prosperity should be the result of hard work, but also recognizes that the government has a role to play in ensuring that access to opportunity is available to all who seek it. Therefore, access to quality, affordable healthcare, compassionate and practical immigration reform, and economic policies that consider all Americans comprise the crux of her platform.
WHY HER?
We find this race in Texas' 23rd district an important race to monitor for two reasons: first, Gina's unrivaled professional background in national security and economic policy would appear to make her an ascendant Democrat to watch in general and second, Texas itself is an increasingly purple state.
Continue reading below for a full exclusive interview with Gina Ortiz Jones to learn more about why she is a candidate to support.
HOW CAN I SUPPORT HER?
Get involved with supporting Gina! Visit her website and follow her on social media for the most up-to-date information on the campaign:
Learn More: http://ginaortizjones.com 
Facebook: Gina Ortiz Jones for Congress
Twitter: @GinaOrtizJones
Instagram: @ginaortizjonestx
AN EXCLUSIVE DEMOCRATS ABROAD INTERVIEW WITH GINA ORTIZ JONES
DA: You ran against Will Hurd in 2018 and very narrowly lost. An article by The Daily Beast from that election cycle highlighted the "firsts" you would bring to Texas-23 if you were elected: first Filipina-American, first woman, first out-lesbian, and first Iraq-war vet. These would-be firsts still stand today, but the Dallas News has also pointed out that in virtually any other district with the demographic make-up of TX 23, the Democratic candidate would be the runaway winner.
In your opinion, where do Republicans find inroads to make a compelling case to represent the constituents and what specific differences between their approach to representing and your own do you want to highlight for Democrats Abroad voters that speak to the urgency of achieving a Democratic victory in this particular district?
Ortiz Jones: This district was drawn to be competitive, as evident by the fact that the incumbent has won three times and has never broken 50%. Additionally, too often assumptions are made about communities, especially communities of color, that overlook their lived experiences. While this is a district that is majority Hispanic, many of these Southern Hispanics are fourth, fifth, sixth-generation Texan, meaning they may not necessarily identify with the lived experiences nor share the same world view as newly arrived immigrants. That, in part, helps to understand why — despite demographics — this district has changed hands quite frequently over the last election cycles.
In 2018, I lost by just 926 votes against a popular Republican and despite getting massively outspent. That shows me that this district is ready for change. Texans in this district are ready to have a representative who knows the issues, knows our communities, and is ready to fight for our communities. For example, health care is the number one issue I hear about – Texas has the highest uninsured rate in the nation, we have yet to expand Medicaid, and more rural hospitals have closed in Texas than any other state in the last ten years. In this district in particular, 18 of our 29 counties have three or fewer physicians – and three counties have none. 
And yet, even in the middle of a global pandemic, Republicans are trying to sabotage the Affordable Care Act. I cared for my mom when she was diagnosed with colon cancer, and I know her survival was possible because she had access to quality, affordable health care. This is what is at stake – electing someone who understands the struggles Texas families face and will fight to expand access to health care and bring down prescription drug costs, or someone who doesn't understand that too many families are just one medical emergency away from years of financial hardship or bankruptcy. 
DA: What do you feel about your background as the daughter of an immigrant, Air Force intelligence officer, and public servant uniquely equips you to serve as a Texas representative? 
Ortiz Jones: I've lived the American Dream, and I've seen firsthand the importance of American leadership.
I know what it's like to live in subsidized housing and rely on reduced lunch. I was able to go to college because of a four-year Air Force ROTC scholarship. My lived experience has absolutely shaped my desire to serve and give back to a community and country that has given me so much. It's the reason I spent my entire career in public service, and it's the reason I'm running for Congress today.
I'm running to protect the opportunities that allowed me to grow up healthy, get an education, and serve our country. When I talk about education, or economic opportunity, or a fair and just immigration system, these aren't just talking points – public policy has shaped my life. Having served our country in a number of ways, from the frontlines in Iraq as an Air Force Intelligence Officer, to working in the Executive Office of the President on economic and national security issues, I've seen firsthand the importance of American leadership, and I'll work to make sure we have economic and national security policies that reflect our values.
DA: Americans abroad are often hyper-sensitive to the stereotypes that the rest of the world holds of Americans, and Trump's presidency has only heightened this feeling. However, difficult though it may be to see these days, DA members fiercely hope that the US will recover from these particularly humiliating four years. As a Texan and an American, what fundamentally "good" American ideals do you bring to the table as a candidate and what are you most proud of in particular having had the chance to be born and raised in Texas?
Ortiz Jones: I can empathize with what many of you may be feeling. I moved to Germany in August 2008, to be part of the team to stand up U.S. Africa Command. As a Texan and on the heels of the 2008 presidential election, U.S. politics was all every German wanted to discuss! And, while it was clear the underlying sentiment of their question was "What is going on over there?," there was also a hopefulness about our ability to regain our footing. Because they, too, understood the importance and indispensability of American leadership. And, in many ways, I think we're back in that same spot. 
I know firsthand the importance of American leadership. It is disappointing that we're not providing that sorely needed leadership so many countries have come to expect from us during a time like this. But, I believe in the fundamental promise of this country, and that's why I'm fighting to protect it. My mom left the Philippines for a shot at the American Dream, and although there were many years of sacrifice and long hours, she gets to see her daughter run for Congress. It's a truly special country where such is a possibility, and I'm confident we can resume our place as an example for the world. 
DA: For many, November is like a too-bright light at the end of the tunnel. There is a tentative hope that, if Trump is voted out, much of the bile and venom that he has drudged up will drain out of the Republican party, making it possible for Democrats and Republicans to come together to work on issues the way Congress was intended to do. Which do you see as key areas for the parties to come together on and what about you and your skillset equips you to work well with others and achieve that difficult promise of "actually getting things done"?
Ortiz Jones: During my nearly 15-year career in national security, I've taken the oath to our Constitution several times. As a public servant, it has always been about working in the interest of the country, building the team to get it done, and holding ourselves accountable if we fell short of what we were asked to do. That is a public servant's mindset and skillet, and I look forward to bringing both in service to this district.
I think key areas of opportunity include: veterans' care and services, infrastructure, and investments in renewable energy. I get my own care through the VA, so I can speak to the importance of ensuring the VA is meeting the demands of all veterans, regardless of their age, sex, and where they live. Closing the urban-rural divide is something I know both parties want to address, and I think smart infrastructure investments help to do that while providing good paying jobs to address the brain drain many rural communities are experiencing. Lastly, Texas provides 25% of the country's wind energy and we're the sixth largest solar producer in the country. Renewable energy is critical to this district's economy, and ensuring our country's leadership in that space meets our country's economic, public health, and national security interests. 
Do you like this post?