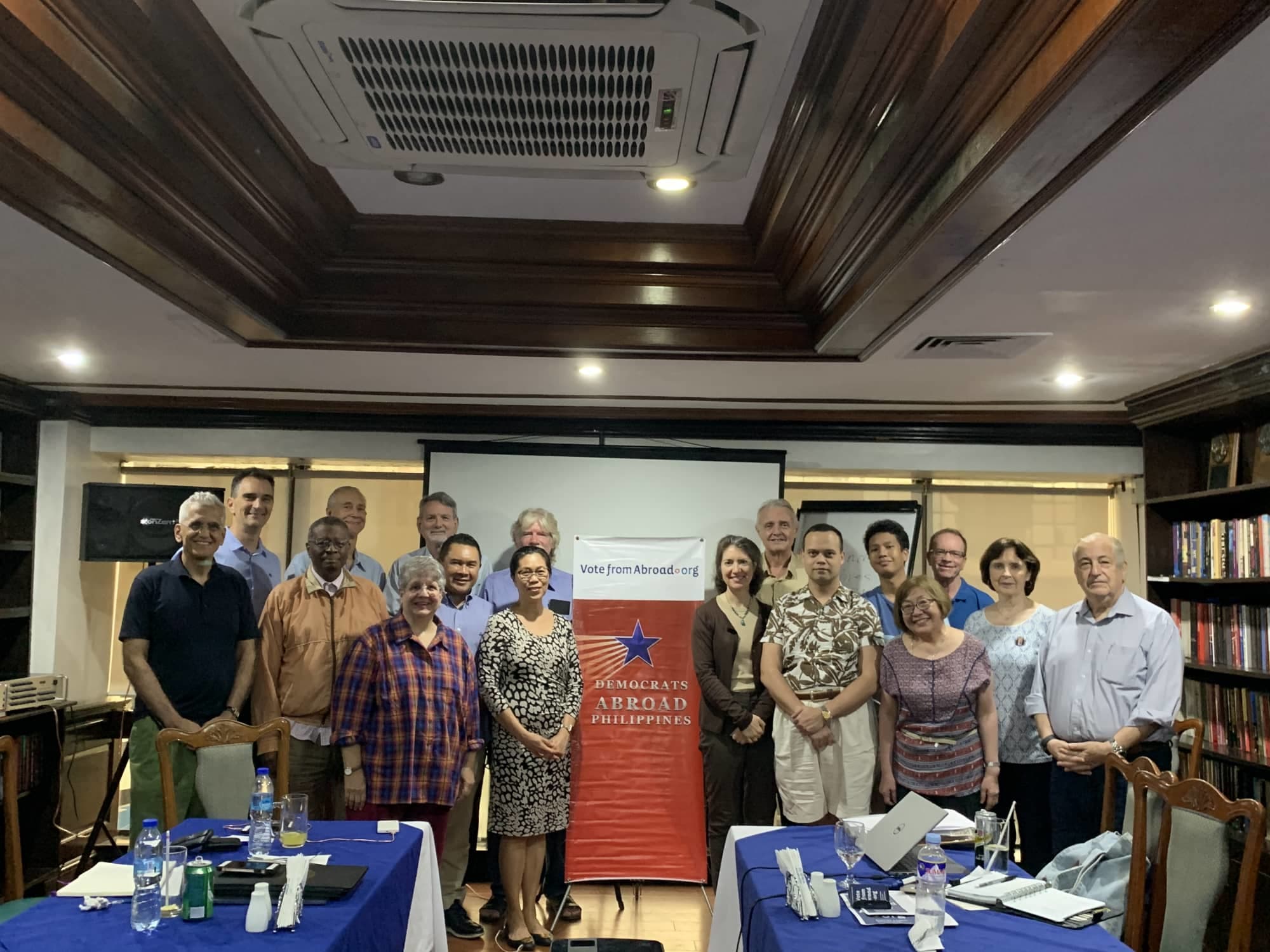 Photo shows (left to right) Democrats Abroad (DA) Philippines (DAPH) Makati Ward Omar Tiwana; Member Gabriel Demombynes; former Vice-Chair Gene Boggs; Members David Kuchenbecker, Jasmine Tiwana, James Savage and Vladimir Manuel; Events Committee Donald Goertzen; Secretary Bing Ganchero-Gelman, Chair Lisa Pagkalinawan; former Chair John Boyd; Vice-Chair Angelo Goode; Get Out The Vote (GOTV) Coordinator Brian Borlongan; Members Angela Reyes and Jon Sachs; Treasurer Kathleen Bergeron-Guido; and former Philippines Treasurer and Singapore Vice-Chair Bill Gelman at the DAPH Annual General Meeting on Saturday January 18, 2020 at the Elks Club in Makati City.
Annual General Meeting 2020
DA Philippines held its Annual General Meeting (AGM) on Saturday January 18, 2020 from 3:30-5:30pm at the Elks Club, 7th Floor Corinthian Plaza Building, Paseo de Roxas corner Legaspi Street, Legaspi Village, Makati City. We reported on activities held in 2019, elected a new secretary, voted on and passed our amended By-Laws (which former Philippines Treasurer and Singapore Vice-Chair Bill Gelman has been working on since 2015, and thanks Asia-Pacific Regional Vice-Chair Kat Allikian of DA New Zealand for all your detailed help), and discussed activities for 2020. Minutes here.
New Secretary
Congratulations new Secretary Elvie "Bing" Ganchero-Gelman! Bing has been a member of Democrats Abroad Philippines since 2013. When she and her husband former Treasurer Bill moved to Singapore in 2014, they both continued to take an active role in DA Singapore (known as DA Lion City), where Bill served as Singapore Vice-Chair. While living in Washington DC in 2018, Bing volunteered to reach out to members of congress to establish legislation for equitable tax treatment of US citizens living abroad. She has over 20 years experience working in community and business sustainability space, driving nonprofits and multinational companies toward implementing sustainable strategies that deliver measurable business and social outcomes in the Asia-Pacific region.
Annual Report 2019
Meetings
Our 2019 AGM was held on Saturday January 19, 2019 at the Elks Club, 7th Floor Corinthian Plaza Building, Paseo de Roxas corner Legaspi Street, Legaspi Village, Makati City (hereafter Elks Club). During the year, three General Meetings were held all on Saturdays at the Elks Club on:
April 6, 2019
July 6, 2019--where we also celebrated Pride, Independence Day, and the 154th Juneteenth anniversary
October 26, 2019--where we also celebrated Halloween.
Officers
At the end of 2019, we had the following Executive Committee officers:
Chairperson: Lisa Pagkalinawan
Vice-Chairperson: Angelo Goode
Secretary: Maurice "Morrie" Kayanan (resigned Thursday December 12, 2019 due to health)
Treasurer: Kathleen Bergeron-Guido
Ex-Officio members of the Executive Committee: Donald Goertzen, Anita Celdran and Mary Ellen de Jesus
Events
We held 12 events:
1st Database Clean-Up on Saturday February 2, 2019 at Launch Lab Test Kitchen, Unit 201, 2nd Floor, Renaissance Building, 215 Salcedo Street, Legaspi Village, Makati City--Although we did not work on updating our database of members previously, since the beginning of 2019 members consistently volunteered for the effort and we have made important progress.
Tax Seminar on Saturday April 13, 2019 at the Elks Club--Manrkē's Asia Pacific CEO Richard Medalla explained who is required to file US income taxes, Foreign Bank Account Report (FBAR), and Foreign Account Tax Compliance Act (FATCA) reports. He also presented common challenges facing Americans abroad in complying with US tax reporting requirements, and answered questions from the audience.
Memorial Day on Sunday May 26, 2019 at the Manila American Cemetery and Memorial, Fort Bonifacio, Taguig City--We participated in commemorating Memorial Day, organized by the American Association of the Philippines in coordination with the US Embassy Manila, to honor Americans and Filipinos who fell and went missing in World War II. As DA Global Chair Julia Bryan suggested, our members donated a handsome commemorative wreath designed around lovely red anthurium flowers. To raise money for the wreath, GOTV Coordinator Brian created a GoFundMe page under the direction of former Secretary and Communications Manager Morrie, and which Vice-Chair Angelo posted on social media. The GoFundMe page showed a panoramic view of the Manila American Cemetery and a historic photograph of General Douglas MacArthur returning to the Philippines. The words read: "In World War II, Douglas MacArthur promised the Philippines, 'I shall return!' He and America kept its word at the cost of more than 17,058 of its young men and women. These American and Filipino Soldiers, Sailors, Marines, Airmen, Doctors and Nurses, made the final sacrifice and have been laid to rest in the Manila American Cemetery. An additional 36,286 are still Missing In Action. Help us honor these souls on Memorial Day, May 27, 2019, please give to our cause to fund a wreath for them. God bless all who sacrifice for freedom." Global Chair Julia featured our photo on her Facebook feed and it was also included on DA's main homepage among Memorial Day photos of France, Luxembourg, and the Netherlands.
1st 2020 Democratic Presidential Primary Debate Watch on Thursday June 27 and Friday June 28, 2019 at Union Jack Tavern, 105 VA Rufino corner Esteban Streets, Legaspi Village, Makati City (hereafter Union Jack Tavern).
2nd 2020 Democratic Presidential Primary Debate Watch on Wednesday July 31 and Thursday August 1, 2019 at Union Jack Tavern.
Potluck on Saturday August 10, 2019 at The Palisades, 107 Perea Street, Legaspi Village, Makati City--Hosted by Secretary Bing at her condominium building's function room, members had fun enjoying popcorn, quesadillas, potato gratin, chili, pancit (Filipino stir-fried noodles), carrot cake, chocolate walnut cookies, fruit, and wine among others. The question of how DA can help tear-gassed Americans in Hong Kong was raised by a visiting professor of Western political thought.
3rd 2020 Democratic Presidential Primary Debate Watch and Equal Rights Amendment (ERA) Postcard Writing on Friday September 13, 2019 at Handlebar, 31 Polaris Street, Makati City--At our third debate watch party, we also wrote and sent 50 postcards to Virginia voters to help elect Democrats who would support Virginia's ratification of ERA. As attendance at our three debate watch parties was minimal, we stopped hosting until sufficient interest arises.
2nd Database Clean-Up on Saturday September 28, 2019 at the Elks Club--From December 1, 2018 to December 1, 2019, we went from 62% to 78% of our members being valid, which means they will be included in the January 31, 2020 membership count. This is a big improvement because we now only have 179 members excluded from our count. In an effort to further increase our number of valid members before the January 31, 2020 membership count, we asked volunteers to try to call or text any of these people, or search for them on Facebook to see if they are still in the Philippines.
Veterans Day on Monday November 11, 2019 at Clark Veterans Cemetery in Clark Free Port Zone, Angeles City, Pampanga Province--Organized by former Chair John Boyd (hereafter John B), several members participated in the Veterans Day ceremony in Clark, visited grave sites of many soldiers, had lunch at Clark's local Veterans Lodge with veterans and their families and friends, and met Democrats in the area. We informed Global Chair Julia of our participation by email and emailed photos to comms@democratsabroad.org.
Lecture on the Balangiga Bells and the 75th Anniversary of the Liberation of the Philippines by American and Filipino Forces on Saturday November 16, 2019 at the Elks Club--Retired US Foreign Service Officer and Filipino-American Memorial Endowment (FAME) Board Member Dan Larsen gave a history talk about the Balangiga Bells, which are three church bells the US Army took from the Church of San Lorenzo de Martir in Balangiga, Eastern Samar, following the Balangiga massacre in 1901 during the Philippine-American War. After over a century, the bells are back in the Philippines. Larsen's presentation and discussion examined the twists and turns involved in the history of US custody of these war trophies and their delayed return to the Philippines 117 years after the end of the 1898-1901 Philippine-American War. Taken in 1901 from a Philippine church belfry destroyed on Samar Province, their delayed return closed a long-standing irritant in US-Philippine relations. Larsen also talked about the 75th anniversary of the liberation of the Philippines during World War II, which was MacArthurs return to Leyte in October 1944, and reviewed ways to participate in commemorating events leading up to General Yamashita's September 1945 surrender and the end of the war.
Progressive Drinking on Wednesday November 20, 2019 at La Petite Parisienne, LPL Center (San Agustin Street), 130 Leviste Street, Salcedo Village, Makati City--To further mobilize our membership because our members are physically distanced spanning cities and provinces throughout the archipelago, several members would like to explore implementing a Ward System, which assigns a point person per geographic area tasked to lead mobilizing a subgroup of our members located in that geographic location. This Ward System may also encourage creation of Philippine Chapters. Although recruiting suitable volunteers as Ward point persons is challenging, GOTV Coordinator Brian prepared geographic member lists for (1) Cebu, (2) Makati, (3) Mandaluyong, (4) Manila and (5) Taguig, and Chair Lisa assigned former Secretary Omar Tiwana as Makati Ward. This Progressive Drinking event, organized by Makati Ward Omar and Secretary Bing, for our Makati Ward members is hopefully the first of many toward better knowing Democrats in Makati City to develop specific activities and initiatives based on the felt needs of the members of this geographic subgroup.
Thanksgiving on Thursday November 28, 2019 at the Philippine Bureau of Immigration Detention Center, Lower Bicutan, Taguig City--Every year on Thanksgiving Day, we endeavor to visit American detainees and if the Warden consents in advance, bring them supplies like food, reading materials, and other necessities (Wardens often serve for just a year or so). We continue to provide support for a few incarcerated Americans, with former Chair John B and Member David Kuchenbecker making regular visits with logistical support from Chair Lisa. David's efforts to compile a list of detainees and offer assistance is commendable. Chair Lisa delivered a Thanksgiving dinner of turkey and mashed potatoes for the detainees courtesy of members' donations, and former Chair John B brought apples, soap and small towels. Following is a thank you message from a previous detainee to former Chair John B: "Thank you for coming to visit us at Bicutan Detention Center. I was unjustly held there for two and half months and I am grateful for your visits. The washcloths that you provided me helped me to keep clean, which is a dauntingly difficult task when imprisoned. Most importantly, was the fact that you visited. It gave us hope knowing that there was somebody out there."
Membership
As of December 31, 2019, we had 836 members, of which 78% were valid. To be considered "valid," members must meet the following conditions:
Be approved as a member
Have a local street address and/or local phone number
Be verified as still living in the Philippines within the past four years.
Social Media
For social media, Annual Report 2019 focuses on the last quarter of the year because we can assume it is representative of the whole year:
Facebook (FB)--We kept our page active and received regular engagement, measured through numbers of clicks and shared articles from our page. As of January 11, 2020, 297 people like our page and 321 follow it. Followers receive every post in their own feeds. In the final quarter of 2019, we posted 20 announcements, reminders and reports of our activities, including meetings and events; eight articles specifically related to voting and registration through VoteFromAbroad.org; 34 links to articles of general interest to Democrat voters and/or Filipino Americans or American Filipinos; and seven funny or sad memes. Former Treasurer Irene Donohue and FB Editor Joan Corpuz actively found and posted a variety of interesting material. Social Media Manager Nancy Longatan focused on monitoring comments and event announcements, as well as material from VoteFromAbroad.org and DA. We assisted one person who inquired through Facebook for help in registering to vote.
Twitter--We focused our tweets on event announcements and reminders. At the end of 2019, we had 48 followers, followed 147 entities, and made 24 tweets in the last three months.
Next Activities
Democrats Abroad (DA) is the official Democratic Party arm for nine million US citizens--civilian and military--living outside the United States. Our goals are to mobilize the overseas vote to elect Democratic candidates and help Americans abroad amplify issues that matter to them. We are best equipped than any organization to help overseas Americans engage in the US political process because the Democratic national party or Democratic Party known as the Democratic National Committee (DNC) recognizes us as an official "state" party. With DNC state-level recognition, we: (1) hold an official Democratic presidential primary, (2) help select the Democratic presidential candidate by also sending a voting delegation to the Democratic National Convention to represent DA Primary Voters and help decide the national party's nominee for president, (3) represent US citizens abroad at all DNC meetings because we elect eight DA Members to hold eight positions on the Democratic National Committee to represent us, and (4) are the only official US political party of American citizens abroad because the Republican Party does not have an equivalent organization of this status. We work to reach as many US citizens as possible, in as many ways as possible, to ensure they have opportunities to stay engaged in the US political process and presidential election. In the 2018 midterm elections, Democrats Abroad helped grow the civilian overseas vote by 322% over the 2014 midterms. This year, we expect to help more than one million voters vote overseas, and win Democratic elections back home.
Visit Democrats Abroad Philippines homepage, like us on Facebook, and follow us on Twitter.
Press contact: email Democrats Abroad Philippines da-ph@democratsabroad.org
Do you like this post?