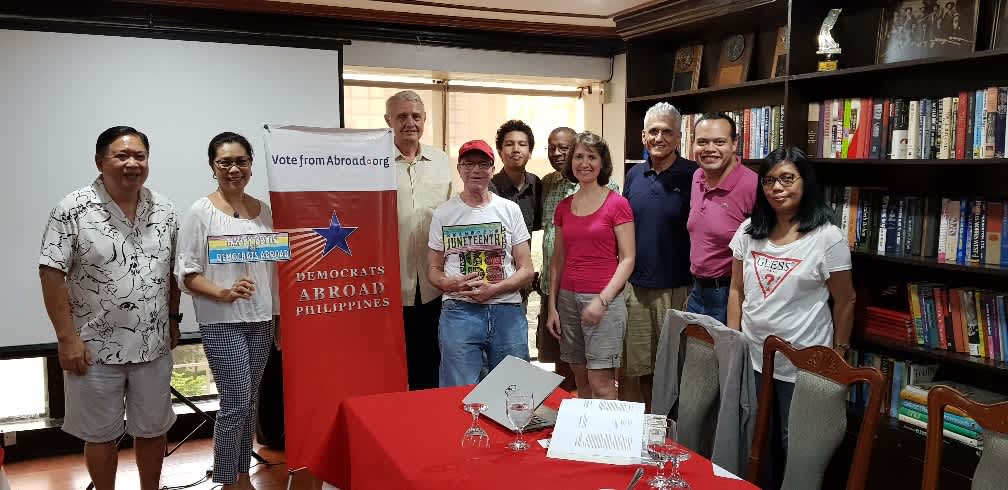 Photo shows (left to right) Democrats Abroad (DA) Philippines (DAPh) Communications Manager Morrie Kayanan, DAPh Events Committee Bing Gelman, DAPh former Chair John Boyd, DAPh Member Jon Sachs, DAPh Get Out The Vote (GOTV) Coordinator Brian Borlongan, DAPh former Vice-Chair Gene Boggs, DAPh Chair Lisa Pagkalinawan, DAPh Makati Ward and former Secretary Omar Tiwana, DAPh Vice-Chair Angelo Goode, and DAPh Photographer Joan Corpuz.

DA Philippines held its third quarter general meeting on Saturday July 6, 2019 from 3:30-5:30pm at the Elks Club (Library), 7th Floor Corinthian Plaza Building, Paseo de Roxas corner Legaspi Street, Legaspi Village, Makati City.
We followed up discussion from the previous April 6, 2019 meeting; reported on the Tax Seminar, Memorial Day Commemoration, and the 2019 Global Meeting; and discussed our 2020 Strategy--the first primary is on February 3, 2020 and the global primary is March 3-10, 2020.

We also shared that the Election Assistance Commission 2018 survey report findings note the rate of total ballot return by civilian voters abroad went up 300% from 2014 in 2018. Knowing Democrats Abroad figures, that suggests that Democrats Abroad directly helped nearly 50% of those voters! Further details will be sent out after a more in-depth dive into the numbers, but let's all take a moment to congratulate and thank each other for a job really well done. Many many kudos to each and every one of you.

Minutes of the July 6, 2019 meeting, here.

After the meeting, we celebrated July 4th Independence Day organized by the Elks Club.
And together with July 4th, we celebrated Juneteenth. Juneteenth isn't just a celebration of emancipation, it's a celebration of our commitment to make it real. Also known as Juneteenth Independence Day or Freedom Day, it's an American holiday that commemorates the June 19, 1865 announcement of the abolition of slavery in Texas, and more generally the emancipation of enslaved African Americans throughout the former Confederate States of America. Juneteenth is recognized as a state holiday or special day of observance in forty-five states. This year is the 154th anniversary. Read the Emancipation Proclamation about the importance of freedom for all people, especially in these times, here. You can find a playlist and more information about Juneteenth celebration, here.
Our next activities will be the Second 2020 Democratic Presidential Primary Debate Watch on (1) Wednesday July 31 and (2) Thursday August 1, 2019 from 9-11am at Union Jack Tavern, 105 VA Rufino corner Esteban Streets, Legaspi Village, Makati City. There is no fee to attend (self-paid à la carte menu). All you need is a keen interest in the Democratic candidates' political platforms and sharing your views with other members of DA Philippines. Come and go as you like on Wednesday and Thursday from 9-11am. This is an informal get-together, so no need to RSVP.
The next general meeting is on Saturday October 26, 2019 from 3:30-5:30pm at the Elks Club, 7th Floor Corinthian Plaza Building, Paseo de Roxas corner Legaspi Street, Legaspi Village, Makati City.

Democrats Abroad is the official organization of the Democratic Party for US citizens living permanently or temporarily abroad. The organization is given state-level recognition by the Democratic National Committee (DNC), with eight positions on the DNC, and sends a voting delegation to the Democratic National Convention to select our presidential candidate.

If you are not yet a member of Democrats Abroad, you can become one by signing up at DemocratsAbroad.org. Visit Democrats Abroad Philippines webpage, like us on Facebook, and follow us on Twitter.

Do you like this post?