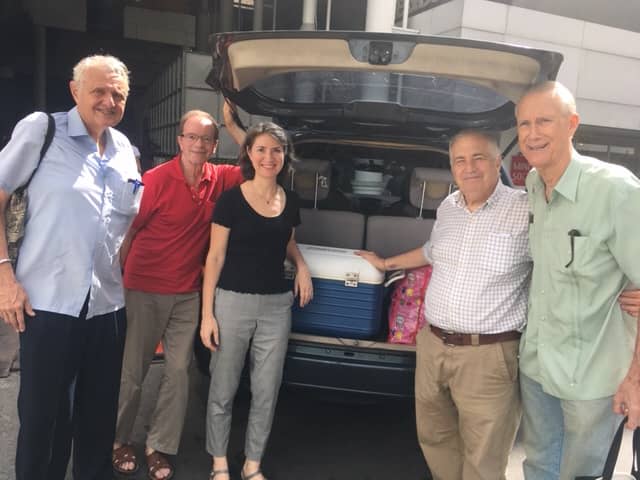 Photo shows (left to right) Democrats Abroad (DA) Philippines former Chair John Boyd, Member Jon Sachs, Chair Lisa Pagkalinawan, former DA Lion City (Singapore) Vice-Chair Bill Gelman, and Member David Kuchenbecker visiting American detainees on November 28, 2019 at the Bureau of Immigration Detention Center in Lower Bicutan, Taguig City.
Happy Thanksgiving!
On Thanksgiving Day Thursday November 28, 2019 from 9am-12nn, DA Philippines visited the Philippine Bureau of Immigration Detention Center in Lower Bicutan, Taguig City.
Every year for Thanksgiving, we endeavor to visit American detainees and if the Warden consents in advance, bring them supplies like food, reading materials and other necessities (Wardens often serve for just a year or so).
We've continued to provide support for a few incarcerated Americans, with former Chair John B and Member David making regular visits with logistical support from Chair Lisa. Thanks David for your efforts to compile a list of detainees and offer assistance!
This year Chair Lisa delivered a Thanksgiving dinner of turkey and mashed potatoes for the detainees thanks to everyone's donations, and former Chair John B brought apples, soap and small towels.
Here's a thank you letter from a previous detainee:
Thank you for coming to visit us at Bicutan Detention Center. I was unjustly held there for two and half months and I am grateful for your visits. The washcloths that you provided me helped me to keep clean, which is a dauntingly difficult task when imprisoned. Most importantly, was the fact that you visited. It gave us hope knowing that there was somebody out there.
Visit Democrats Abroad Philippines homepage, like us on Facebook, and follow us on Twitter.

Democrats Abroad is the official organization of the Democratic Party for US citizens living permanently or temporarily abroad. The organization is given state-level recognition by the Democratic National Committee (DNC), with eight positions on the DNC, and sends a voting delegation to the Democratic National Convention to select our presidential candidate.
Press contact: email Democrats Abroad Philippines da-ph@democratsabroad.org
Do you like this post?