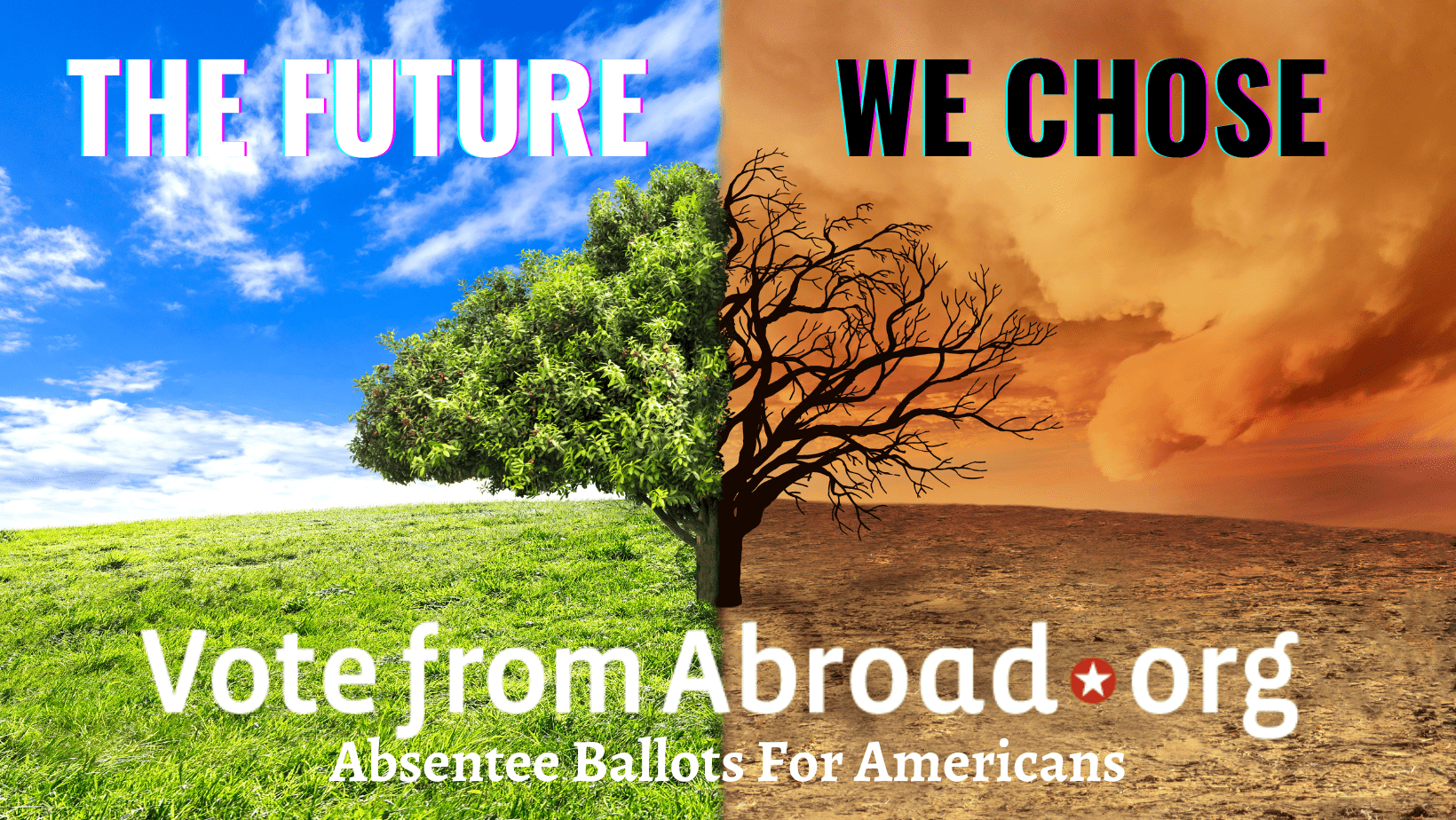 Message from the Chair
💙 Less than 45 days until the midterm elections; we will indeed be voting on THE FUTURE WE CHOSE. To forward the Biden administration's climate agenda (not to mention voting rights and reproductive rights), we must individually do everything possible to get Democrats elected up and down every ballot. Make sure you, your neighbors and friends, your family back home, and their networks are all registered and casting their ballots appropriately. Once that's done, volunteer with us, phone bank, or join in a local registration drive.
🔔 The recent flooding in Pakistan covers 1/3 of its territory, putting at least 2 million at severe risk of disease and starvation. Hurricane Fiona has walloped Puerto Rico this month, a mere five years after the devastating Maria, and summer's heat waves and fires have ravaged nearly every continent. These climate-related events are becoming more frequent and more severe, and scientists understand that it is just the beginning.  Radical measures must be taken across every sector and nation to save our ailing planet.
🌎 Accordingly, representatives from nations worldwide have convened this week on the U.S. East Coast to attend the UN General Assembly and Climate Week in New York, with parallel climate forums taking place across the city. Also, in Boston, the finalists of the Earthshot Prize (a global prize for the environment designed to incentivize change and repair our planet) were announced in full fanfare. Climate is understandably big on the agenda, with calls for unity to meet this challenge. Appropriately, Al Gore called out the President of the World Bank, David Malpass, for being a climate denier. There is no place in our U.S. government or vital international institutions for powerful agents, holding the world's purse strings, to ignore the scientific community.
🆘 One topic nearly every leader addressing the U.N General Assembly reiterated was the menacing global climate emergency. In addition to all the other efforts the administration is pushing to address this threat, President Biden must declare the crisis federally. Please sign our petition to urge the President to declare a National Climate Emergency!
🌻 Read Our New monthly blog segment, "The Good, The Bad, and the Nerdy!" This month's blog is on Alternatives to Lithium-ion Batteries by Elizabeth Clarey - A Pennsylvania voter living in the Czech Republic.
🌻 Read Newsom's Water Strategy for Climate Adaptation in California by Diana Powers - A Florida voter living in France.
🍂 World Bank Leader, Accused of Climate Denial, Offers a New Response
🍁 Senate Just Approved International Climate Treaty
🍂 Decarbonizing Energy Systems by 2050 could Save Trillions
🍁 Cities Like Philadelphia are Powerful Tools for Climate Adaption
🍂 The Long Road Ahead for American-made Electric Vehicles
🍁 Q&A with Mary Peltola – Alaska's New House Rep
🍂 Conversation with Bill Gates at the Earthshot summit
🍁 The Power of Positive Tipping Points with Al Gore
 

Climate Cafe - September

Please join Wednesday, September 28 at 10 am EDT/4 pm CEST for our monthly Climate Cafe for an informal discussion of the new Inflation Reduction Act and the opportunities it affords people to maximize energy efficiency and reduce their carbon footprint.

Join us for an informal discussion this month on this extremely important topic.

 




 

 

Meet Progressive Candidates Coast to Coast Today at 9:30 am EDT/ 3:30 pm CEST


Inspiring progressive candidates won their primaries nationwide! proDA presents some from the West, Midwest, and East who will build the Congressional Progressive Caucus when they are elected in November. Find out what these diverse leaders will bring to a Democratic House that will work with an expanded Blue Senate majority to tackle the unfinished business of building back better. And learn what we can do to help.

 

Reproductive Freedom - Messaging and Comms with Celinda Lake

Please join the Women's Caucus for a special briefing on Tuesday, September 27th at 9:00 AM EDT/ 3 pm CEST on the most effective messaging and communication strategies around the abortion issue. 
🌍 Read the ECCC Statement on the Inflation Reduction Act
🌏 Watch our August Climate Café on Climate and Disabilities
🌍 Watch our July Climate Café on Queer Ecology
🌍 Did you miss our Co₂nsequences: Global Climate Rally in April  You can watch it here  We had a lot of great speakers and performers.
🌍 Want to make your lifestyle greener  Boost your knowledge  Check out our Earth Care Toolkit.
🌍 If you have Netflix, watch the documentary Youth v Gov (2020) or watch the trailer  Directed by filmmaker and scientist Christi Cooper  YOUTH v. GOV is the story of America's youth taking on the world's most powerful government  In 2015, twenty-one young plaintiffs, ages 8 to 19, filed the lawsuit Juliana vs. the United States, asserting a willful violation of their constitutional rights in creating our climate crisis  If they're successful, they'll not only make history, and they'll change the future.

A meaningful way to get out our message is through social media  We need your help extending our essential message by following, liking, and subscribing to our newly established social media accounts: Facebook, Twitter, Instagram, and YouTube  We can't beat the algorithms without your help.
Democratically Yours,
DA Environment & Climate Crisis Council
http://www.democratsabroad.org/