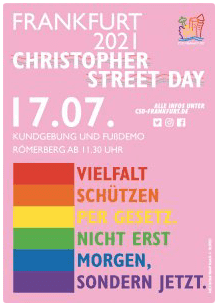 Join us for Frankfurt 2021 Christopher Street Day (in conjunction with the Democrats Abroad Germany LGBTQ+ Caucus). Please contact Carl Landon Taylor at carllandontaylor@t-online.de or 0178 4305067 for additional details.
WHEN
July 17, 2021 at 11:30am - 3:30pm Berlin Time
CONTACT
Carl Landon Taylor ·
Do you like this post?