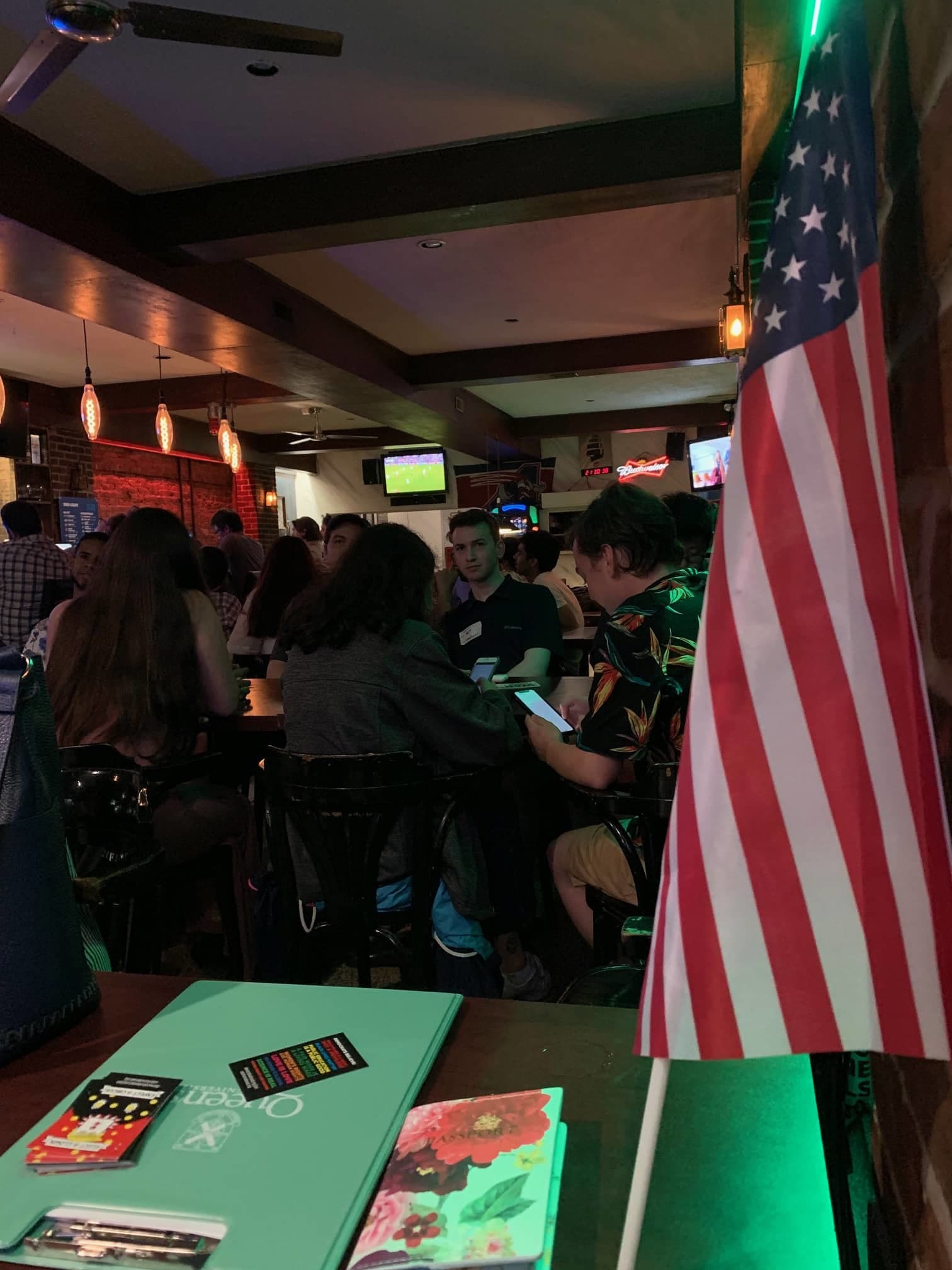 Just behind that American flag is a table of McGill students gathered in Bar des Pins to watch the first night of the Democratic debates. We had a great turn out, well over 40 people, with a mix of McGill DA club members and DA Montreal members. There was a lot of animated discussion about the candidates on the stage with applause for some when they "hit the sweet spot".
I just want to share with everyone something which came up many times in the course of the evening as I walked through the crowd to introduce myself. There are a lot of Americans here in Montreal and a lot of them want to connect with other expats. I have made no secret of my primary aim to get as many American Democrats as possible to send in their absentee ballots in 2020. That is what keeps me up late at night. But, what I learned at this event is that it is just as important for this chapter to provide ways for Americans here in Montreal to connect and you have my word that our executive team will work diligently to find ways to make this happen. As always, I would appreciate members' input on this subject to help us plan future activities.
It was great to see everyone at this event. I look forward to seeing more of you on Mount Royal for July 4th and then again at the Pride Parade August 18. Don't forget, we are printing DA Montreal tee shirts, $20 each. I think we CAN find other Americans when we wear our DA tee shirts and let other Americans know we are here. I hope to place an order by July 5, so don't delay in ordering.
Keep spreading the word about Democrats Abroad. We want a policy of "no American left behind". If you are an American- and you are a Democrat- and you live in Montreal- then you NEED to be a part of this organization. We need to stick together and be there for each other AND for our country! Montreal Democrats CAN make a difference in the 2020 US presidential election. Remember, your vote is part of an aggregate of absentee votes being sent in from all over the world. Those individual votes add up and they add up quickly. And I believe that this current administration's attitude toward the people it is meant to serve will act as a catalyst for a lot more people to vote with the Democrats in 2020.
Randi Weitzner
Chair, DA Montreal