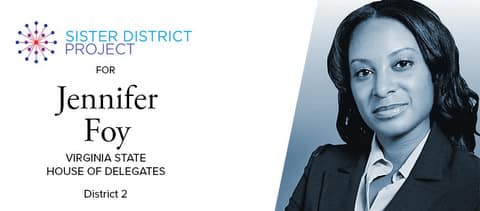 Updated 9/18/2017.
Democrats Abroad - China is excited to be working with Sister District Project to to help Jennifer Carroll Foy, Democratic candidate for the Virginia House of Delegates, and flip District 2 blue! VA-02 is one of the most competitive districts in Virginia and Jennifer's success will be a momentum-building victory in the lead up to November, when the entire Virginia House of Delegates is up for election.

We'll be phonebanking, fundraising, and engaging in other opportunities to support Jennifer. Find out more about how you can help below.
About Jennifer and VA-02

As a former Magistrate and now public defender, Jennifer has dedicated her life to public and community service. Jennifer is passionate about protecting women's access to reproductive health care, fighting for equal pay for equal work, advancing criminal justice reform, expanding pre-k education, and supporting VA's teachers and first responders with better pay.
VA-02 comprises of Prince William and Stafford counties southwest of Washington D.C. and is one of the most competitive districts in Virginia this fall. It was last held by a Republican but Hillary Clinton carried it last year. The Republican incumbent is retiring and Jennifer's initial opponent recently dropped out of the race, making this seat a prime target for us this year.
You can find out more information about the race here: https://www.sisterdistrict.com/vahod02
How to Get Involved
If you're interested in joining us to help elect Jennifer to the VA House of Delegates, please sign up here. Activities to support Jennifer will be organized through your DA-China leadership, in partnership with Sister District.
Donate Now!
If you're excited and eager to make an impact in other ways, you can also donate to Jennifer's campaign here. Jennifer's campaign is operating on a very tight budget in a low-spend district, so every dollar will make a huge difference in the race for this district.
(This is a DA China-specific link so we'd be grateful if you donate/spread the word using it so we can keep track of how much we are able to help raise: https://secure.actblue.com/donate/sdp-da-china?refcode=china
About Sister District and the Virginia Races
Sister District Project is a grassroots organization that channels the explosive people power of Democratic volunteers in blue areas towards strategic, winnable races in purple districts where such mobilization can make a significant impact. Phonebanking, fundraising, and other activities are just some of the ways we'll be supporting Jennifer Carroll Foy for VA House of Delegates.
Sister District Project is proudly supporting 13 candidates running for the Virginia House of Delegates in 2017. Virginia is the quintessential purple battleground state, and its districts are among the most gerrymandered in the country. It is essential that we fight to flip Virginia blue so that its districts can be redrawn fairly ahead of the 2020 census. Also, our fight for the state legislature in Virginia will send a strong message to the rest of the nation that Democrats are ready to retake our government at all levels. Remember, what happens in these off-year elections in Virginia is often a sign of what will happen nationally in the next midterm election. After going blue in '08 for the first presidential election in decades, Virginia's state legislature swung right in 2009, which foreshadowed the Dems huge losses in 2010. Let's get the pendulum swinging in our direction ahead of the incredibly important 2018 midterms next year!
Any Questions?
Please feel free to reach out to Phong Quan (phong.quan@gmail.com) or any other member of the leadership board if you have any questions. We're here to help!
Do you like this post?