Sunday, January 23
Frankfurt, Germany
Look Up! ECCC Launch Event
RSVP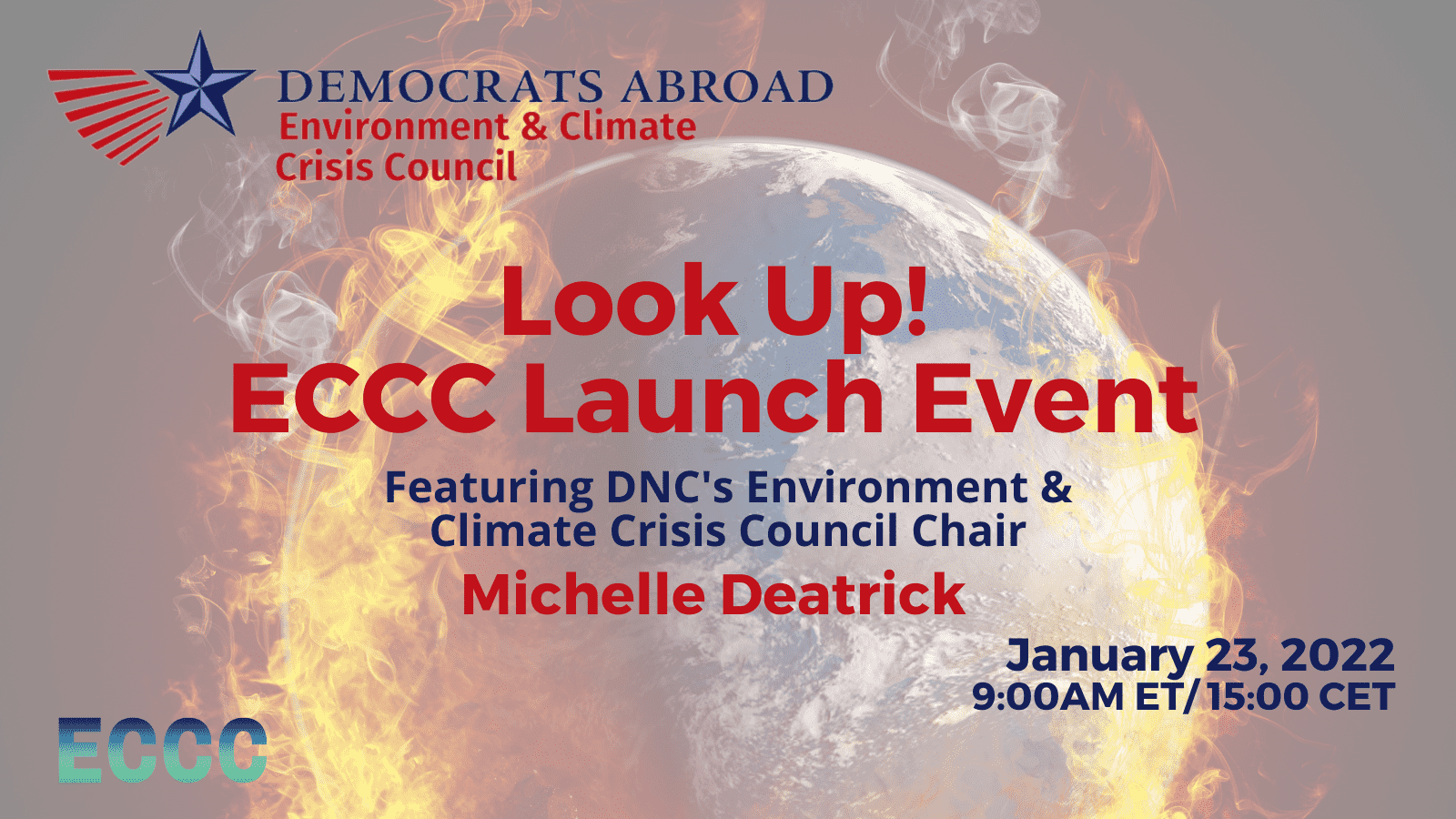 Democrats Abroad new Environment and Climate Crisis Council (ECCC) cordially invites you to our inaugural event on Sunday, January 23, 2022, at 9:00 AM US Eastern Time / 3:00 PM Central European Time.
Climate change, environmental degradation, and diversity loss are currently existential problems facing the US and every nation on this fragile planet. The Democratic Party and Democrats Abroad are harnessing efforts to shape and advocate for policies and solutions to meet these challenges, with a focus on environmental justice. 
We are honored to have the Chair and founder of the Democratic National Committee's Environment and Climate Crisis Council, Michelle Delgado Deatrick, to speak at this first event and help shepherd us on our journey.
Additionally, we will discuss the structure of the organization and how we are moving forward. Everyone will have the opportunity to go into breakout rooms for a discussion. The ECCC advocates for bold climate and environmental policies and solutions within the global Democratic community. We would like to engage each of you in volunteering to augment our collective power.
RSVP today for the official launch of our council and the opportunity to learn more about what we do and how YOU can help!
To submit questions in advance, please email: [email protected] 
Please support our fledgling council and efforts to get out a green Democratic vote by donating.
---
About Our Guest Speaker:
Michelle Deatrick is a progressive activist, policy analyst, organizer, and writer, with a strong background in electoral campaigns, community organizing, coalition building, and volunteer recruitment and capacity building. She is an outspoken advocate for the environment and economic, racial, and gender justice--and their intersection. 
Ms. Deatrick has taught at the middle through college levels and is an elected leader, who flipped a 3-term rural red seat to blue (Vice-Chair of the Washtenaw County Commission). She was a Peace Corps Volunteer in Kenya and a delegate to the regional labor federation. While serving as County Commissioner, Deatrick led measures resulting in the County being the first in the Midwest to sign on to the County Climate Coalition. She also wrote and succeeded in passing a resolution founding the County's first environmental council, with the mission of achieving net carbon neutrality for the county. Michelle is also an internationally honored and published poet and fiction writer. She was Chair of the Ann Arbor Women's March and is a farmer.
WHEN
Sunday, January 23, 2022 at 09:00 AM Eastern Time (US & Canada) Time
CONTACT
Dana Freling
[email protected]
84 RSVPs