As spring approaches, we look back on an inspirational International Women's Day and a wonderful event with Christine Pelosi. We also look ahead to important fights in the U.S., including our continued mission to support the ratification of the ERA.
***
DA Celebrates International Women's Day Around the World

March 8, 2019: The DAUK Women's Caucus spent International Women's Day with Stacey Abrams! The inspiring politician told members we can't count on anyone to open doors for us — so we must work together to create our own doors and, when that's not possible, knock down walls entirely.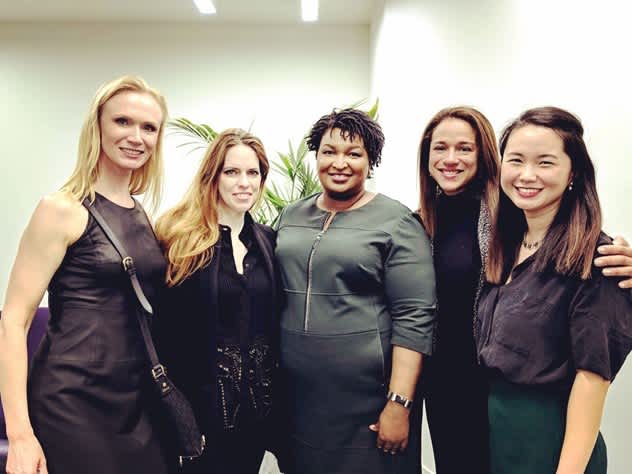 DAUK Women's Caucus members feelin' the love with Stacey Abrams on IWD! L to R: Meghan Feeks, Courtney Plummer, Stacey Abrams, Jihann Pedersen, Lan Wu.

IWD festivities were in full force in Oslo, Norway and included a screening of the documentary "RBG," a speech by Hillary Clinton and a march of thousands starting in Youngstorget. Check out the
full recap of events
in Oslo!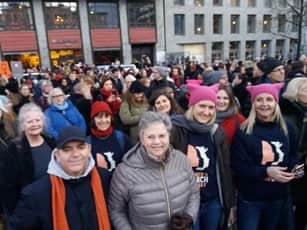 GWC steering committee member Christina Skovsgaard is one of the thousands at the IWD march in Oslo, this year focusing on abortion rights and equal pay.

Caucus members in Canada celebrated IWD and Women's History Month at Second City Toronto for the hilarious, subversive, political show: "She the People: Girlfriends' Guide to Sisters Doing It For Themselves."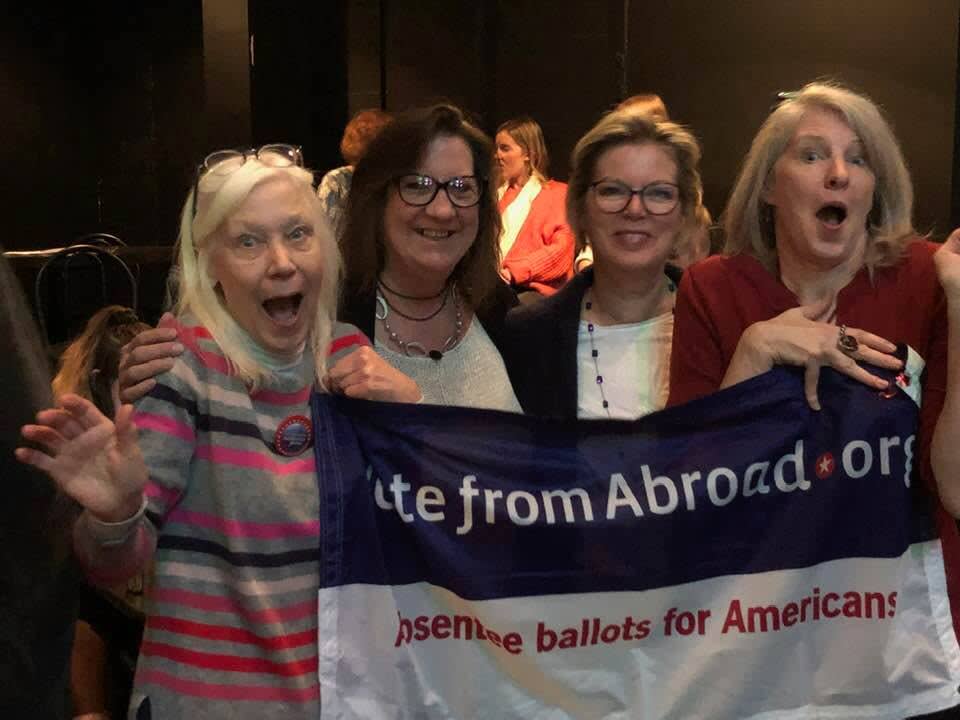 Toronto & Canada WC Chairs Karin Lippert and Brooke Scott join as members laugh and cheer for the cast, the show and each other.

The GWC hosted a webinar with Christine Pelosi on March 10. 
She is a very motivating speaker. During her talk she discussed her Congressional Candidates Bootcamp, staying engaged from abroad, HR1, the comprehensive reform package designed to strengthen the rights of voters at home and abroad and much more. Watch this information-packed webinar, you will not be disappointed.
No ERA Vote in Virginia: Update and How You Can Help!
The Equal Rights Amendment is back in the news. Here's a quick update on what's happened.

The ERA was first introduced in 1923. Unfortunately, although it finally passed in the U.S. House and Senate 47 years ago (March 22, 1972), it has still not been ratified by the needed 38 states. It had only 35 when it "expired" in 1982. However, based on the 27th Amendment being ratified 203 years after it was submitted to the states, it has been deemed that the deadline was not valid. Nevada ratified it in 2017 and Illinois in 2018 – needing ONE more state to ratify it.
This year, bills have been introduced in 10 of the 13 unratified states. Sadly, it has already failed to get out of committee for 2019 in Arkansas, Georgia, Mississippi, and Virginia. Bills are still in play in Arizona, Florida, Louisiana, Missouri, South Carolina, and North Carolina. The three states that did not even introduce a bill are Alabama, Oklahoma, and Utah.

In addition, more states are seeking to add equal rights to their state constitutions. Currently, 26 states have already included it.
Here's a three-minute video on Why We Need an Equal Rights Amendment. You can also watch the "Legalize Equality" video, the 30-minute must-see video on ERA – just RSVP here for the free link.

Also please check out
www.democratsabroad.org/era
for the latest status along with ways ALL members of DA can help no matter where you vote or live. We need your help.
What You Can Do: Help Call DA Virginia Voters!
Just a few weeks ago, Republicans stopped the ERA in the Virginia Legislature by a single vote! We were devastated, but not defeated!

DA has just set up new global phone banking campaigns to reach out to DA voters in Virginia where the 2019 state elections will decide the majority in both the House of Delegates and the VA State Senate.
Let's take a majority in the VA legislature and ratify the ERA!

Sign up here
to be on the phone banking team and join the Campaign for Virginia.
COMING UP! Eyes Wide Open: Books Abroad Reads "The Awakening" by Kate Chopin
In June, Books Abroad will step back into a historical piece of feminism, Kate Chopin's "The Awakening." First published in 1899, this novel presents the intellectual and sexual awakening of Edna Pontellier, an affluent, married white woman with two children. After years of succumbing to the limited social expectations for women, Edna expresses a profound dissatisfaction with her life and begins to defy those boundaries.
We invite you to join the Books Abroad international feminist reading group on Sunday, June 9, at 7:30 a.m. EDT for a WebEx discussion about this landmark piece of literary fiction. Please click here for more information on the book and to RSVP!

***
It has been so inspiring to join in fellowship with women all over the world to celebrate Women's History Month and International Women's Day. Although we have faced a setback with the ERA in Virginia, there is much to be hopeful about! We have incredible female candidates for President, we have elected a record number of women to Congress and we have more women of color serving in office than ever before.
And we are more motivated than ever to push forward, fighting until equality is a reality for everyone. Stay tuned on our
Facebook page
for all the latest news.
In solidarity,

Your Global Women's Caucus Team
Do you like this post?