In this issue:
Events
Phonebanking Party
March with Pride
Experienced Dems
SolSun Battleground America: Looking at the Policy of Guns
Global Black Caucus Book Club
Young Dems June Pub Night
Save the Dates!
Issues & Actions
Election Calendar: Register, Request, Return!
Midwest Midterm Progressive Bikeathon
Reviews
Graz Voter Registration Pub Night
Shining a Light on Dark Money
Why I Am No Longer Talking [With White People] About Race
---
Events:
Phonebanking Party
Join DAA members and friends as we celebrate another day at the polls. Between 6 and 9pm on Tuesday, June 5th we're calling members from States who have primaries coming up and reminding them to Register, Request, and Return their ballots.
What better way to build the Blue Wave than with pizza and wine and other wave makers! Bring your laptop, charger, and earbuds/headphones with microphone. We'll supply the rest.
You've never phone-banked before? No problem! We have a training session for newbies from 6-6:30pm. We'll walk you through it, you'll be comfortable in no time. We're calling our members and they LOVE hearing from us!
WHEN:Tuesday, June 5th at 6pm - 9pm
WHERE:The listed addressis only for orientation. This phonebanking party is in a private home, please rsvp below to get the exact address.
CONTACT:Tanya Lolonis · [email protected]
RSVP: Phonebanking Party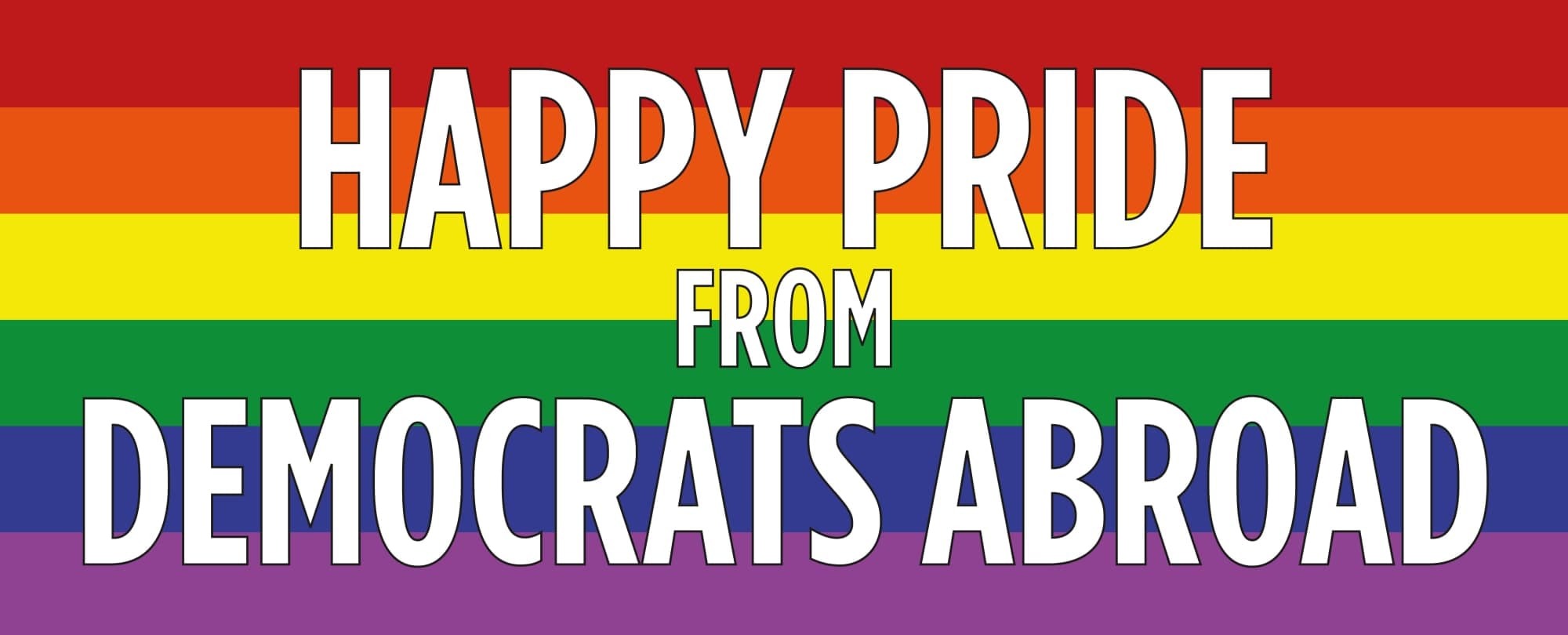 March with Pride
Join Democrats Abroad Austria as we march and dance at this year's Vienna Pride Parade. This year's Pride Parade theme is "Love, Respect, and Solidarity."
Agenda layout:
2pm: We will start forming our contingent. We'll know our pride parade contingent number closer to the parade date and will keep you posted. We'll probably start marching somewhere between the hours of 3pm - 4pm, so please remember to eat something beforehand, bring water and suntan lotion, and wear comfortable shoes.
We urge participants to bring signs—the more colorful and creative the better:)
Participants may simply join the group at the beginning of the parade route, but RSVPs are strongly encouraged. For any questions please email Juan. Our parade group is open to all. Visit us on Facebook
WHEN: June 16, 2018 at 2pm - 6pm
WHERE: TBD front of University of Vienna, Universitätsring 1, Vienna 1010
CONTACT: Juan Cerda · [email protected]· +43 676 921 7865
RSVP: March with Pride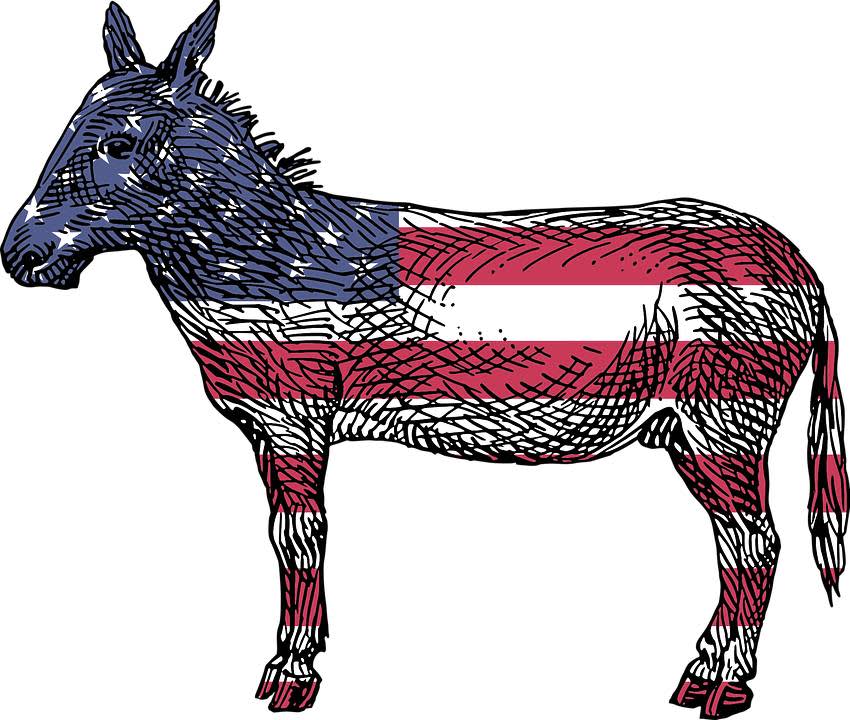 Experienced Democrats Meet-Up
This is the 6th monthly meeting of the Experienced Democrats. All are welcome to join us! Visit us on Facebook
WHEN: Tuesday, June 19, 2018 at 6pm
WHERE: Café Museum, Operngasse 7, 1010 Vienna
CONTACT: John Cahill: [email protected] +436766952766
RSVP: Experienced Democrats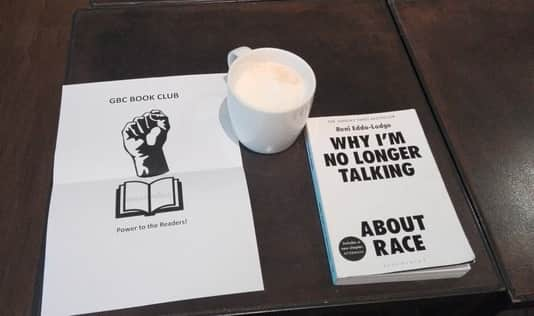 Global Black Caucus Book Club II
Join us as we conclude our journey through "Why I'm no longer talking to white people about race" by British author Reni Eddo-Lodge. We will discuss the last four chapters (Fear of a Black Planet, The Feminism Question, Race and Class and There's no Justice, There's Just Us). So read up and come ready with comments, questions and reflections.
Please remember to bring a donation, as we will begin fundraising for the Innocence Project, an organization devoted to exonerating the wrongly convicted and working towards criminal justice reform https://www.innocenceproject.org/. We look forward to reading and discovering with you! Power to the readers!
WHEN: June 20, 2018 at 7pm - 10pm
WHERE: Phil, Gumpendorfer Straße 10-12, 1060 Vienna
CONTACT:Faith Herbold· [email protected]· 0660 277 6485
RSVP: GBC Book Club
Solidarity Sunday #16
Battleground America: Looking at the Policy of Guns.
Join the hardy band of Solidarity Sundays activists on June 24th when we will start with the three hundred million privately owned firearms in the United States and ask: How did we get here? Is there a real chance for change? What will it take to make changes happen?

We'll continue writing postcards reminding DA members to register, request ballots for November, and vote. Coffee, tea and snacks will be on hand to fortify the good people working to build the Blue Wave.
WHEN: June 24, 2018 at 4pm - 6pm
WHERE: Amerlinghaus, Stiftgasse 8,1070 Vienna
CONTACT: Tanya Lolonis · [email protected]
RSVP: SolSun #16
Young Dems Pub Night
Dear fellow Democrats, We cordially invite you to a fun get together at our June Pub Night at Peter Pane's! We hope to see a lot of you and you're welcome to bring friends! Please rsvpto let us know how many people to expect. See you soon!
WHEN June 29, 2018 at 7pm - 10pm
WHERE Peter Pane, Mariahilfer Str 127, Vienna 1060
CONTACT David Heckenberg · [email protected]· +43 664 378 2040
RSVP: Young Dems Pub Night
Save the Dates!
4th of July party – TBA
September welcome back wine and art in the Welt Museum – TBA
---
Issues & Actions:
Midterm Elections: Election Calendar 
– Register, Request, Return!
Lots of primaries are coming up over the next few months and many of them have June deadlines! Check below for your state's upcoming deadlines and mark your calendar today. But why wait? Register to vote today at Vote from Abroad. Remember, by law, overseas voters MUST register every calendar year!
Tuesday, June 5:
Alabama, California, Iowa, Mississippi, Montana, New Jersey, New Mexico, South Dakota
Tuesday, June 12:
Maine, Nevada, North Dakota, South Carolina, Virginia

Tuesday, June 19:
District of Columbia, Arkansas Runoff
Tuesday, June 26:
Colorado, Maryland, New York Federal Primary, Oklahoma, Utah, South Carolina Runoff
Tuesday July 17:
Alabama Runoff, North Carolina Fed. Runoff
Tuesday, July 24:
Georgia Runoff
Saturday, August 4:
Virgin Islands

Midwest Midterm Progressive Bikeathon
As you may have heard, DAA Counsel Bruce Murray is planning to bike from Madison, WI (15 September) to Braddock, PA (6 November). Along the way, he wants to learn what is on the minds of Midwesterners, get out the vote, volunteer for progressive candidates, and have fun! After each week of what he calls "cycling for sanity," he will hold rallies (Chicago, Kalamazoo, Detroit, Cleveland, and Pittsburgh), encouraging all of us to join together in ensuring that we "switch gears" with the Midterm Elections to get our country back on track!
Curious?
The Bikeathon Facebook Pageprovides a wealth of information. Click on its interactive map to see the course, calendar, and mileage. Click on the Bikeathon PODCASTand THEME SONGfor some excellent audio! Scroll down to the Bikeathon Playlist post and add your favorite biker song! Also, feel free to contact Bruce ([email protected]) if you have questions, feel the urge to volunteer, and/or want to cycle for sanity!
---
Reviews:
Graz Voter Registration Pub Night
Over a dozen Americans in Graz - and a few Austrian partners - defied the pouring rain to make it to Culture Exchange and request their ballots! I carried my printer in my stroller; parenting small children is no excuse not to participate in our democracy! Once their absentee ballot requests were printed, our members relaxed with mojitos, burgers and breakfast burritos and wrote postcards to Americans in battleground states while chatting about all things political and personal. We had a fabulous evening and are looking forward to bimonthly meetings in the future!
–Caitlin Ahern, Member-at-Large, Database Manager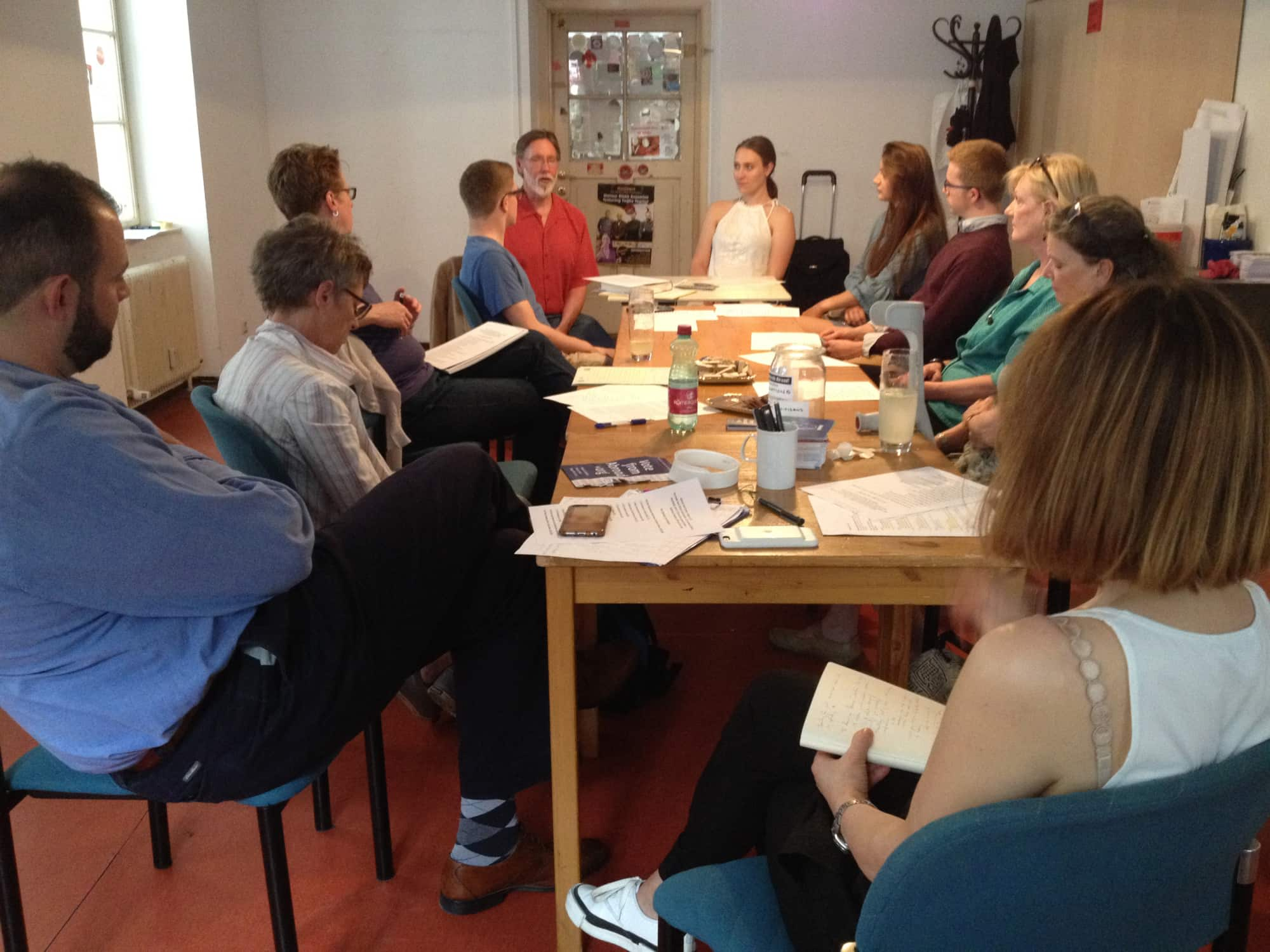 SolSun #14 – Grassroots Organizing in the Time of Trump
Solidarity Sundays Vienna took a deep dive into grassroots organizing and activism on Sunday, March 29th. We remembered some key individuals (Harvey Milk, Martin Luther King Jr., Betty Friedan) and grassroots movements (civil rights movement, peace protests, the feminist movement, LGBTQ rights) from the past that spawned major social change. We touched on a few classic grassroots success stories (Love Canal, ActUp, and the Arab Spring).
We took a close look at key current grassroots movements in the states (Indivisible, gun safety legislation, environmental protection) as well as major organizations (Code Pink, She Should Run, MoveOn, Black Lives Matter). In discussion we considered issues that most inspire us personally.
– Tanya Lolonis, Solidarity Sundays Co-Coordinator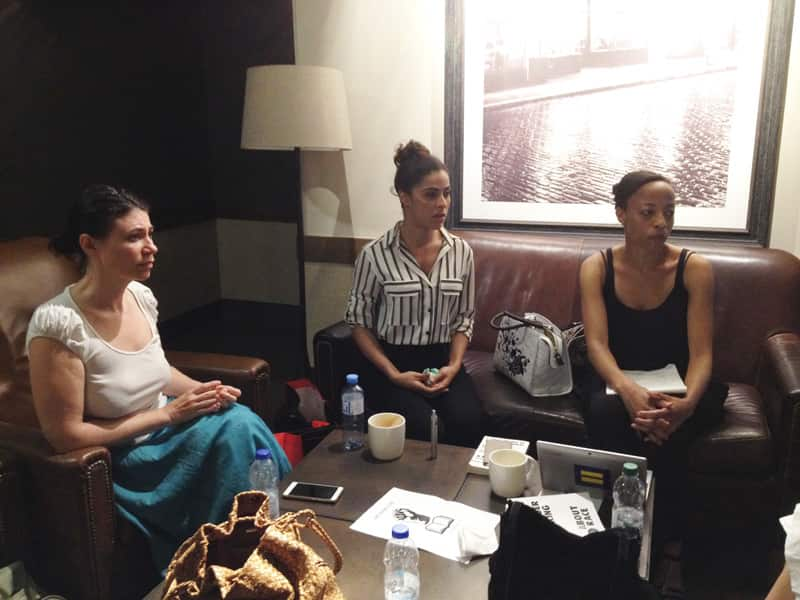 Global Black Caucus Book Club Meeting
A small group of DA Austria members attended the newly formed Global Black Caucus' first official book club on May 29that the local Starbucks. Yes, you read that right, Starbucks. The date and location were specifically chosen to highlight the recent events following the arrest of two black men simply because they were waiting for a friend while black. 8,000 Starbucks US locations were shut down for an afternoon of racial bias training, which cost the company over 12 million in lost sales (https://www.nytimes.com/2018/04/17/business/starbucks-arrests-racial-bias.html). But is this enough to combat structural racism and implicit bias?
This question lingered in the minds of the group as they delved into the personal experiences and conceptual thoughts of author Reni Eddo-Lodge in her book entitled Why I'm no longer talking to white people about race (Bloomsbury Circus, 2017). The group discussed their first impressions about such a controversial book (in both title and content) and how those impressions were shaped by their life experiences surrounding race, culture and politics.
This was not a forum for white members to engage in self flagellation when it comes to white guilt or privilege, but rather to engage in an open and straightforward dialogue about how they view these concepts in light of their own experiences, as well as viewing them through the lens of the author and people of color. The attendance of a French born Algerian expat also added another layer of depth as she recounted her experiences being a woman of color in Europe. Overall, it was night full of revelations, laughter and learning. The group also discussed possible selections for the next book and sponsoring non-profit organizations like the Innocence Project and the Equal Justice Initiative (EJI).
The discussion continues in part II of Reni Eddo-Lodges' book and will be discussed on June 20th, 2018 at 7pm at Phil. We hope to see you there! Power to the readers!
– Faith Herbold, Global Black Caucus Coordinator