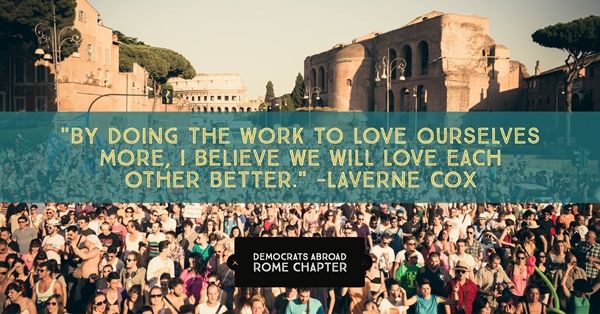 Democrats Abroad stands with the LGBT community's fight for equality. Join the Democrats Abroad Rome Chapter to march, smile, laugh, dance and be proud of being you!
We will meet on Saturday, June 10th at 3:30 pm in front of the Space Cinema in Piazza della Repubblica (Piazza della Repubblica 43/45, 00184, Roma). The parade departs at 4:00 pm. 
Gay, straight, lesbian, bi, transgender, queer, or just plain human, ALL are welcome to march proud with us, so feel free to spread the word and invite others!

Checkout our Facebook Event here: https://www.facebook.com/events/1560641810627080

For more details about Roma Pride:
http://www.romapride.it/
https://www.facebook.com/events/1860886580821624/

Need a sign? Download these free graphics by Democrats Abroad:
https://wiki.democratsabroad.org/display/Logos/LGBT+Pride+Marching+Posters

#RomaPride #CorpiSenzaConfini #DemocratsAbroad #DAItaly #DARome
Do you like this post?