Saturday, April 01
Mexico City, Mexico
Expat Taxes 101 | Impuestos para Expatriados de EEUU
RSVP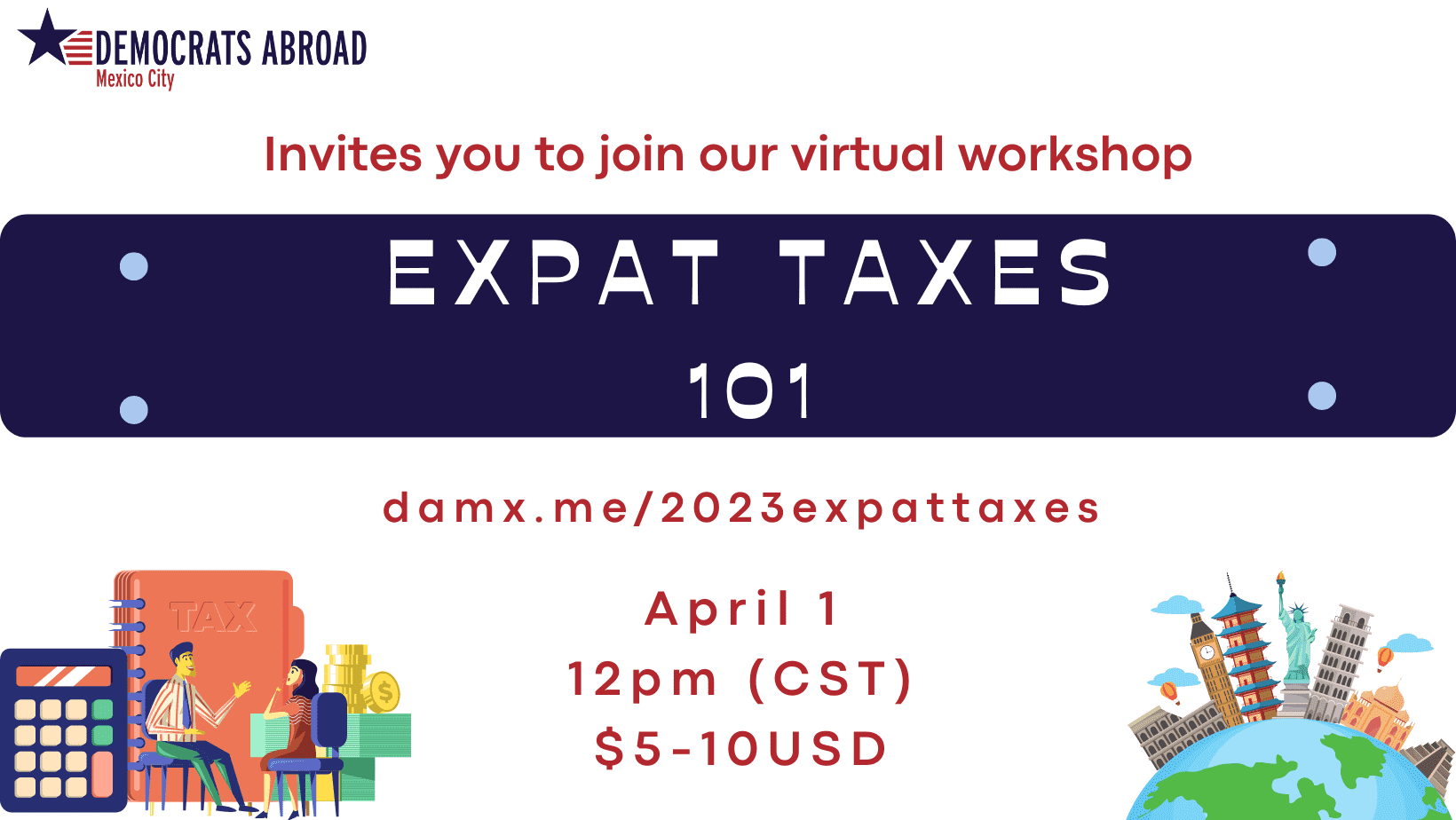 Are you struggling to understand your US tax obligations? Do you want to know how to file your tax return from abroad? If yes, this event is for you! Join us for an informative virtual event that will provide you with essential knowledge and practical tips to navigate the complex world of taxes for US citizens and green card holders living abroad.
Tax expert and enrolled agent, Tonei Glavinic, EA, will cover a range of topics including:
Tax residency rules
Common tax deductions and credits 
Reporting foreign income and foreign bank accounts
Common mistakes you might make when filing your tax returns
Federal student loan implications
Maintaining social security eligibility
Streamlined Filing Procedures for those who have fallen behind on their taxes
And more!
The event will include a presentation followed by an opportunity to ask questions and share your experiences.
Disclaimer: Democrats Abroad cannot provide individual tax advice. We are not tax lawyers, accountants, or advisers. Please consult a professional tax adviser/accountant/return preparer when addressing your personal tax matters. If you are in need of tax advice you can consult the IRS Tax Return Preparer Directory to find an advisor or tax return preparer near you or providing online services to meet your needs and budget, though buyers need always beware: https://irs.treasury.gov/rpo/rpo.jsf
**To use PayPal to purchase your ticket, please click on the PAYPAL button above.**
------
¿Te cuesta entender tus obligaciones fiscales en EE.UU.? ¿Quieres saber cómo presentar tu declaración de impuestos desde el extranjero? Si es así, ¡este evento es para ti! Únete a nosotros para un evento virtual informativo que te proporcionará conocimientos esenciales y consejos prácticos para navegar por el complejo mundo de los impuestos para los ciudadanos y residentes de EE.UU. que viven en el extranjero.
Un experto en impuestos y agente registrado, Tonei Glavinic, EA, cubrirá una serie de temas que incluyen:
Normas de residencia fiscal
Deducciones y créditos fiscales comunes 
Declaración de ingresos y cuentas bancarias en el extranjero
Errores comunes al presentar tus declaraciones de impuestos
Implicaciones de los préstamos federales para estudiantes
Mantener el derecho a la seguridad social
Procedimientos de presentación simplificados para quienes se han retrasado en el pago de tus impuestos
Y mucho más!
El evento incluirá una presentación seguida de una oportunidad para hacer preguntas y compartir sus experiencias.
Aviso: Democrats Abroad no puede proporcionar asesoramiento fiscal individual. No somos abogados, contables ni asesores fiscales. Por favor, consulte a un asesor fiscal/contable/preparador de declaraciones de impuestos profesional cuando aborde sus asuntos fiscales personales. Si necesita asesoramiento fiscal, puede consultar el Directorio de Preparadores de Declaraciones de Impuestos del IRS para encontrar un asesor o preparador de declaraciones de impuestos cerca de usted o que ofrezca servicios en línea que se ajusten a sus necesidades y presupuesto, aunque los compradores siempre deben tener cuidado: https://irs.treasury.gov/rpo/rpo.jsf
**Para comprar tu boleto a través de PayPal, haz clic en el botón PAYPAL de arriba.**
WHEN
Saturday, April 01, 2023 at 12:00 PM Mexico City Time
CONTACT
Tara Buss
[email protected]
+1 510 788 0790
35 RSVPs