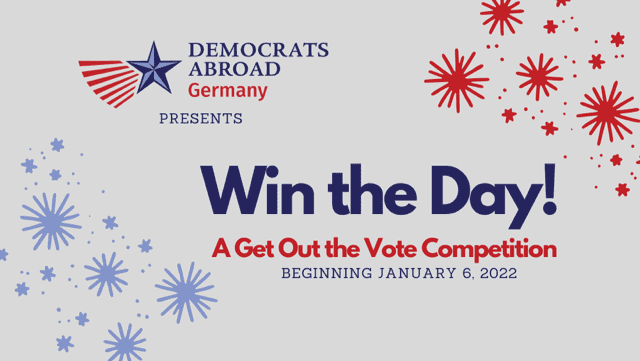 GAME OUT THE VOTE AND WIN THE DAY!!
Join Democrats Abroad Germany as we stage a friendly competition among our 14 chapters to GET OUT THE VOTE and WIN BIG in 2022!
We will be kicking things off on January 6 with our online BINGO game! Get the game card and instructions by RSVPing. The main competition also begins on January 6 and continues until March 3, 2022.
All DA members are welcome to play along. Points are awarded to individuals, but always on behalf of chapters – so you must pick a team! Here are our contenders:
Berlin

Cologne-Bonn

Düsseldorf-Ruhr

Frankfurt and Greater Hessen

Göttingen-Hannover

Hamburg and Northern Germany

Heidelberg-Rhine-Neckar

Kaiserslautern-Saarland

Münster-Osnabrück-Bielefeld

Munich and Southern Germany

North and Central Bavaria

Saxony

Stuttgart and Southwest Germany

Wiesbaden-Mainz
For more information about rules for bingo and the competition, click here.
The DAG Champion will be announced at our Annual General Meeting on March 4, 2022. May the best team win!
WHEN
February 23, 2022 at 12:06pm - March 09, 2022 at 12:06pm Berlin Time
CONTACT
Courtney Newman ·
Who's RSVPing
Do you like this post?