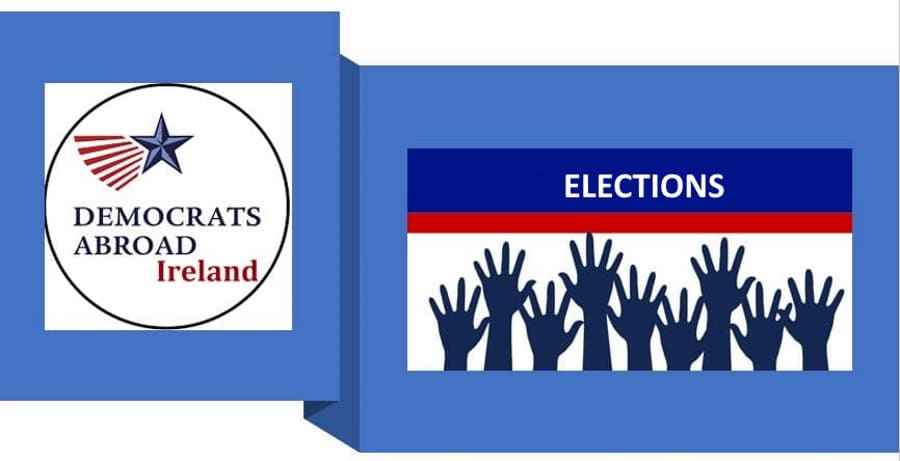 The 2022-23 Executive Committee will be elected at this year's Election Meeting on February19, 2022. Due to Covid-related restrictions, the meeting will be a hybrid one, in-person in Dublin and remotely for anyone who cannot travel to Dublin, or who wishes to participate remotely. Voting will be electronic for all attendees using computers, tablets, and smartphones. Full voting instructions will be provided to those at the meeting (both in person and remotely).
The 2022 Nominating and Elections Committee (NEC) is seeking qualified candidates (see below) for the following positions on the Executive Committee:
Chair
Vice-Chair
Treasurer
Secretary
Counsel
Up to four Members-at-Large positions, one of whom should be a Young Democrat (age between 18 and 35)
A description of these offices' responsibilities can be found in the DA Ireland's Bylaws about the Executive Committee here.
Qualified candidates are members of DA Ireland. Members may not run for a position for which they just completed two terms.
If you are interested in running for any of these positions or would like to nominate someone:
Please send your name or that of the nominee and a short bio/candidate statement to the NEC at

[email protected]

by February 1, 2022.


All nominations must be seconded via email to the NEC at

[email protected]

by the February 1 deadline.


Information about candidates and their bios/statements will be published on the DA-Ireland website and to members by Email no later than February 5, 2022.
From the NEC: Barbara Jacobi (Chair), Edwin Koenck and Randolph Cecil (Sub-chairs)
Do you like this post?