Saturday, July 08
Cologne, Germany
DA Pride Cocktail Meet & Greet (Hybrid)
RSVP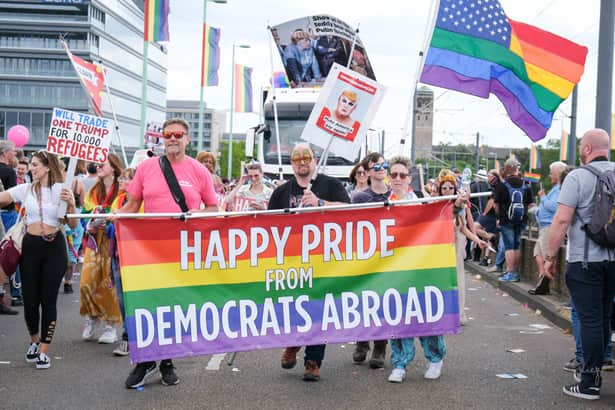 On Saturday evening during Cologne Pride we are thrilled to welcome two exciting guests (and a surprise guest or two!) for a night of celebration and motivation, as we begin to rev up for 2024. 
Kenton Barnes (Braunschweig), Chair of Democrats Abroad Germany, will speak to us about DA and the work we do here in Germany and how our work complements the work DA does around the world. He will also touch on upcoming elections, phone banking campaigns, and the immediate work ahead of the 2024 primaries and general election.
Bob Vallier (Paris), Chair of the LGBTQ+ Caucus globally, will be speaking to us about the State of Emergency for LGBTQ+ rights in the United States. More than 650 bills in 41 states targeting the LGBTQ+ community have resulted in the declaration by the HRC of a State of Emergency. Not since the Lavender Scare of the 1950s has the situation been this bad, and some activists characterize it as even worse. What is this State of Emergency, and why does it matter for 2024?
Come join us either in person or online for an informal discussion, get to know these two fascinating DA leaders and mingle with other DA members over drinks and snacks.
Attendees are encouraged (but not required!) to donate $24 to Democrats Abroad to help support our GOTV efforts over the next 16 months. 
When: Saturday, 8 July 2023, 20:00 - 21:30
Where: The office of Democracy International e.V., Gürzenichstraße 21 a-c, 50667 Köln (this location is very central, located quite close to all the festivities - entrance is next to the back entrance/patio of Starbucks)
**If you would like to participate online, you will receive the Zoom link after RSVP'ing.**
WHEN
Saturday, July 08, 2023 at 08:00 PM Berlin Time
WHERE
Democracy International
Gürzenichstr 21 a-c
Cologne 50667
Germany
Google map and directions
CONTACT
Daniela Vancic
[email protected]
25 RSVPs