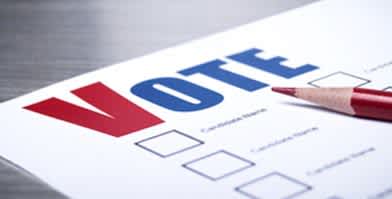 Hello everyone!

Please join us in this training session to help others register to vote! We need all the help we can get and are very excited to promote voting!
See you soon!
---
The election meeting to select the executive committee for the period 2017-2019, will take place on 08/26/2017.
If you prefer to cast the vote by email, please follow these instructions
•          Download the electronic ballot, from your email, or download the ballot below.
•          Print the ballot.
•          Complete the ballot, please do remember that the ballot to be valid must be signed.
•          Scan the completed and signed ballot.
•          Send the scanned ballot, before the 08/25/2017 11:59 PM., to the following email address: DR-NEC@democratsabroad.org
To vote by email, you must be a member of Democrats Abroad before 08/12/2017 11:59 PM.
Finally, we want to emphasize that the ballot must be signed to be valid.
click this link to download the ballot
---
Las elecciones del nuevo comité ejecutivo para el periodo 2017-2019, se realizará el 26 de Agosto del 2017.

Si prefiere hacer su voto por correo electrónico, favor siga estas instrucciones:

• Descargue la boleta electrónica desde el email, o desde esta página.
• Imprima la boleta.
• Complete y firme la boleta.
• Escanee la boleta completada y firmada.
• Envíe la boleta escaneada, antes del 25 de Agosto del 2017 11:59 PM, a la siguiente dirección electrónica:

DR-NEC@democratsabroad.org

Para votar por correo electrónico, debe ser miembro de Democrats Abroad antes del 12 de Agosto del 2017 11:59 PM.

Finalmente, queremos enfatizar que la boleta debe estar firmada para ser válida.


---
DADR is the official country committee for US Democrats living in the Dominican Republic. Our mission is to inform and to encourage every US citizen in the D.R. to vote in all US elections that their state of last residence allows them to.
Keep following us on this page for upcoming announcements of meetings, events and news.
DADR es el comité oficial para los demócratas estadounidenses que viven en la Rep. Dom. Nuestra misión es la de informar y motivar a cada ciudadano estadounidense en la República Dominicana a que voten en todas las elecciones de los Estados Unidos en las que su estado de última residencia les permita.
Síganos a través de esta página para próximos avisos de reuniones, eventos y noticias.
---