---
News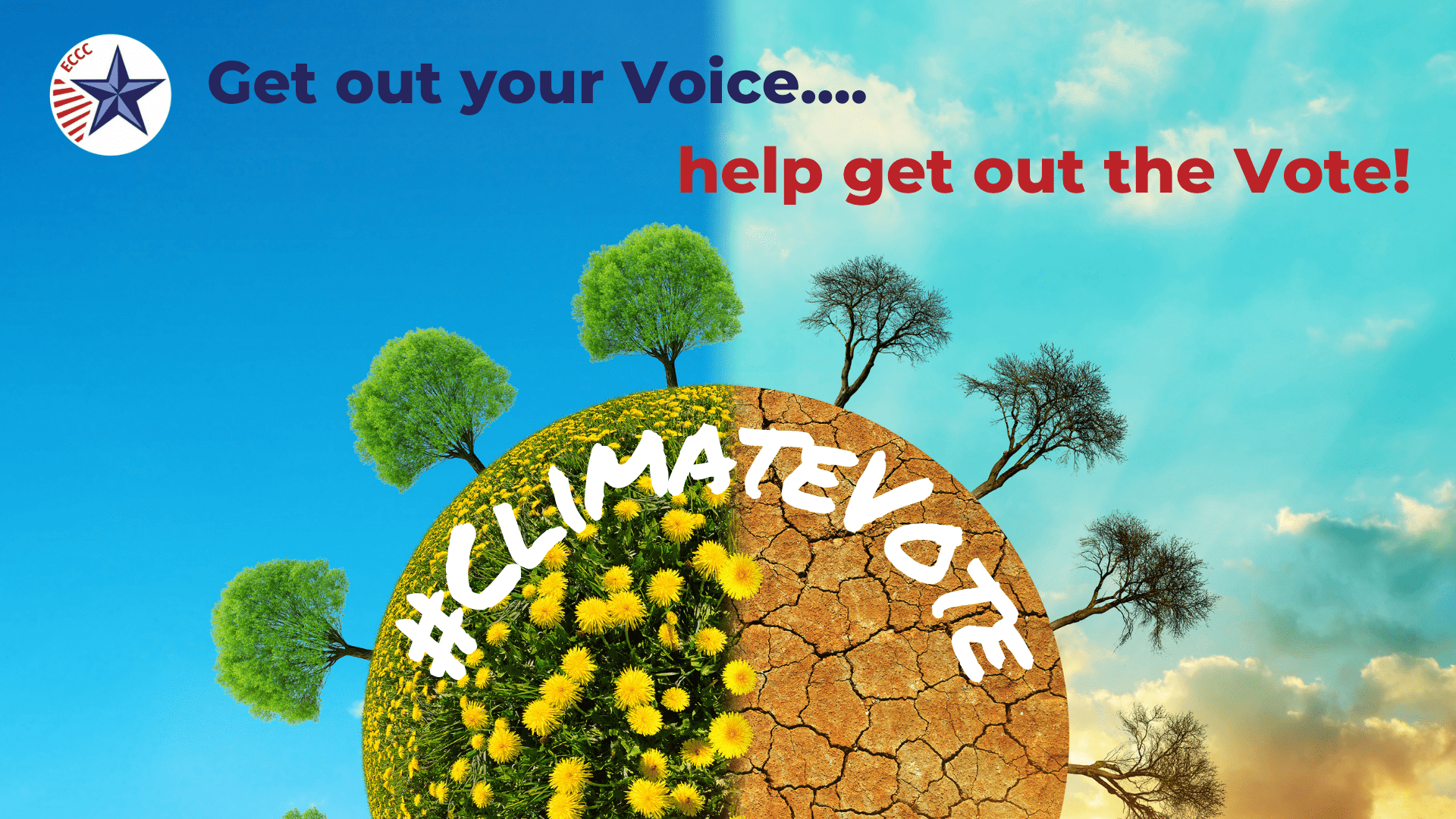 Climate change is caused by human activities and is threatening the way we live and the future of our planet. By addressing climate change, we can build a sustainable world for everyone. But we need to act now. Doing nothing will end up costing us a lot more than if we take actions now that will lead to more jobs, greater prosperity, and better lives for all while reducing greenhouse gas emissions and building climate resilience.
The ECCC is starting the #ClimateVote initiative to encourage everyone to vote to save themselves by electing people who want to take substantive action on climate change. As of 2022, there is only one major political party (The Democratic Party) that is willing to do something about it. We need to hold the Senate, the House, and as many down-ballot races as possible.
read more
The Democrats Abroad Environment & Climate Crisis Council (ECCC) advocates for systemic climate and environmental policies and solutions within the global Democratic community.  
The ECCC is Democrats Abroad's newest advocacy group. Our activities include:  
Voter engagement

 

Events

 

Issues advocacy

 

Intersectional collaboration

 

Candidate support

 
Environmental justice is an organizing principle for the ECCC. We aspire to: 
 

amplify the voices and expertise of those disproportionately harmed by environmental threats;

 

advocate for policies and candidates that address historic injustices that exacerbate environmental injury.

 
Contact us at [email protected] and

Follow us on:
Facebook DA ECCC , Instagram @DemsAbroadECCC , and Twitter @demsabroadeccc 
To contact the DA ECCC: [email protected]
read more
See all posts
---
Upcoming Events
Wednesday, March 16, 2022 at 01:00 PM Singapore Time · 2 rsvps
Zoom
Join the Democrats Abroad AAPI Caucus and the Environment & Climate Crisis Council to hear Dr. Craig Santos Perez read selected works from his latest book of poetry Habitat Threshold. We will also have a discussion about the intersection of poetry, climate change and eco-politics.  
Habitat Threshold was listed as one of ten key books on the 2020 Reading List for Asian/Pacific American Heritage Month by both the Community of Literary Magazines and Presses (CLIMP) and Kundiman, a national organisation  dedicated to nurturing generations of writers and readers of Asian American literature.
Joyce Harjo, the U.S. Poet Laureate, noted in a 2020 review in the N.Y. Times that Habitat Threshold "is a powerful sequence of poems addressing environmental destruction and how it is associated with racial and cultural hatred and injustice." 
The collection of poems begins with the birth of his daughter and his fears for her future. The poems consider the impact of environmental racism and injustice, global capitalism, toxic waste, water pollution, species extinction, war, refugees, climate change and love.
Please share this event and make sure to RSVP to receive the Zoom information.
About the Author
Dr. Perez is an Indigenous CHamoru from the Pacific Island of Guahan (Guam). He is an award winning poet, scholar, essayist, artist and environmental activist. He is also a Professor in the English Department and an Affiliate Faculty with the Center for Pacific Islands Studies & The Indigenous Politics Program at the University of Hawai'i Manoa, where he teaches creative writing, eco-poetry and Pacific literature. He is the author of five books of poetry, including his most recent, Habitat Threshold. 
Dr. Perez' research focuses on intersectional cultural and literary analyses within the fields of CHamoru studies, Pacific Island Studies, Native American studies, and decolonial studies. In addition to his books of poetry, his most recent academic monograph Navigating CHamoru Poetry: Indigeneity, Aesthetics and Decolonisation explores how CHamoru poetry has been an inspiring and empowering act of protest, resistance, and testimony in the decolonization, demilitarization and environmental justice movements in Guam.
Participants may order Dr. Perez' book Habitat Threshold directly via Omnidawn ahead of the session.
| | |
| --- | --- |
| Hawaii | 7:00pm, Tuesday, March 15 |
| Berlin | 6:00am, Wednesday, March 16 |
| Singapore | 1:00pm, Wednesday, March 16 |
| Seoul | 2:00pm, Wednesday, March 16 |
| Sydney | 4:00pm, Wednesday, March 16 |