It's been a busy month in the fight for women's equality. Back home in the U.S., the House held its first hearing on the ERA in 36 years, and Democratic legislators introduced the BE HEARD in the Workplace Act to combat workplace harassment. Here at the DA Global Women's Caucus, we are working to drive that momentum forward.
Democrats Abroad will hold its 2019 Global Meeting from May 17-19 in Washington, D.C. Members from around the world converge and work to prepare for the 2020 primary and general elections. Over three days, we will attend to the regular business of the organization, discuss charter amendments and resolutions, run training sessions and hold our executive committee elections. There will also be regional meetings to elect Regional Vice Chairs and conduct other business. Find out how you can get involved, including the opportunity to virtually participate in the Democrats Abroad 2019 Global Meeting, set for May 17-19 in Washington, D.C.

***
DA Happenings: DAUK Hosts "RBG" Film Night
On April 12, our friends in the UK Women's Caucus teamed up with the DAUK Film Committee to hold a screening of "RBG," the award-winning documentary about cultural icon and civil rights champion, U.S. Supreme Court Justice Ruth Bader Ginsburg.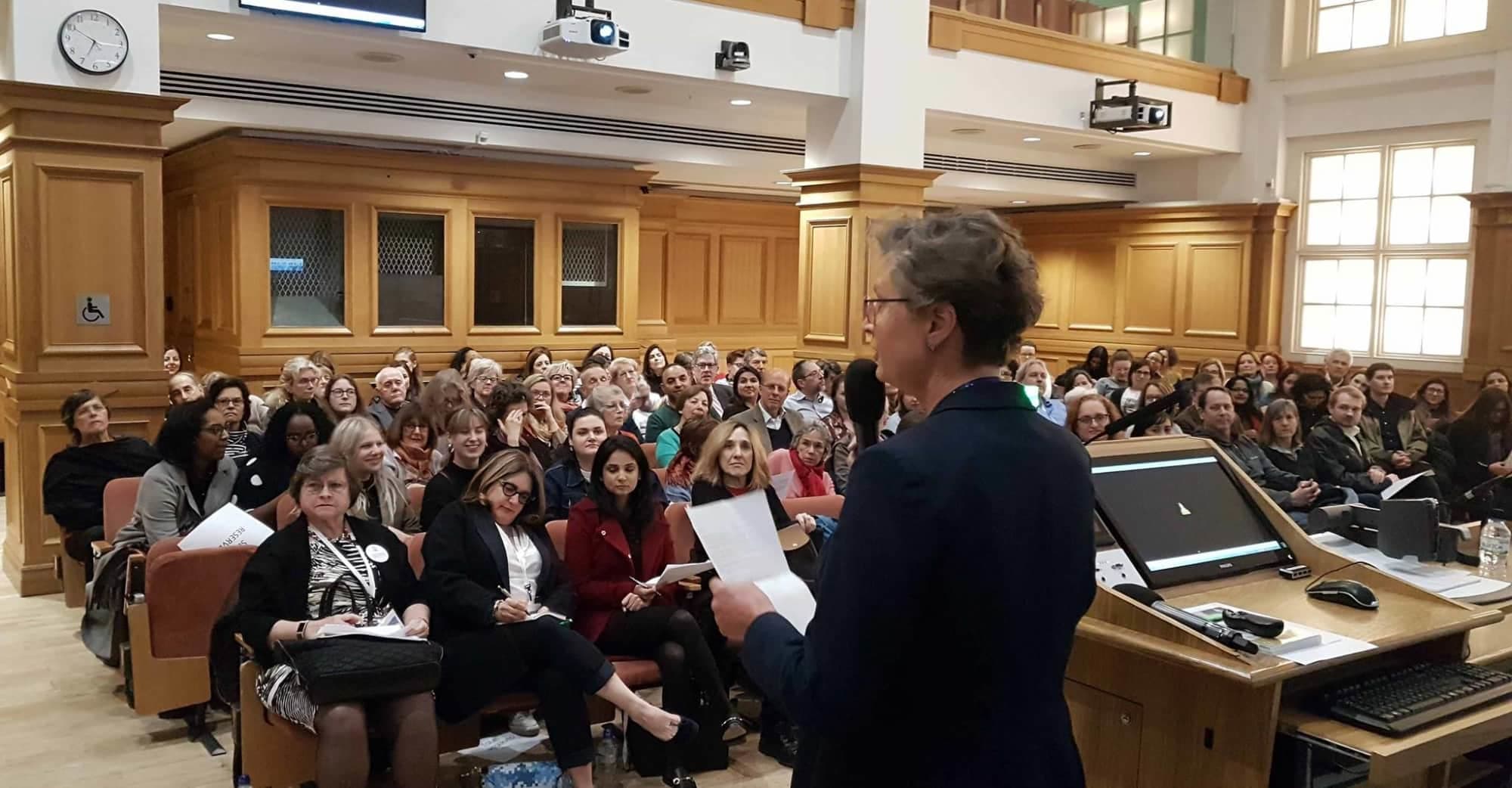 Building on the momentum of Women's History Month in March, the event included an after-screening discussion, featuring a panel of three DAUK women members who trained as lawyers, on topics such as opportunities for women in the legal profession, the Equal Rights Amendment (ERA) and RBG's legacy.

Is your chapter hosting an event you'd like to see featured here? Let us know! Reach out at
[email protected]
.
In the US: Congress Introduces the BE HEARD in the Workplace Act
In early April, Sen. Patty Murray (D-WA) and Rep. Katherine Clark (D-MA) introduced a bill to increase protections and transparency related to sexual harassment in the workplace: H.R.2148, the BE HEARD in the Workplace Act.

Vanita Gupta, president, and CEO of The Leadership Conference on Civil and Human Rights said in
a statement
, "People are fed up with harassment and discrimination being business as usual at work. It is time for laws and policies that prevent and remedy these all too common violations of working people's civil rights. The Be HEARD Act will do just that."
Among other things, the legislation would fill in gaps in current federal discrimination laws. For example, it would extend protections to groups excluded from the Civil Rights Act of 1964, including workers at small businesses, independent contractors, interns, LGBTQ workers, and volunteers. Furthermore, the bill seeks to address problems in the judicial system related to processing workplace harassment claims. Click here for more on how the bill will fight workplace discrimination.

ERA Update: House Holds First ERA Hearing in 36 Years

On April 30, 2019, the House Judiciary Committee held the
first ERA hearing
in nearly four decades. Actress Patricia Arquette spoke and said, per Emily Peck of
HuffPost
, "There's a groundswell in this country. Women are rising by the millions and saying we will not be sexually assaulted, we will not get paid less, we will not be treated as subhuman and we will have their voices heard."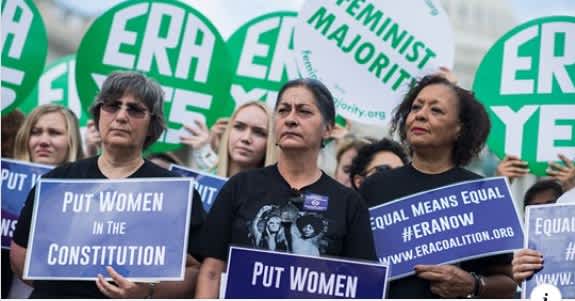 Did you know:

Women do NOT have equal rights in the U.S. Constitution
The word 'women' is mentioned only one time in the Constitution (19th Amendment), the word 'men' is mentioned 39 times
85% of all countries have equal rights in their constitution, including every industrial nation except the U.S.
Over 90% of Americans think the U.S. should have equal rights in our Constitution
YOU can make a difference
Of the 13 states that have not ratified the ERA, 10 submitted bills in their state legislature this year. (The three that did not were AL, OK, and UT.) The bills have already failed for the 2019 sessions in AR, AZ, FL, GA, MS, SC and VA, but there's still some hope for the other three – LA, MO, and NC. If you vote in one of these states, please contact your state legislature members to support the ERA.

Regardless of voting state, everyone can help by contacting their U.S. Senators and Representatives to express support for equal rights for women and encourage them to vote for the ERA bills currently in Congress. Find all the details on how you can help by going to
www.democratsabroad.org/era
.

We are looking for volunteers to join our Global Women's Caucus Comms team. If you are passionate about women's rights and have 10 hours a month to volunteer to our caucus, we need you! We are looking for volunteers with the following areas of expertise:

Social Media
Create original content for our website and social media
Monitor social media channels
Assist in the preparation of online campaigns
Other activities as required
Writing

Write about women's issues that are important to the GWC
Conduct interviews
Draft resolutions in support of women's issues
Create original content for our website and social media
Proofread content
Research women's topics
Other activities as required
Design & Graphics

Design layouts for web pages and social media channels
Design promotional material including posters, flyers, etc.
Help create and maintain a unique brand identity for our caucus
Events

Organize online events including WebEx calls
Develop "Event in a Box" toolkit
Liaise with external groups to collaborate on events
Plan offline events including marches
If interested, please connect with us via email at [email protected].

Reminder: Join BOOKS ABROAD for "The Awakening" by Kate Chopin
We invite you to join the Books Abroad international feminist reading group on Sunday, June 9, at 7:30 a.m. EDT for a discussion about a historical piece of feminism, Kate Chopin's "The Awakening." First published in 1899, this novel presents the intellectual and sexual awakening of Edna Pontellier, an affluent, married white woman with two children.

Please click here
to read more about the book and RSVP to receive the link for the meeting.
***
Our Global Women's Caucus Chair, Ann Hesse, is profiled this month. She talks about her life and her activism. Read her story.
Thanks for reading,

Global Women's Caucus
Do you like this post?