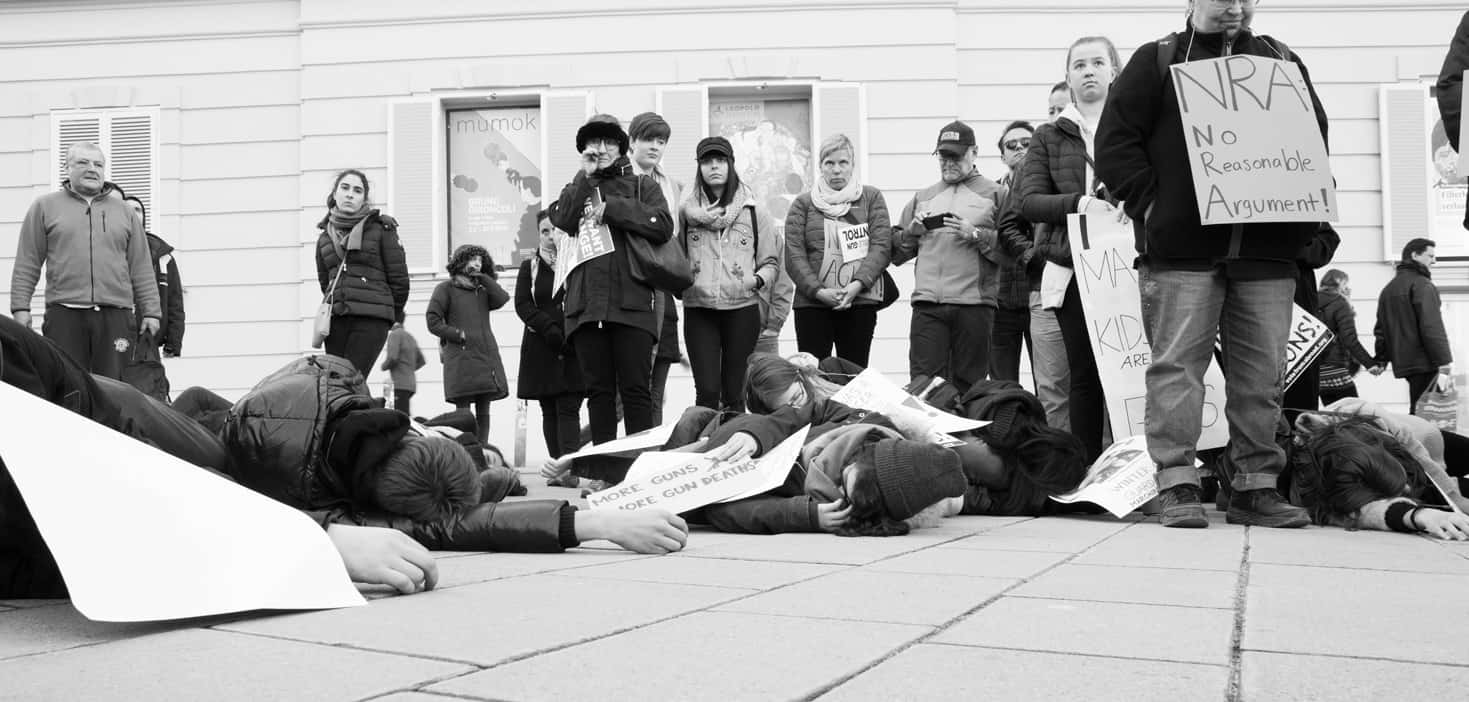 IN THIS ISSUE:
Events
Experienced Democrats

Pub Night & Voter Registration

Solidarity Sundays #14

DAATalks Speaker Series

Issues & Actions
Election Calendar

#Tiny Actions

Reviews
DAA's Annual General Meeting

March For Our Lives – Vienna

Solidarity Sundays Vienna #13

Members Corner
Pod Love

American International Baseball Club

EVENTS: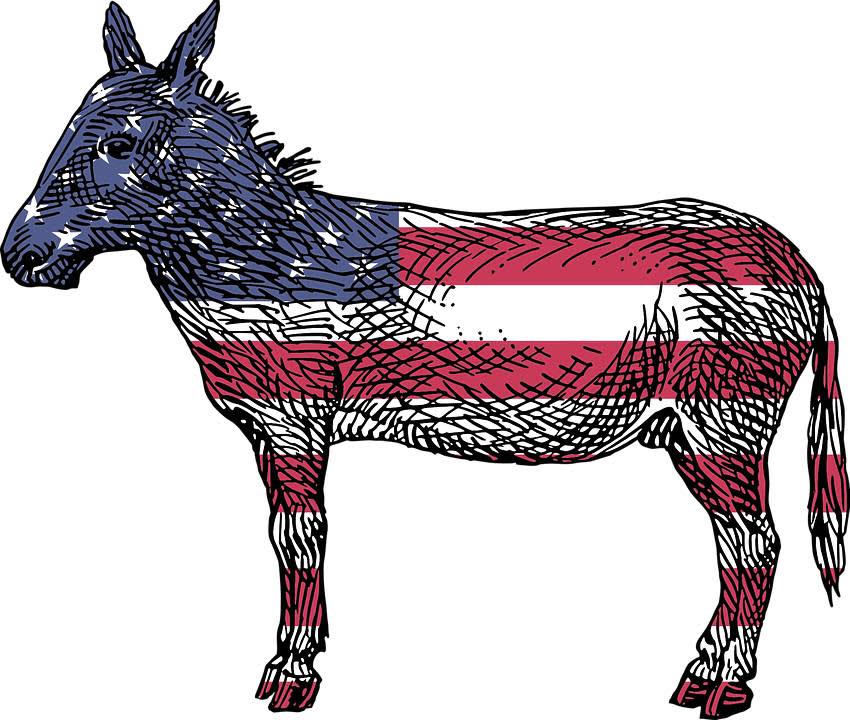 EXPERIENCED DEMOCRATS MEET-UP
This is the 4th meeting of the Experienced Democrats! Join us to make it the best yet!
WHEN: Tuesday, April 17 2018 at 6pm
WHERE: Café Museum, Operngasse 7, 1010 Vienna
CONTACT: John Cahill: [email protected] +436766952766
RSVP: Experienced Democrats
PUB NIGHT AND VOTER REGISTRATION 
Every year, Americans abroad miss the chance to vote. The reason? They didn't realize they were no longer registered.
Join Democrats Abroad's Youth caucus at our monthly Pub Night and register to vote over a beer and good conversation. We're looking forward to seeing some new faces and our familiar friends. All Ages Welcome!
WHEN: Tuesday, April 24, 2018 at 7pm - 11pm
WHERE: Pickwick's Marc-Aurel-Straße 10-12, Vienna
CONTACT: David Heckenberg [email protected] +43 664 3782040
RSVP: Pub Night & Voter Registration
SOLSUN #14 LOOKS AT POPULAR MOBILIZATION IN THE TIME OF TRUMP
Join Solidarity Sunners on April 29th for a look at the new groups channelling civic participation – registering voters, knocking on doors, attending legislator town halls, visiting offices of members of Congress, and organizing marches and demonstrations. Who are they? What effect are they having?
Attendees will write postcards to Americans in Austria telling them how easy it is to register to vote* – and how critical, too. In an era where races are decided by razor-thin margins, handfuls of ballots are sometimes tipping the result. Please stop in and join in this easy but important enterprise – we'll have pens and postcards, coffee and snacks.
WHEN: April 29, 2018 at 4pm - 6pm
WHERE: Amerlinghaus, Stiftgasse 8, Vienna 1070
CONTACT: Juan Cerda · [email protected] · +436769217865
RSVP: SolSun#14
Find us on Facebook: solidarity sundays #14
*Not registered to vote yet? Go to www.VoteFromAbroad.org and see how quick and easy it is to participate in the democratic process.

DAATALKS WITH DANA ALLIN – TRUMP, RUSSIA AND THE PURPOSES OF US FOREIGN POLICY
On Wednesday May 2, the DAATalks speaker series is honored to welcome Dr. Dana Allin, Senior Fellow for US Foreign Policy and Transatlantic Affairs at the International Institute for Strategic Studies (IISS), Editor of Survival, an Adjunct Professor at Johns Hopkins University SAIS-Europe in Bologna, Italy.
Dr. Allin has an expertise in US foreign policy and domestic politics, European politics and foreign policies, and transatlantic relations. He comments and writes widely on the strategic challenges and historical, political and social roots of US foreign policy, and also covers a considerable range of European topics, including the Balkans conflicts and the Cold War.
Dr. Allin is the author or co-author of seven books including, most recently, Our Separate Ways: The Struggle for the Future of the U.S.-Israel Alliance (PublicAffairs, 2016). His articles and book chapters have appeared in, amongst others, Foreign Affairs, The Financial Times, The Wall Street Journal, The International Herald Tribune, Frankfurter Allgemeine Zeitung, and Politico.
Click here for more information about Dr. Dana Allin and the International Institute for Strategic Studies.
Join us beforehand for a glass of wine and conversation. We'll be opening the doors at 6:30pm.
WHEN: Wednesday, May 2, 2018 at 7pm
WHERE: Republikanischer Club, Rockhgasse 1, Vienna 1010 (Entrance is at Restaurant Hebenstreit)
CONTACT: Jennifer Rakow-Stepper · [email protected]
RSVP: DAATalks
ISSUES & ACTIONS
ELECTION CALENDAR: REGISTER, REQUEST, RETURN!
Lots of primaries are coming up over the next few months and many of them have April deadlines! Check below for your state's upcoming deadlines and mark your calendar today.
Tuesday May 8: Indiana, North Carolina, Ohio, West Virginia
Tuesday May 15 : Idaho, Nebraska, Oregon, Pennsylvania
Tuesday May 22: Arkansas, Georgia, Kentucky
Tuesday, May 22: Texas Runoff
Register: Received by Mon, Apr 23, 2018

Request ballot: Received by Fri, May 11, 2018

Return: Received by Tue, May 29, 2018
Tuesday July 24: Georgia Runoff
Register: Received by Mon, Apr 23, 2018 (Email or Fax)
Postmarked by Mon, Apr 23, 2018 (Mail)

Request ballot: Received by Fri, Jul 20, 2018

Return: Received by Fri, Jul 27, 2018 



#TINYACTIONS

As always, our aim is to turn tiny actions into big results.
For the past year Democrats Abroad has been posting weekly, tiny actions in order to motivate our members to help create large affects. Each action highlights a current issue to be aware of. They're easily accessible either through the DA website or you can subscribe to the weekly post.
This week's #TinyAction is all about checking your voting status to make certain you're registered to vote. Every year Americans abroad miss the chance to vote. The reason? They didn't realize they were no longer registered.
Read more and take a moment to explore the wealth of information and actions that are regularly updated at Democrats Abroad.
REVIEWS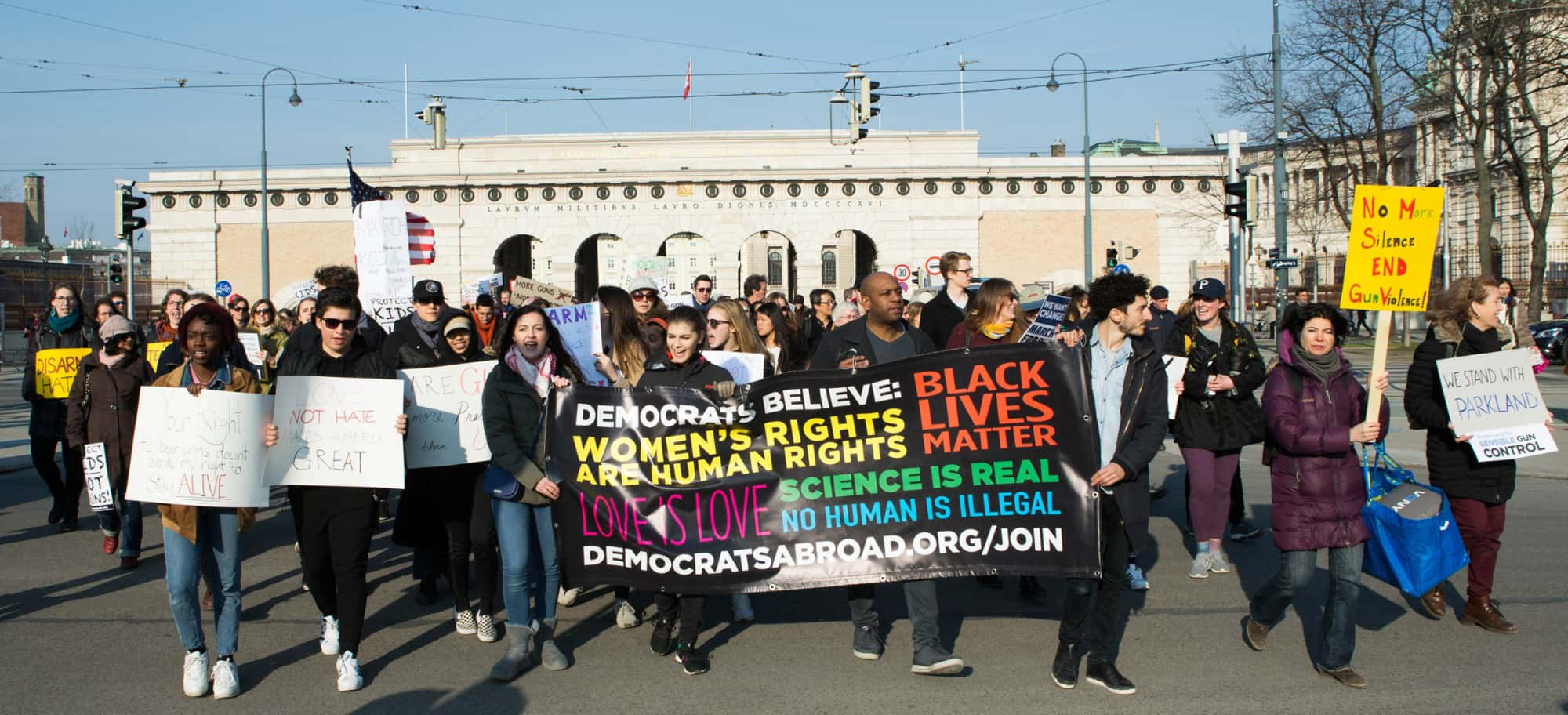 VIENNA – MARCH FOR OUR LIVES
On Saturday March 24, DAA and DAA's Youth Caucus joined about 150 people at the Ballhausplatz to protest gun violence in the US and support the students of Marjory Stoneman Douglas High School.
The day's event began earlier when a wonderful group of AIS students came to Amerlinghaus to make protest and slogan signs. It was fantastic to see their engagement and creativity. As they made signs for each of the students killed in Parkland, FL, it became personal for them, to see how old the kids were and what interests and talents they had.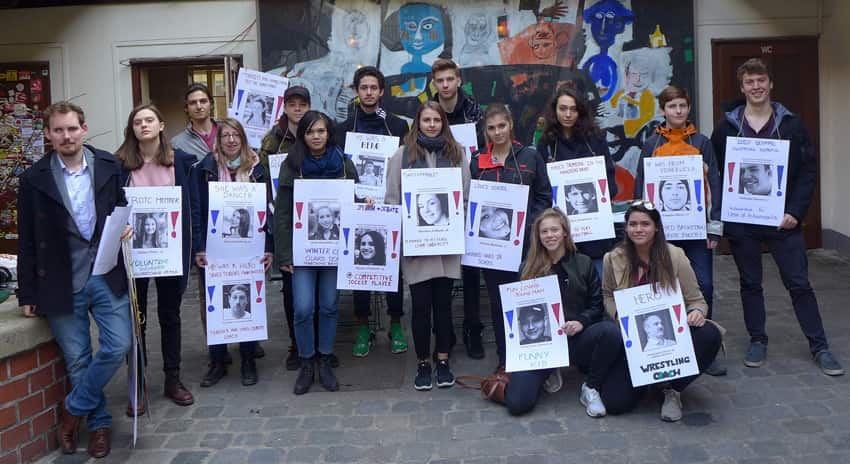 We then moved on to the march's starting point at the Ballhausplatz. We were lucky to have a beautiful sun-filled afternoon. As we approached the plaza, we saw a great crowd forming. People brought their own homemade signs and we had many to hand out as well, so soon the crowd was awash with signs proclaiming Protect Kids, Not Guns, No More Silence, End Gun Violence, Sensible Gun Laws Now, Arms are for Hugging, etc.
David Heckenberg opened the event with a great introduction and welcome. We learned some of the horrific statistics that surround American gun violence, but also learned that we were a part of larger movement to end it. DAA's Vienna march was one of over 800 sibling marches happening that day around the world. The main march on Washington D.C. drew up to 800,000 people. Who could expect March For Our Lives D.C. and its sibling marches would be the largest of their kind in history? The power of youth exemplified!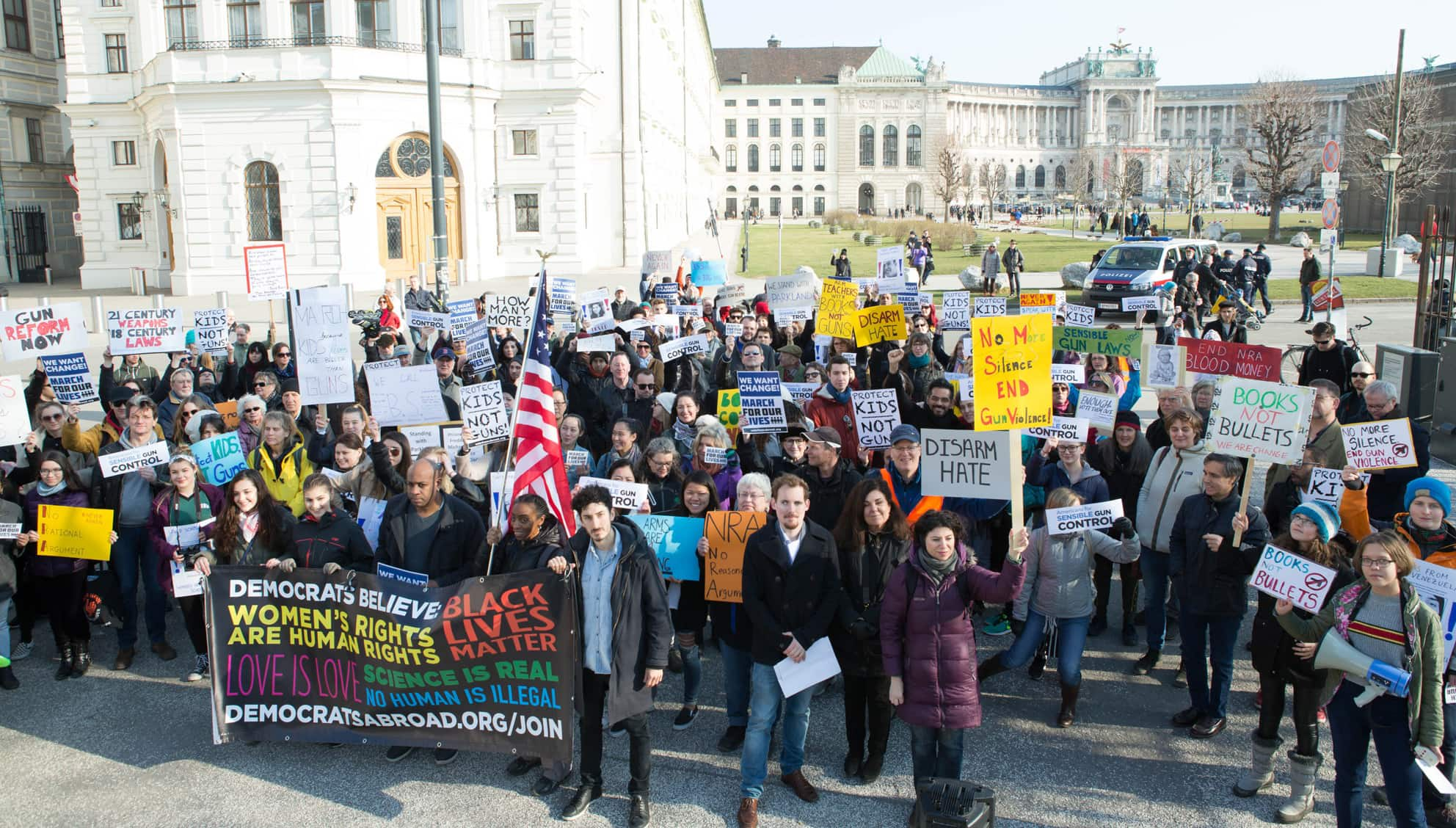 Juan Cerda, Faith Hall-Herbold, and Becky Ellis reminded the marchers of the importance of voting in the 2018 midterm elections and that they were available to help anyone get registered that day.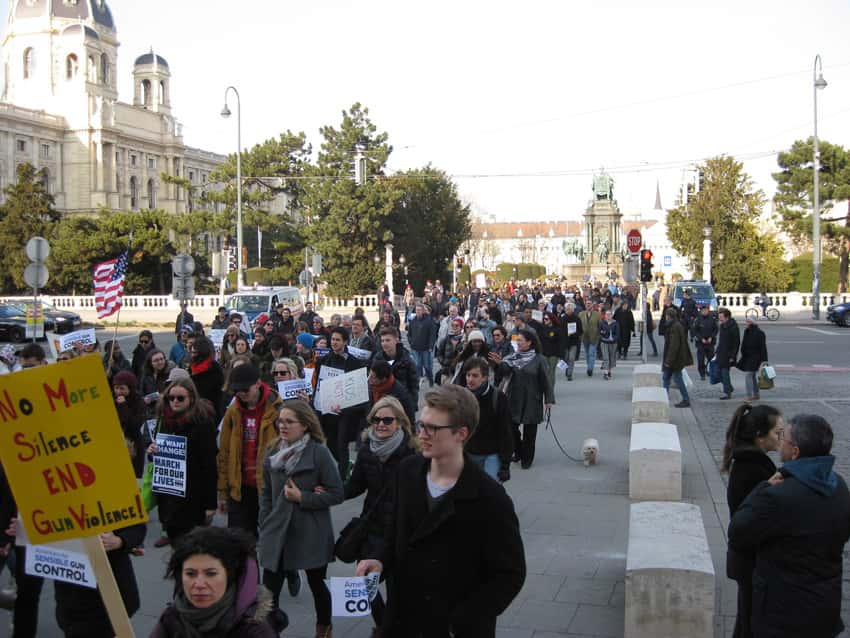 As we made our way to Platz der Menschenrechte at MQ, we were enthusiastically led in chants by two young students. You could feel their excitement at being involved.
At MQ, we were thrilled to have several speakers including Vienna's own Nadiv Molcho, filmmaker and actor, American comedian Okello Dunkley, Emma Lowe and Maddie Komons - both American students from AIS - and Sherri Spelic, author and educator at AIS. Their words and personal stories were inspiring, thought-provoking and moving. This issue will not go away and we will do whatever we can to bring safety back to our schools and our communities. Children should not fear going to school.
We then took a moment to honor and remember the Parkland students who were killed. As their names were read, our students fell to the ground, reminding us how fragile life is and how quickly it can be taken. Althea Papoulias sang a haunting and prayerful rendition of "Amazing Grace" over the lost.

Additional music was provided by Danny Chicago, performing his "Let's All Go to Washington and Take Our Country Back". Together with Raina Saul-Ganev, they sang "We Shall Overcome" and closed the event with the group singing John Lennon's "Imagine".
– Raina Saul-Ganev, March For Our Lives Vienna Co-coordinator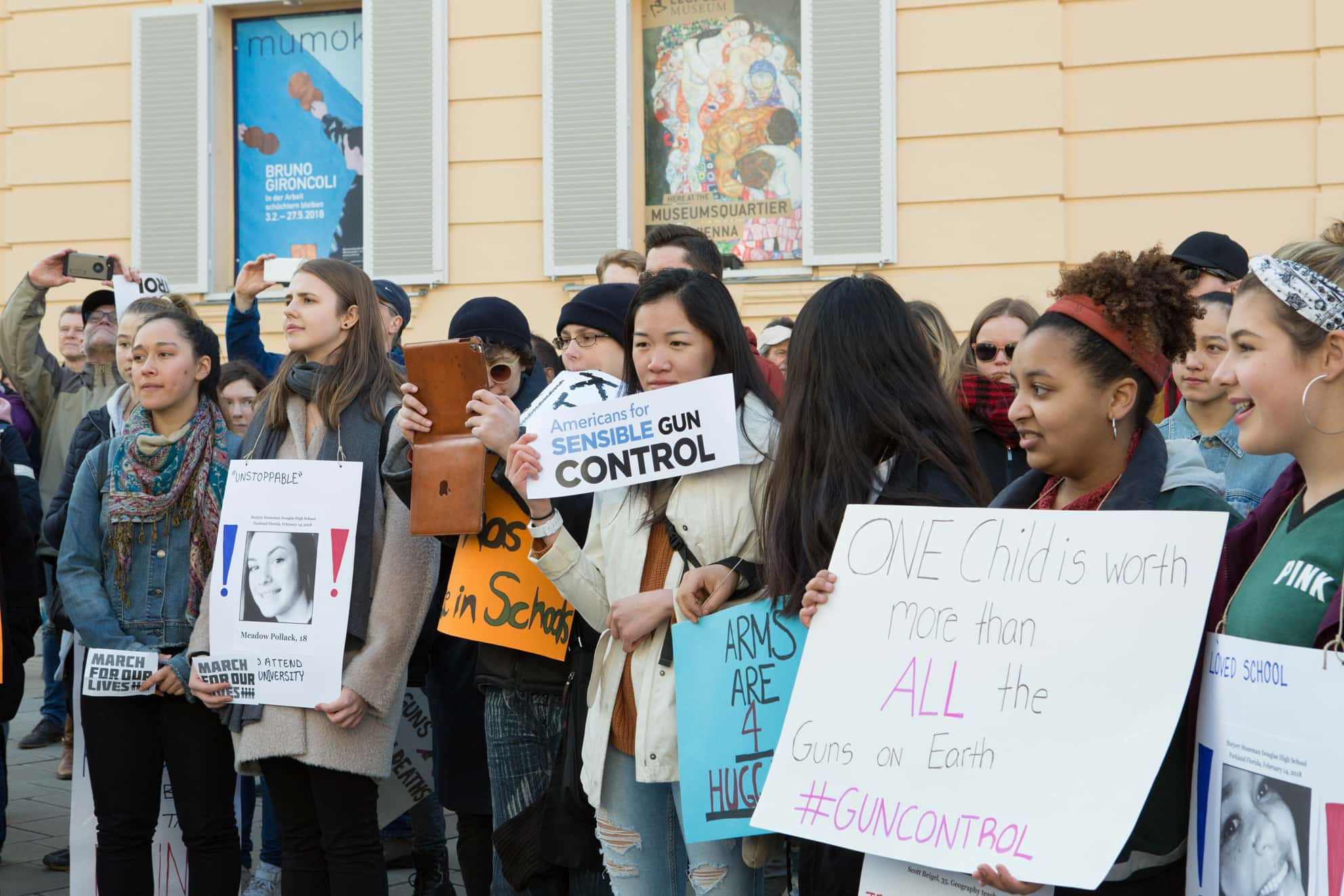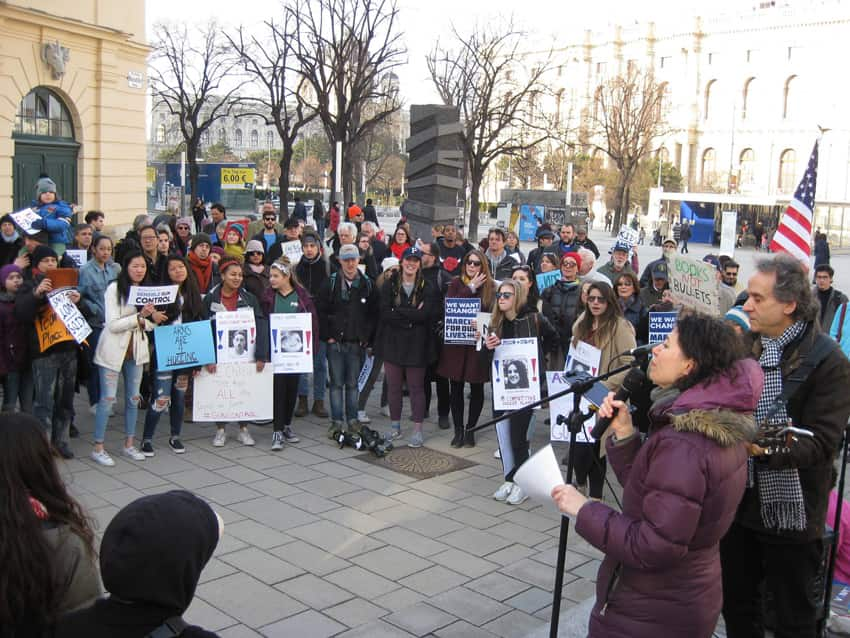 DAA'S ANNUAL GENERAL MEETING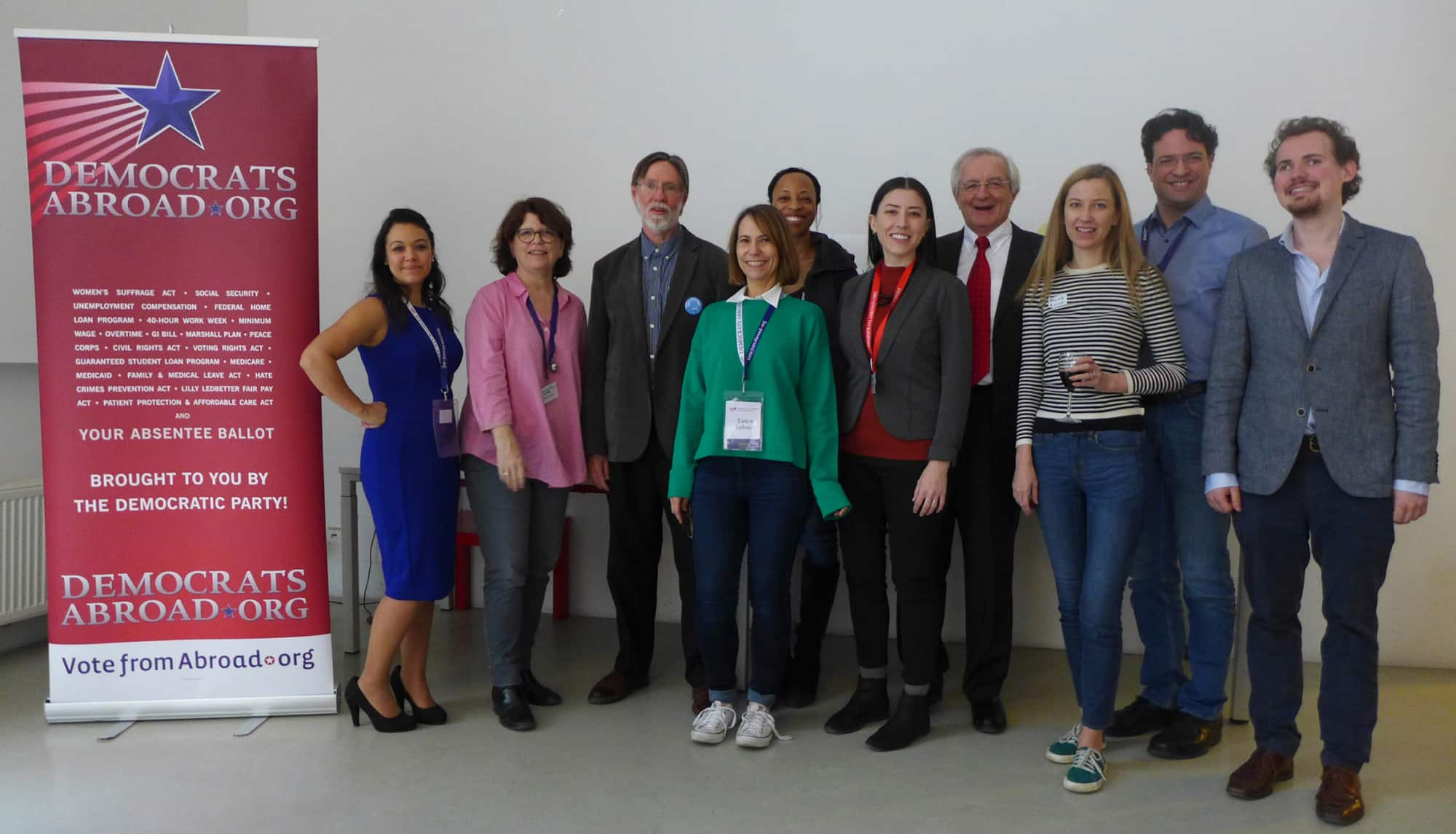 On Sunday, March 11th, 34 DAA members gathered for our Annual General Meeting (AGM). Though we did not hold elections this year, there was plenty to talk about as we summarized a busy year of activities, discussed the ways DAA is growing, and set goals. DAA Chair Jennifer Rakow-Stepper introduced the Executive Committee and then spoke about member engagement, including our DAATalks series of notable speakers, the many actions and social events of the past year, and our upcoming goals. These include increasing outreach to new voters, contacting 100% of our membership to register for the 2018 midterm elections, activating members in the provinces and increasing the number of sustaining donors. A report was given on the Unity Reform Commission, followed by the Treasurer's and Auditor's reports. Changes to the DAA bylaws were presented and put up for discussion. After much debate, the new bylaws were approved with 33 in favor (including proxy votes). These can be found here. We were grateful to have Katie Solon as a guest -- as a founding member of DA Austria and former Chair, and most recently former DA International Chair, Katie was able to clarify many of our questions regarding the Unity Reform Commission, the way DAA and the DPCA interact, and voter registration.
After the vote, the leadership team presented our Get Out the Vote effort and introduced our caucuses: Black Caucus, Progressive Caucus, LGBT Caucus, Solidarity Sundays, Young Democrats, and Experienced Democrats; we are still looking for a volunteer to lead the Women's Caucus! At the end, the ExComm said goodbye and gave a huge thank-you to Ashley Arreola, who resigned as Member-at-Large. After the meeting members headed to Brickmaker's for an early dinner. We thank all those who gathered that day, as well as all of our members who have so graciously donated time and money to keep DAA running! 

– Caitlin Ahern, DAA Member-at-Large and Database Manager
SOLIDARITY SUNDAYS VIENNA #13 LOOKED AT HISTORY – AND AT THOSE MAKING IT 
On the heels of the March for Our Lives and as Viennese began leaving town for the Easter holiday, a small band of Solidarity Sunday activists met to review their Get Out The Vote "My Way" efforts. The Invite-Friends-for-Brunch-and-Register-Them-Over-Mimosas initiative netted seven new registrations, hitting the host's goal. The Phone Banking Party literally broke the bank – ending early when Democrats Abroad's online call allotment was used up halfway through the event! A little more than half of the goal of 150 calls was reached. The allotment has since been replenished and another Phone Banking Party is being organized. Interested in joining? Contact [email protected] for details.
MEMBERS CORNER
RADIOLAB PRESENTS MORE PERFECT 
I have been a long time listener of Radiolab, an NPR podcast that focuses on the weird and wonderful in the world of science and technology. When Radiolab presented a political offshoot of their series, entitled More Perfect, I was keen to see if they could tackle complex political science topics in the same manner they presented scientific concepts (which I find to be beautifully edited interviews and soundbites accompanied by zingy and artsy musical tracks). I was not disappointed. The Supreme Court decisions are presented in such a cohesive, informative and logical manner that one cannot listen to this podcast passively, you must be fully engaged and ready from beginning to end! I would recommend this podcast to those with a deep interest in political science and law. This podcast series will inform, shock and worry you all at the same time. Some of my personal favorites are "The Heist" and "American Pendulum II." I hope you enjoy this podcast- happy listening!
Podcast link: https://www.npr.org/podcasts/481105292/more-perfect
- Faith Herbold, Global Black Caucus Liaison
Do you like this post?