The Toronto Chapter hosted a  voter registration booth at Midnight Madness.  Below,  Peel Regional Representative, Sue Alksnis recollects encounters with Americans. These words express what it it's like to have the rewarding experience of volunteering with our GOTV events. Please join our volunteer team!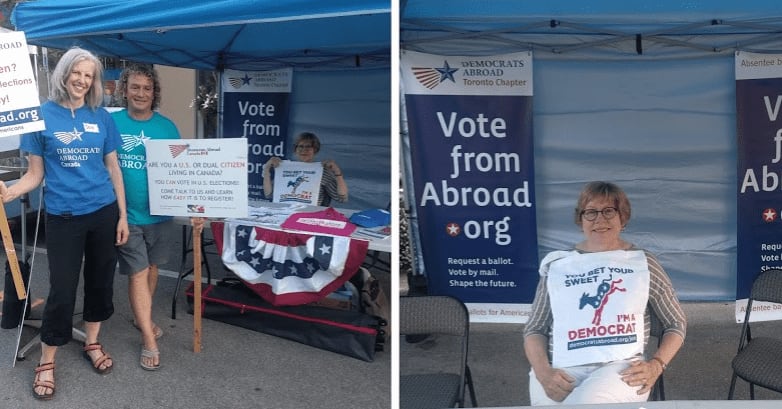 We talked to three 18 year olds who will be voting for their first time in the 2018 midterms.
We spoke to a 16 year old who wants to be ready to vote in 2020 and wasn't sure what voting address to use since he's never resided in the States (answer: his parent's last U.S. address).
And the young woman whose "Nana" moved to Canada from Florida and really wants to vote this year. She will help "Nana" use www.votefromabroad.org
Oh, and we mustn't forget the Oregon voter who was illegally denied her vote in 2016 when her Local Election Official told her that she doesn't get to vote anymore since she moved away. Wrong! Americans have the right to vote wherever they live. That voter now knows that she can vote and that Democrats Abroad has a voter helpdesk for these kinds of situations. Check out the Voter Help Desk/FAQ at www.votefromabroad.org where you can chat live with a DA volunteer or email [email protected]
Our volunteer crew spoke to almost 50 US voters, including 25 brand new overseas voters from many states, including: FL, NC, CO, MT, TX, OR, and NY.
Thank you to our volunteers who worked through the heat & humidity until 1:00 am!!! Judith Wanner-Hamilton Chapter, Julie Buchanan-Toronto Chapter, Steve Nardi-Canada Chair and Sue Alksnis, Peel Representative.   


Do you like this post?