The Democrats Abroad Guatemala Executive Committee will hold its January 2016, meeting on Thursday, January 7th, at noon at Doña Luisa's Restaurant in Antigua. The agenda is as follows:
Agenda
The Executive Committee of Democrats Abroad Guatemala meeting on
Thursday, January 7, 2016 at 12 noon, at Doña Luisa's
Per our bylaws (paragraph 19.3), all meetings are open to all members.
Call to order
Approval of agenda (minutes of last meeting Dec 21, 2015).
Treasurer's Report – Net Worth Q1,995
Events for 2015
Status of membership survey
January membership verification phone calls to the membership.
January 17th Democratic Candidate Debate watch party at Kafka with T-shirt and Calendar sales.
Field Plan for 2016 with events and activities – draft  -  to include DAGT membership survey, membership growth outreach, voter registration/ballot request events.
Global Primary in-person voting at Café Condesa March 1, 2016. 
Voting also available by mail, by fax, by email attachment – details to follow.
Revue and Que Pasa ads in February editions.
Similar outreach by Facebook and Email
Other items
Lyn's Tee-Shirt update – sell them at Global Primary voting center – and at Jan 17 debate watch event for Q100 each. Other venues?
DPCA Global Auction - DAGT will use its $255 for GOTV activities that will include Facebook boosting for the Facebook Latino page to launch Jan 15 in Guatemala.

Travel Notes: John Green, February 6-14, 2016; Tom and Lyn Totino, January 2-18 and March 8-30, 2016
Adjournment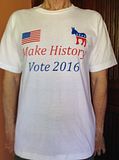 Do you like this post?