(As published in the Times of Israel)  - By Heather Stone, Vice Chair DA-IL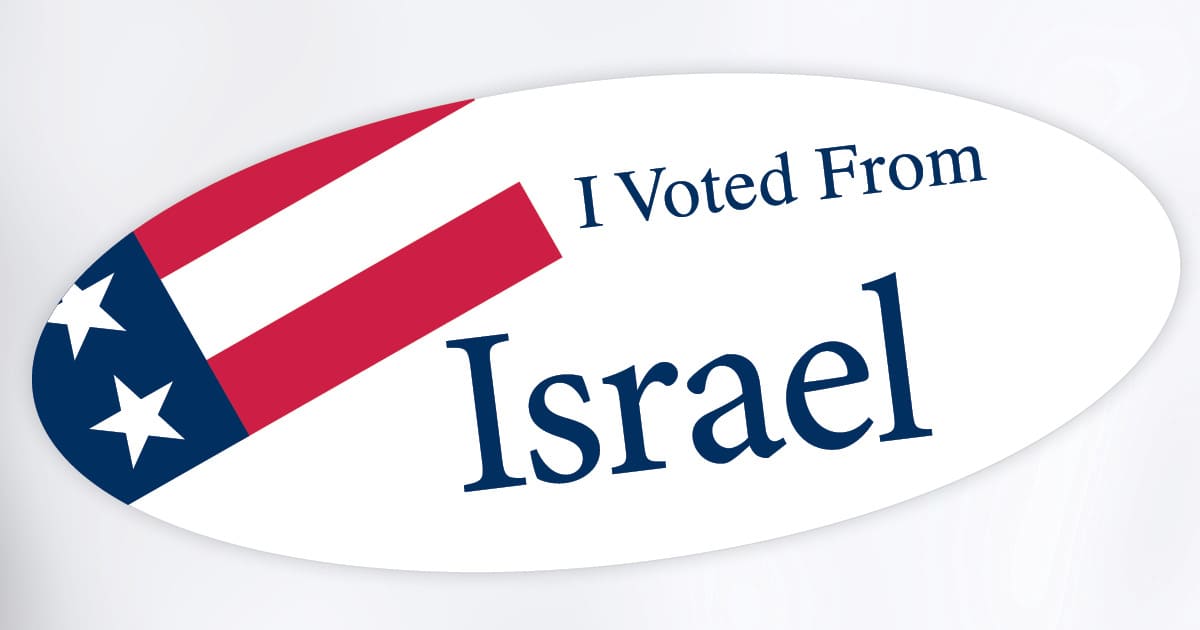 I bet you thought the US Midterm Elections are on November 8, 2022! Well, for Americans Overseas, the elections are NOW. You probably think I'm crazy, but it's true. Americans Overseas have to request their ballot every year, and the election starts for them early — it starts when the ballots are sent out, which this year almost coincides with the start of the Hebrew month of Tishrei. From that time, Americans overseas can start voting — and we should. The overseas vote has been the margin of victory in many close elections in the past and can be again. In 2016 and 2018 and 2020 the overseas vote was the margin of victory in many battleground states, including Arizona, Georgia and Pennsylvania. Your vote is your voice and you should exercise your vote.
Every American living overseas is entitled to vote in every federal election and many state and local elections (depending on the state and local laws). The federal law protecting the rights of Americans overseas to participate in federal elections is The Uniformed and Overseas Citizens Absentee Voting Act (UOCAVA) which was enacted by Congress in 1986. UOCAVA requires every state to provide ballots to overseas voters at least forty-five (45) days before the election. This year, that means the ballots will come out no later than September 24, 2022 (Ballot Day) – Just before Rosh Hashanah. UOCAVA also requires the states to make the ballots available to all overseas voters by email if the voter asks to receive it by email. Therefore, if the voter asks to get their ballot by email, the ballot will arrive by September 24, 2022.
In order to ensure that Americans overseas, particularly Americans in Israel increase their participation in the midterm elections, the registration platform https://www.votefromabroad.org makes it super easy to fill out the Federal Post Card Application (FPCA) required by the UOCAVA and submitting it directly with your Local Election Official. Many states allow for electronic filing of the FPCA and some allow for parallel electronic filing of a hard copy to be sent by mail. Voters who check the box to get their ballots by email will get their ballots sent to them quickly (as soon as September 24, 2022, if the FPCA is filed this week. If you asked for your ballot to be sent by email and you did not get it – check your spam folder and if necessary, contact your Local Election Official. You can find contact details for your Local Election Official on www.votefromabroad.org If you need assistance with your ballot – anything from downloading, envelope folding, return instructions, you can go to the Global Voter Assistance Zoom Room by following this link: https://qrco.de/bbh0zg
When you request your ballot, you will have the chance to vote for Congress. All members of the House of Representatives stand for election every two (2) years. In addition, many of you will have the chance to vote for Senate. One-third (1/3) of the Senate stands for election every two (2) years. Furthermore, there are thirty-six (36) state governors up for election. These elections are very important, especially for Americans overseas. Americans living overseas are required to report our worldwide income to the IRS and many are entitled to receive Social Security if you have worked in the United States or for a U.S. employer for at least forty (40) quarters. For these reasons alone Americans overseas have an interest in the federal government tax policy, budget, appropriations, and social security & Medicare. In addition, American policy in many fields such as women's rights, voting rights, civil rights, LGBTQ rights, and environmental policy affect such rights around the world.
Once you receive your ballot – follow the instructions from your Local Election Official about how to vote your ballot and how to return it. Some states allow ballots to be returned by fax, email, or to be uploaded to an online voting portal. Other states require the ballot to be mailed back. If you are required to mail your ballot back to your Local Election Office, you should mail your ballot back AS SOON AS POSSIBLE after you receive your ballot. Again, if you need help, go to the Global Voter Assistance Zoom Room and ask your questions: https://qrco.de/bbh0zg
Remember – the Israeli Post is not the most reliable. Therefore, consider dropping your ballot in the Ballot Drop Box at the U.S. Embassy in Jerusalem, or the U.S. Embassy Branch in Tel Aviv. According to the U.S. Embassy in Jerusalem – the Ballot Drop Box in Jerusalem is available at the Embassy Arnona Campus 07:30 am to 15:00 pm, Monday to Friday (other than holidays). It is cleared at 15:00 pm each day, and ballots are sent to America within a day. No information is yet available on the days and times when the Ballot Box is available at the Embassy Branch in Tel Aviv. Of course, we are approaching Ballot Day (September 24) which is just before Rosh Hashannah and then we are in for several weeks of Tishrei holidays when the Embassy will be closed just like the rest of the country, so plan accordingly.
If you are concerned about getting your ballot back to the U.S. in time and vote in a state that requires your ballot be mailed back – there is a discount available through DHL. https://mydhl.express.dhl/il/en/home.html#/createNewShipmentTab ; Enter the discount code: USA17
So, now that you have no excuse, make your Rosh Hashanah resolution – to vote – fill out your FPCA form NOW and get your ballot on Ballot Day and VOTE Erev Rosh Hashanah. Let's get the voter participation rate up and make a difference.