We had a great turnout for our workshop last week on talking politics with conservative relatives (and other people you disagree with). To see a few photo, check out this photo album. Thanks again to Joanna Mikulski for leading the workshop!
A small group also visited the Kennedys Museum the weekend before for the opening of the Obama: An Intimate Portrait exhibit (photos here).
Read on for details on our pub night (tomorrow!), the December cookie swap, and events to mark in your calendar (get one from the Women's Caucus!) coming up in 2018.
November Political Pub Night - BRLO
Wed. Nov 15, 2017 from 7pm
BRLO Brwhouse, Schöneberger Str. 16, 10963 Berlin
▶︎RSVP | Facebook
December Holiday Cookie Swap
Tue. Dec 5th, 2017, 7:30-9pm
Begegnungsstätte Falckensteinstraße, Falckensteinstraße 6, 10997 Berlin-Kreuzberg
As 2017 comes to an end, we'd like to take a moment to reflect together on all of the things we've done as Democrats in Berlin this year.
Like our 4th of July potluck, we're asking members to bring cookies or other traditional holiday treats (sweet or savory) to share. Let us know what you're bringing using this potluck form. If you can help out with setup, cleanup, drinks, or our info/materials table, please sign up for a volunteer shift.
▶︎RSVP | Volunteer | Facebook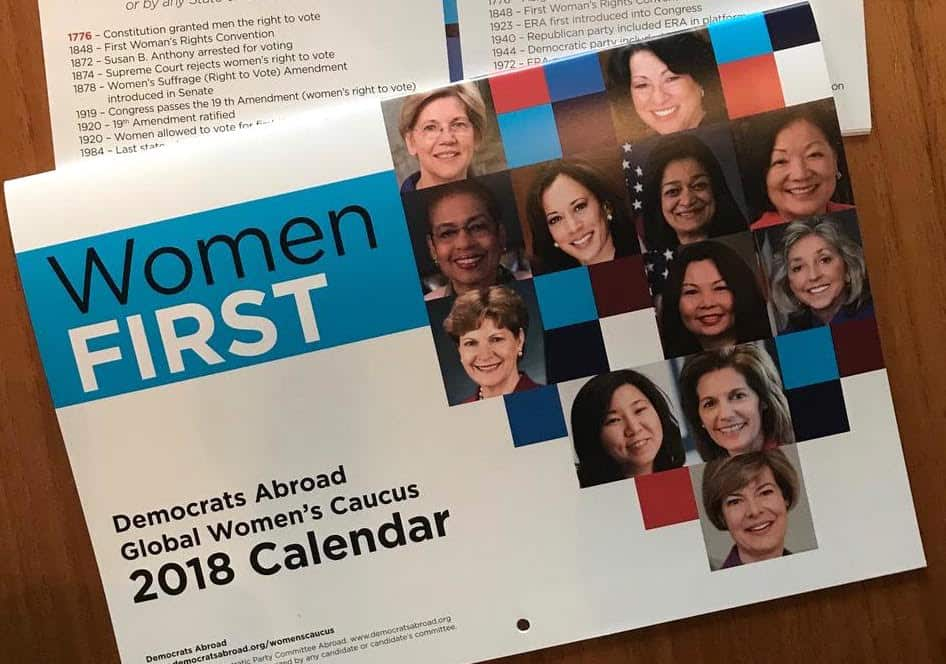 Support Democrats Abroad's women's caucus by buying a high-quality calendar for 2018. Remind yourself to celebrate women's firsts every day of the year. These make wonderful gifts and are shipping now! ▶︎Order yours today
Upcoming Events
Democracy Now!: Covering the Movements Changing the World with journalist Amy Goodman
Sat. Nov 18, 2017, 7:30-9:30pm
Festsaal Kreuzberg, Am Flutgraben 2, 12435 Berlin
Facebook (Please note: this is not a Democrats Abroad event)
Women's March Anniversary
Sat. Jan 21, 2018 - save the date!
We're planning to celebrate and re-energize by commemorating the anniversary of the Women's March with events in Berlin, other parts of Germany, and around the world. To get involved, contact [email protected]
2018 Annual General Meeting
Fri. Feb 23 - Sun. Feb 25, 2018
Stiftung Kultur Palast Hamburg, Öjendorfer Weg 30a, 22119 Hamburg, Germany
Every year members of Democrats Abroad from all over Germany gather in person to discuss issues in the U.S. and plan our activities for the coming year. With midterm elections quickly approaching, join us in Hamburg to learn more about how you can be an active part of getting out the vote, meet other Democrats living in Germany, and shape the organization.
▶︎Details