Saturday, May 14 through May 15, 2022
WEBEX ONLINE EVENT - RSVP TO GET THE LINK
AP PHONEBANKING Action hours
RSVP
Phone banking party on Sunday May 15 - see local AP times below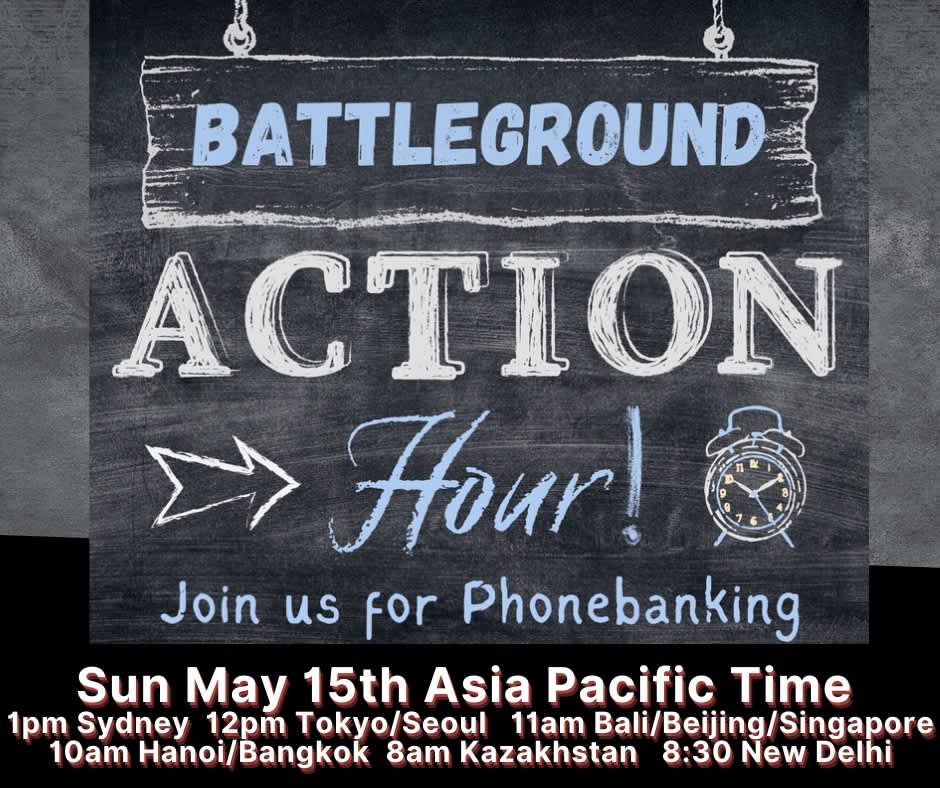 Phonebanking is the most effective way to turn out the DA vote - let's do it together! 
 After reviewing the campaign script, WE WILL MAKE CALLS. Join this session with phone bankers from throughout the Asia Pacific - after a few calls you can see just how easy it can be. 
Hosted by the Asia-Pacific GOTV team – but any Democrats Abroad members can join!
Help us broaden our reach and deepen our impact by introducing another phone banker from your country committee to this event. 
Sun May 15 => see below for Asia Pacific Local Times
Auckland: 3PM

Sydney: 1PM

Tokyo/Seoul: 12noon

Bali/Perth/Hong Kong/Beijing/Taipei/Singapore: 11AM

Hanoi/Bangkok: 10AM

New Delhi: 9:30AM

Kazakhstan 8AM
Facilitated by  Anne O'Connell, DA Kazhakstan
RSVP to get the Webex link
WHEN
Saturday, May 14, 2022 at 11:00 PM Eastern Time (US & Canada) Time through May 15, 2022
WHERE
CONTACT
Sarajean Rossitto
[email protected]
4 RSVPs