The Berlin chapter of Democrats Abroad Germany elected its new board in February 2021 for a two-year term. We look forward to working hard the next two years to mobilize American voters in Berlin!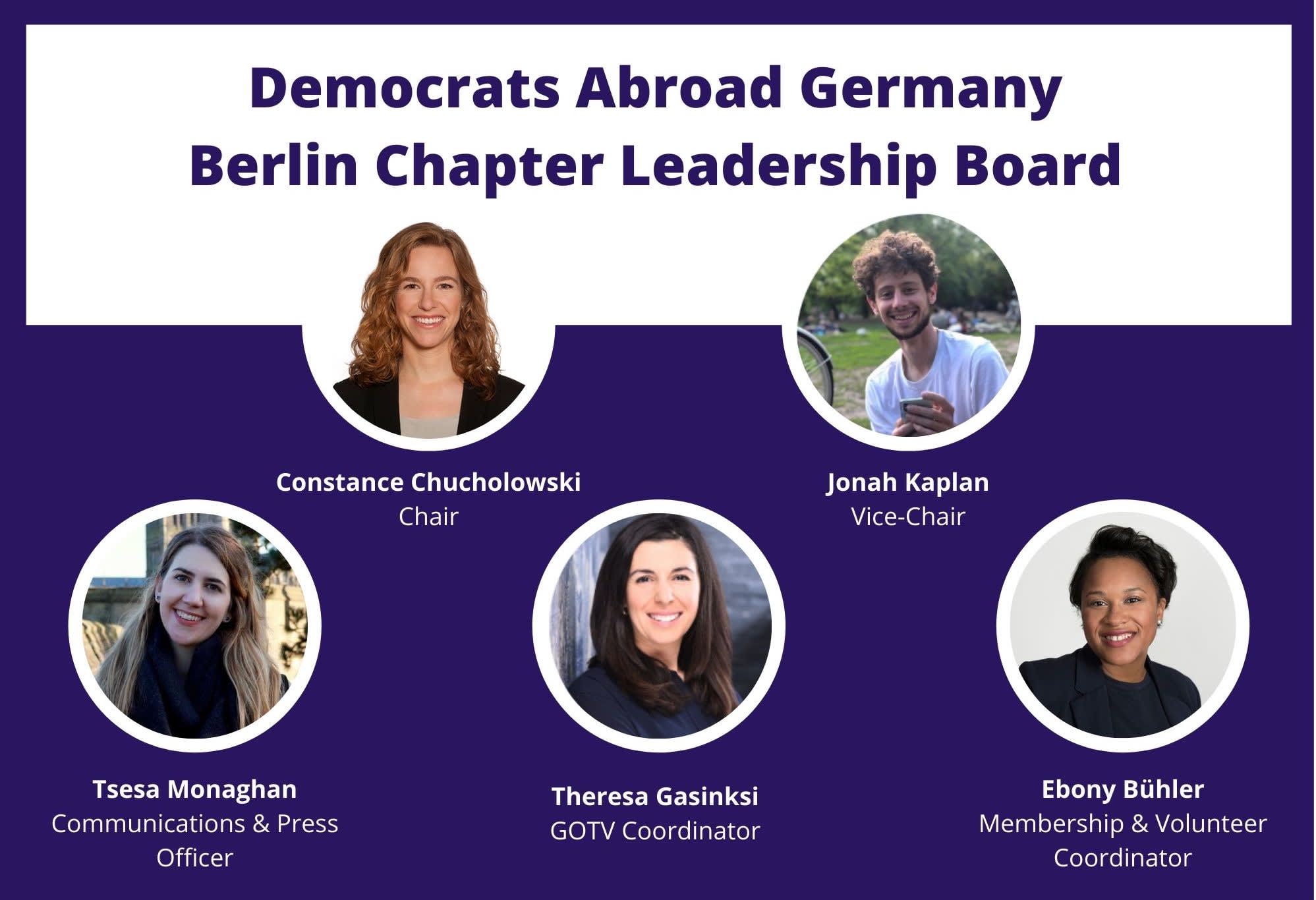 Board Introductions
Chair: Constance Chucholowski
Hometown: San Diego, CA, but I vote in Wisconsin : )
What brought you to Berlin?: I moved to Berlin to work in international policy advising in 2014.
Why did you join DA Berlin?: I joined DA Berlin within a month of moving to the city, because I needed a political outlet; I've been involved in campaigns and political activism since I can remember.
Vice-Chair: Jonah Kaplan
Hometown: Minneapolis, MN
What brought you to Berlin?: In 2018 I was traveling between Minneapolis and Berlin for work, and in 2019 I was fortunate to have the chance to move here full-time.
Why did you join DA Berlin?: I was looking for ways to stay involved in US politics leading up to the 2020 election and was amazed at the number of highly engaged expats, especially in Berlin.
Communications & Press Officer: Tsesa Monaghan
Hometowns: Portland, ME & Mankato, MN (vote in MN!)
What brought you to Berlin?: I studied abroad in Berlin in 2012 and always dreamed of coming back. I've been living in Berlin since 2017 and currently work in German politics.
Why did you join DA Berlin?: I've been a member of DA since I first voted from Erfurt, Germany in 2016, but I got more involved with DA last year. I've loved being a part of a community of engaged Americans who care about what happens at home, even if we're all living abroad.
GOTV Coordinator: Theresa Gasinski
Hometown: Chicago suburbs
What brought you to Berlin?: After joining the non-profit Teach for America and spending three years as a fifth grade English teacher, I decided to backpack across Southeast Asia, Australia and New Zealand. I met my now-partner, a German, and we traveled together for six months before deciding to move to Berlin and see if the relationship would work out. Five years later, I'm happy to say it has :) 
Why did you join DA Berlin?: I studied political science as an undergrad and have always been highly engaged in politics as well as civil society. DA was a great opportunity for me to meet like-minded Americans living abroad and continue to pursue my passion for creating a more just and compassionate society. 
Membership & Volunteer Coordinator: Ebony Anchelle Bühler
Hometown: Vote in New Jersey (although I have grown up in Louisiana, Texas and New York)
What brought you to Berlin?: I was a Robert Bosch Stiftung Fellow from 2013-2014 where I fell in love with the country and my now husband. I work for a multinational company and they transferred me back to Germany in 2017. 
Why did you join DA Berlin?: I moved shortly after Trump was elected and knew I needed to stay engaged even though far away from home. I attended a DA Berlin meeting soon after moving back and found the group to be very welcoming and involved. 
Any questions, ideas, or suggestions? Contact the board via email! We're always happy to hear from our members.