Democrats Abroad Stuttgart December 2020 Newsletter
Dear Friends,
This has been a year like none other. COVID, home schooling, home office, social distancing, mask mandates, and
We worked together to elect Joe Biden and Kamala Harris, the first African-American woman to be elected as VP. Thank you once again to all the volunteers who worked countless hours, colored thousands of postcards. made thousands of phone calls and stood in all sorts of weather to let their fellow US citizens know about the up-coming presidential election. Now we are getting the word out to all our fellow Georgians that we can flip the Senate blue on January 5, 2021!
If you would like to show your support for our organization and/or are looking for a great Christmas present, browse our merchandise!
Support our efforts by ordering some Democrats Abroad swag, including a limited-edition Georgia peach tote bag!
A variety of items including Biden-Harris t-shirts, totes, face masks, and buttons are also available in our shop.
All proceeds from your order will help us reach more Georgia voters abroad. 
If you are already stocked with plenty of Democrats Abroad gear, you can still show your support by donating directly: www.democratsabroad.de
Here are a list of upcoming events you may be interested in:
·      Georgia Abroad Voter Assistance will be held on December 12, 13, 19,20, 27 and 29th. Any questions you may have will be answered via Zoom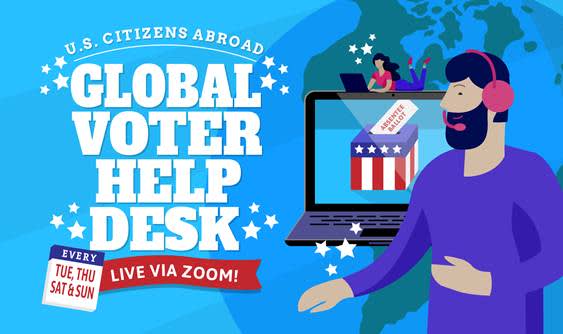 Did you know every eligible American living abroad can vote in U.S. elections? 
·      DA Germany Online Meet and Greet Sunday, December 13, 2020 from 7-9 pm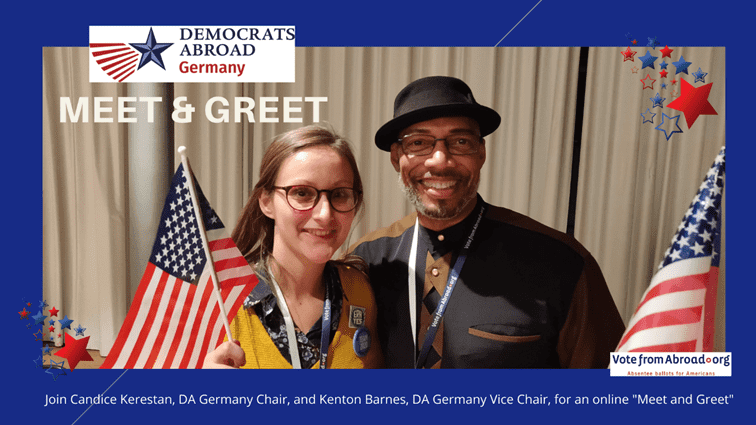 ·      December Book Club: "Our Time is Now" by Stacey Abrams, Sunday, December 13, 2020 at 1 pm via Zoom
·      Stuttgart December Chapter Meeting on Friday, December 18, 2020 at 7pm via Zoom, please RSVP for log-in details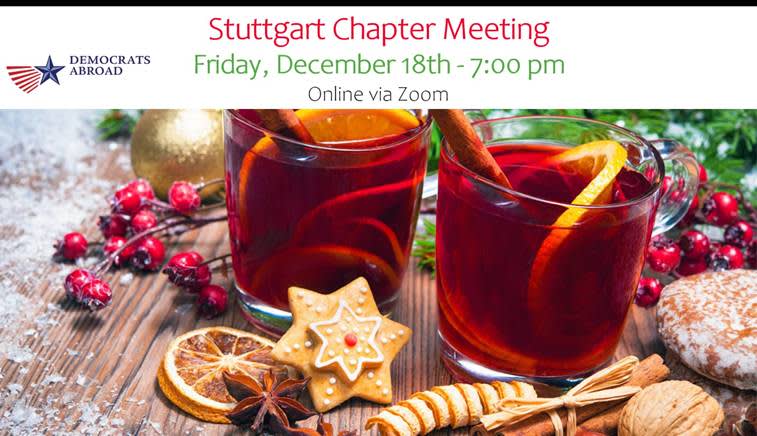 Join us virtually for our December Chapter Meeting. Have your Glühwein and cookies ready; we'll have a nice chat, exchange recipe ideas and get in the holiday spirit together!
Wishing everyone safe, enjoyable holidays and a good start in 2021!
Democratically yours,
Sasha Arrington
Stuttgart Interim Chapter Chair
Democrats Abroad Germany
Do you like this post?