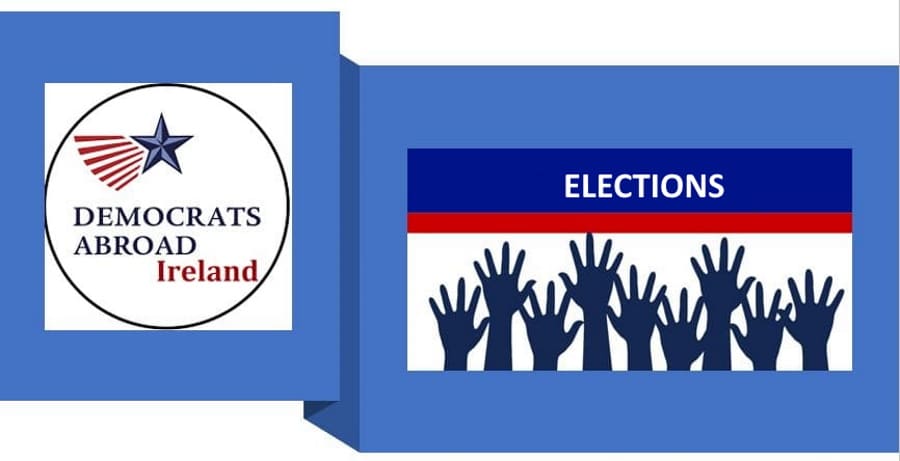 Last Call for Nominations for the Democrats Abroad Ireland Executive Committee Elections 2022!
Nominations close tomorrow, February 1, 2022

The 2022-23 Executive Committee will be elected at this year's Election Meeting on February19, 2022. Tomorrow, February 1, 2022 is the last day to nominate or be nominated for a position before the election meeting.
The 2022 Nominating and Elections Committee (NEC) is seeking qualified candidates (see below) for the following positions on the Executive Committee:
Chair
Vice-Chair
Treasurer
Secretary
Counsel
Up to four Members-at-Large positions, one of whom should be a Young Democrat (age between 18 and 35)
A description of these offices' responsibilities can be found in the DA Ireland's Bylaws about the Executive Committee here.
Qualified candidates are members of DA Ireland. Members may not run for a position for which they just completed two terms.
If you are interested in running for any of these positions or would like to nominate someone:
Please send your name or that of the nominee and a short bio/candidate statement to the NEC at

[email protected]

by February 1, 2022.


All nominations must be seconded via email to the NEC at

[email protected]

by the February 1 deadline.


Information about candidates and their bios/statements will be published on the DA-Ireland website and to members by Email no later than February 5, 2022.
Plus, a reminder to RSVP for the Elections Meeting and AGM on February 19, 2022 at 2 - 4 pm Dublin time. More information is available at the link to the event below.
Elections meeting and AGM Link: Please RSVP before 2 p.m. on Friday, February 18, 2022 to ensure you get the in-person and online information in an email. Everyone who sends an RSVP will receive the link to the remote meeting. Even if you plan to attend in-person, you will be able to log into the remote meeting if your plans change (or if Covid restrictions tighten up).
From the NEC: Barbara Jacobi (Chair), Edwin Koenck and Randolph Cecil (Sub-chairs)
Do you like this post?