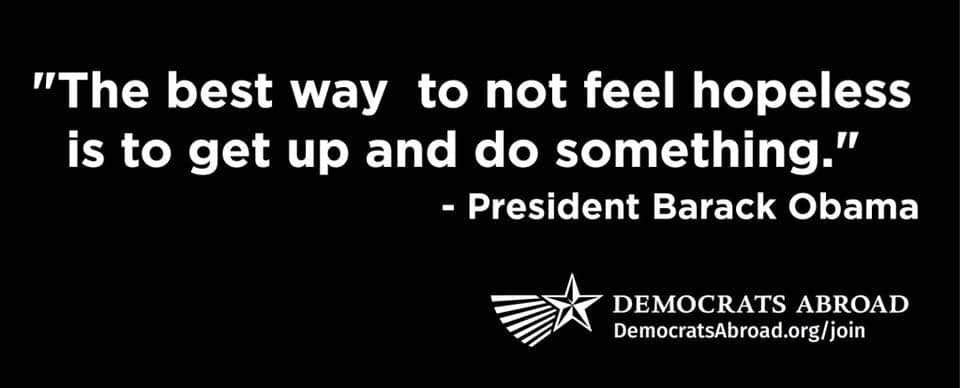 In this Issue –
Events
Issues and Actions
Women's March One Year Anniversary – Rally

DA Taxation Tax Force Year-end Update

Overseas Voters Must Register Every Election Year

January Registration Drive

DAA Needs Your Help

Join Us at Democrats Abroad Regional Meeting!
Members Corner
Upcoming Events at the Republikanischer Club – Neues Österreich
---
A Note from DA Austria –
Democrats Abroad is thrilled that 2018 is finally here and we can get to work helping people to get registered, request their ballots, and create a blue wave in November.
The past year has shown us that despite dark times, not only does resistance work but that literally every vote matters. Therefore, over the next eight months we'll be planning many get-out-the-vote, social, grassroots, and fundraising events – we hope to see you!
DAA is making a strong effort to include all the information you need to stay up to date in our monthly newsletter in order to avoid the flood of emails that occurs in an election year. By sending you fewer emails, we hope you will read those you receive. Also check out our website and Facebook page for the latest news.
Happy New Year! We look forward to working with you in 2018 to generate the biggest turnout ever of overseas voters for Democratic candidates in elections right across the country. Request your ballot today and start the year off well as we head towards winning back the Senate and House.
– Jennifer Rakow-Stepper, DAA Chair


EVENTS


MARCH TO THE BALLOT BOX – 365 DAYS OF ACTIVISM Rally
Women's March One Year Anniversary – Vienna
One year ago, women in Washington DC and around the world changed the face of 2017 and began the resistance movement that has successfully thwarted many of Trump's and Congress's plans.
A year later, from San Francisco to Washington and from Berlin to Vienna, thousands of people will hold marches and rallies. We're organizing a rally (and a flashmob surprise) on January 21 (see event info above) to remind everyone to March to the Polls and commemorate 365 Days of Activism. Bring a poster. Bring your pussy hat. Bring your friends, family, and loved ones. Join us at the rally! Women's March Global will be doing a livestream of events around the world.
We'll be meeting up afterwards (location tba) to make plans for the midterm election and help folks register to vote. Please be sure to RSVP at democratsabroad.org/at_events.
Remember a year ago? Women in Washington DC and around the world changed the face of 2017. One year later, we'll be having a demonstration (and a flashmob surprise) to remind everyone to March to the Polls and commemorate 365 Days of Activism. Bring a poster; bring your pussy hat; bring your friends, family, and loved ones. 
Women's March Global will be doing a livestream of events around the world. Join us!
We'll be meeting up afterwards at Flannagan's. One year later #daresists  #marchtotheballotbox  


POST RALLY MEET-UP
After the Women's March Rally, Dem's of all ages in conjunction with the Youth Caucus will be taking it indoors to continue the conversation, register voters, and warm up with some food and refreshments. Everyone is welcome! Please RSVP here so we can reserve enough tables.
We'll meet up close to the rally location but the venue is still to be decided. We'll update as soon as it's fixed. 
EXPERIENCED DEMOCRATS MEET-UP
The inaugural meeting of the "Experienced Democrats" group of Democrats Abroad Austria will be held at Café Museum. Although we will be focusing on the interests of our more mature members, all Democrats of all ages are welcome. Questions or comments to John Cahill. Looking forward to seeing you! 
SOLIDARITY SUNDAYS #11 – TAKE ACTION IN 2018
2018 is the year we take our country back. Are you ready to take action and get involved? Join us as we learn from a representative from Democrats Abroad Austria on how we can each do our part to turn the US blue this year. Plus join us for a glass of wine ;-) (or a cup of tea!) https://www.facebook.com/events 


ISSUES AND ACTIONS:
DA TAXATION TAX FORCE YEAR-END UPDATE

Carmelan Polce and other members of DA's Taxation Tax Force work tirelessly throughout the year on multiple campaigns and advocacy initiatives to bring our tax filing and financial account reporting problems to the attention of our elected representatives.
Because of their efforts and the outreach of DA Leaders and members, there isn't a member of Congress on Capitol Hill who doesn't know that there is a laundry list of ways in which the U.S. tax code discriminates against Americans abroad and that the Americans abroad community is determined to make them change that. Year in Review
See below for our further notes on:
the end of the tax reform legislative process;

the remarks published by Rep Dina Titus in the Congressional Record about the need for tax reform for Americans abroad;

the FATCA Repeal lawsuit making application to be heard by the Supreme Court;

the tax reform clean-up bill coming in the next few months; and

the new Taxation Task Force strategic plan.

OVERSEAS VOTERS MUST REGISTER EVERY ELECTION YEAR
Time for voter registration has arrived! US citizens who will be abroad can request their 2018 ballots now at www.votefromabroad.org. One form gets you all your ballots for the year: primaries, special elections and the all-important November election where all 435 members of the House of Representatives and 35 U.S. senators are on the ballot. Think of the opportunity for a new congress!
DA recommends that you register and request your ballot even if you have a "friendly" voter registrar in the States. If you don't re-register your vote could be void.
REGISTRATION DRIVE
We'll be starting off 2018 with a January Registration Drive to make sure that every US citizen in Austria has registered to vote and requested their ballots for the 2018 midterms. We'll have a registration table at the following January events: Post March meet-up on Jan 21 and Sol Sun #11 on Jan 28. Keep an eye out for other upcoming times and locations and make sure to bring your friends.
Indivisible is working hard to get Americans in the States to register. Send the following information to your friends and family back home.
DAA NEEDS YOUR HELP
There is a lot to do over the next few months and we need volunteers to help us get out the vote. Regardless if you can spare a few hours a week or an hour a month, we have something you could help out on. Ready and willing? Contact Jennifer at [email protected]
Current needed volunteer positions:
Get-Out-the-Vote Coordinator (2hrs/week)

Study Abroad Contact Coordinator (1hr/week)

Phonebanking (flexible)

Staff a Registration Table (2hrs/month)
Research Position (to track when US Politicians or Notables are in Vienna) (2hrs/month)
DAA Contact Person for Global Black Caucus (periodic global meetings)

DAA Contact Person for Women's Caucus (periodic global meetings)

JOIN US IN MADRID!
The EMEA (Europe, Middle East, Africa) Region and Democrats Abroad Spain will host a meeting of leaders, volunteers, and members from all over DA's largest region. We expect about 100 participants from countries all around the region and we will focus on strategies and projects to elect Democrats in 2018.
Members of Democrats Abroad from every region are welcome to join us. RSVP below to receive more information as it becomes available. Registration and program details will be available in the next 7-10 days but we encourage you to mark your calendar and make travel plans now.
The three-day program in the heart of Madrid will begin with a session from the Women's Caucus on Friday afternoon, followed by an evening reception highlighting the best of Madrid's culture and food. Saturday presentations, training sessions, and workshops will be followed by a Global Black Caucus Cocktail Reception and a "gala" dinner with a special guest speaker. Sunday training sessions and presentations will end around 1pm.
MEMBERS' CORNER
HAPPENING AROUND TOWN
The Republikanischer Club – Neues Österreich generously lets us use their clubrooms for our DAATalks lecture series. They have a number of interesting readings and events (in German) coming up in January and February.
Do you like this post?