To keep you warm during the colder months with Democratic flare, we are reissuing a NEW collection of hooded sweatshirts to wear and gift ahead of the holiday season! Hip, hip... hooray! 
These are unisex hooded sweatshirts made in Europe. 
For the CLASSIC Democrats Abroad front-pocket hoodie, there are FIVE (yes, five!) colors to choose from : Black, Navy, Heather Grey, Turquoise & Fire Red. 
For the ZIP-UP Democrats Abroad hoodie, there are THREE colors to choose from: Black, Navy & Heather Grey.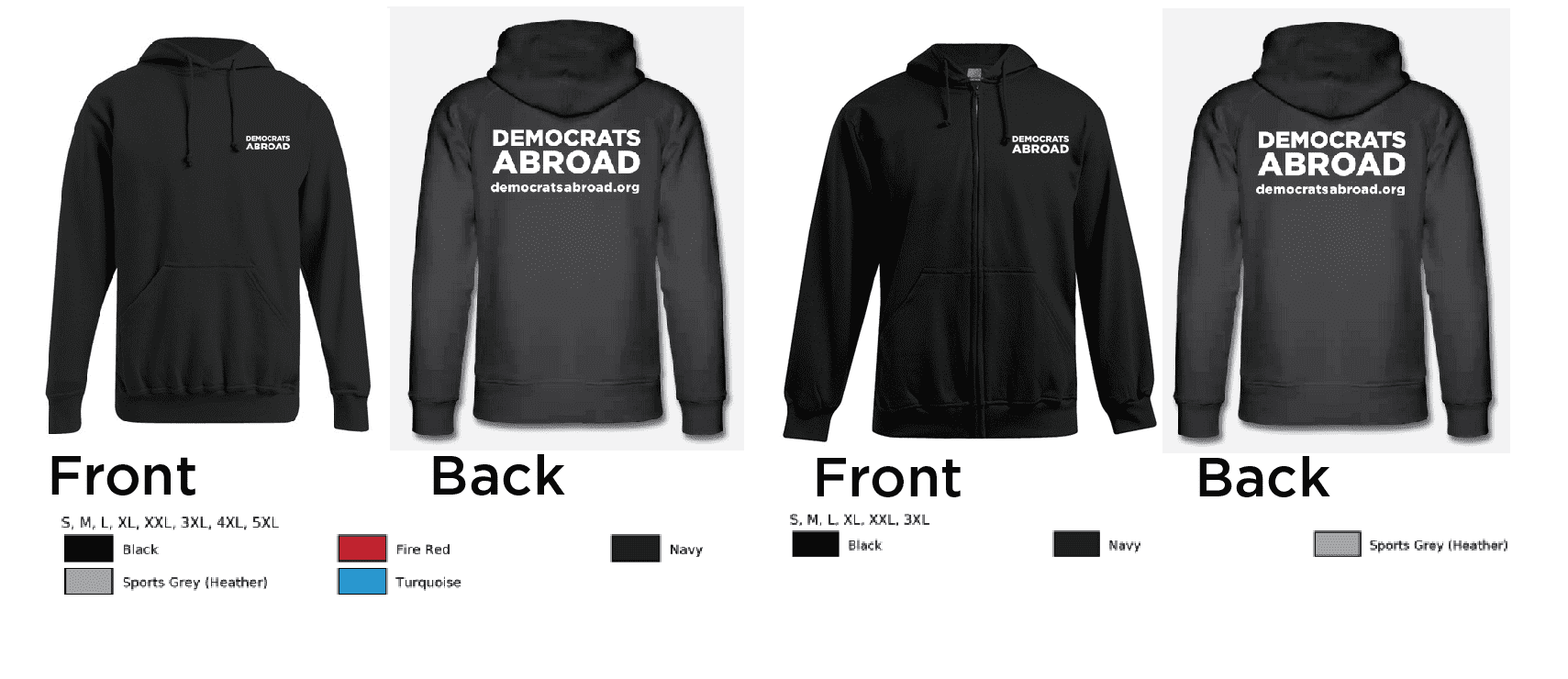 Last but not least, there is our Vote From Abroad Collection! Available as a CLASSIC hoodie or a ZIP-UP hoodie, both available in Navy.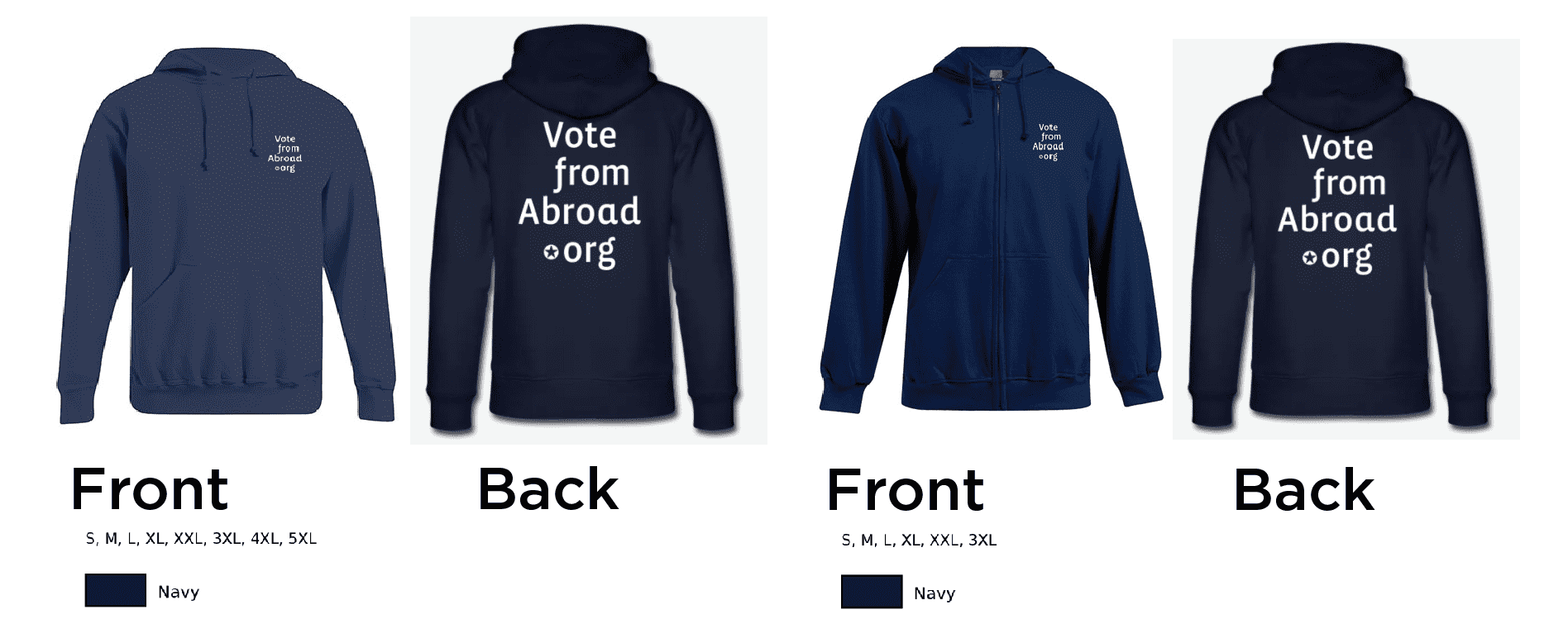 Feeling hot? We're also reissuing a successful series of Democrats Abroad T-Shirts in a rainbow of SIX (yes, six!) brilliant colors. If you're not hot already, these colors could make someone blush. Available in Red, Green, Fuschia, Purple, Orange & Indigo.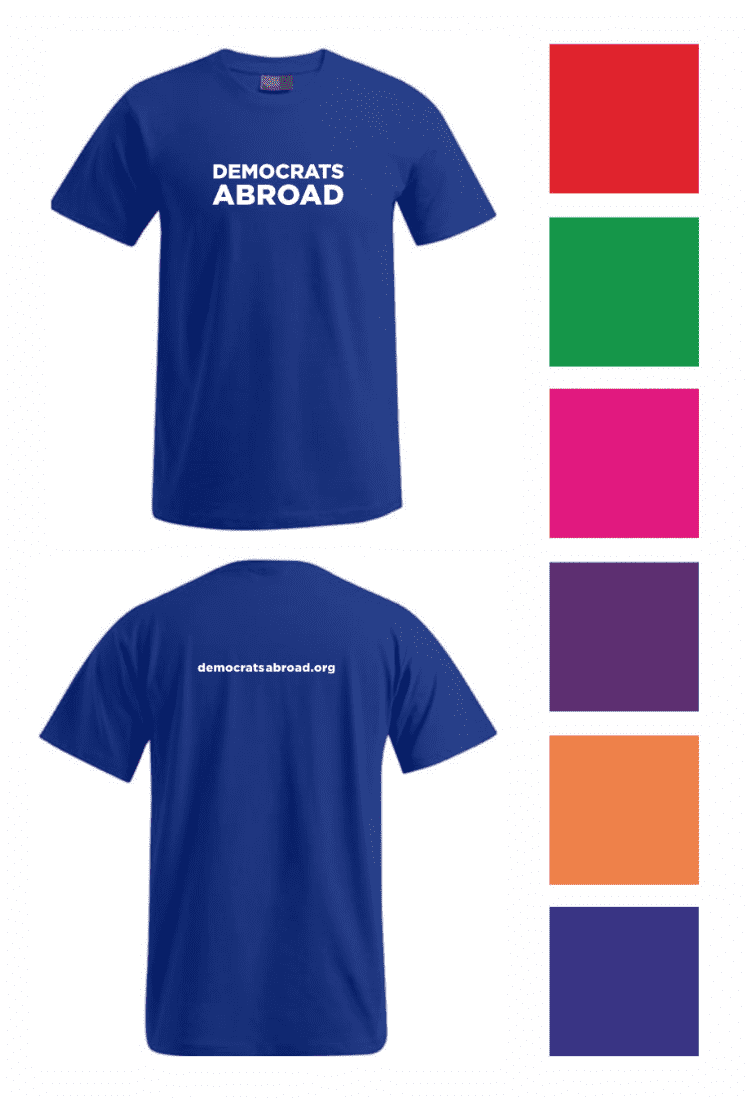 T-shirts come in the following sizes: Small, Medium, Large, X-Large & XXLarge. 
Get them while they're hot! Pre-orders are being taken until November 17th. After November 17th, the merchandise will no longer be available at these pre-order prices! Your purchase will be a donation to one of the most important issues of our time, preserving our democracy. Please consider wearing your support! 
T-shirts: €18 
CLASSIC hoodies: €45 

ZIP-UP hoodies: €50  
Most importantly, thank you all for your continued support! Funds earned from the sales of our merchandise will help us set up more services for you such as primary polling stations and voter registration events. 
CLASSIC & ZIP-UP Hoodie measurements (80% cotton / 20% polyester)

S

M

L

XL

XXL

XXXL

Chest / diameter

53 cm

56 cm

59 cm

62 cm

65 cm

68 cm

Length / shoulder to waist

71 cm

73 cm

75 cm

77 cm

79 cm

81 cm

Length / arm

68 cm

69 cm

70 cm

71 cm

72 cm

73 cm
Do you like this post?