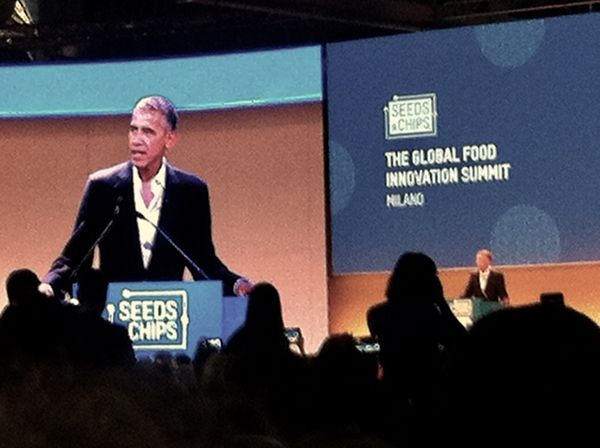 On May 9, Barack Obama spoke in Milan at the Global Food Innovation Summit, and eight members of Democrats Abroad were fortunate enough to be in the auditorium (with 2,000 other people). Past and present DA-Italy leaders Ginger DiGaetano, Claudia Flisi, Theresa Morelli, and Ryan Turner* were in attendance, as were Italy members Laurel Evans, Amie Louie, and  Vicki Satlow.  Evelyn J. Kim, a member of DA-Denmark was also present.
This was President Obama's first time in Italy since leaving the White House, and the media covered his appearance as if he were a rock star. So did the audience, which gave him a boisterous standing ovation as he arrived on stage.
He spoke knowledgeably for about 20 minutes on food and climate change. Then he and his former White House chef Sam Kass sat down for an hour to discuss this theme in more detail, plus the Paris Agreement, the nature of leadership, the impact of technology on food, work, and world security, the politics versus the science of GMOs, the importance of "climate-smart eating habits", the pros and cons of industrial farming, the role of the private sector in agriculture, and why he and Michelle hope to come back to Italy "often" in the future.
Obama was eloquent on every subject and smoothly summoned facts and figures to back his assertions. He emphasized his desire to work with young people because they will be the policy makers in the years ahead. He notably avoided direct comment on current US policy, other than conceding that he disagreed with it and that he hoped the Paris Agreement would be respected. He ended on a note of optimism, observing that history does not move in a straight line but rather zigs and zags before progress can be achieved. (This is a paraphrase of a famous quote by Dr. Martin Luther King, "The arc of the moral universe is long, but it bends towards justice.")
...history does not move in a straight line but rather zigs and zags before progress can be achieved. 
The optimism that welled through the hall when Obama finished was palpable. DA – Italy is optimistic that both Obamas will return soon and inspire all our members to bend the Democratic arc to justice, starting with the midterm elections of 2018.
Many thanks to:
• 3-D food printer Bocusini for donating a delicious marzipan bust of Obama to Democrats Abroad (see below). It will be up for auction at DA-Milan's upcoming wine-tasting event on May 27, so you can taste Obama's visit without having been there.
• Stefano Caccavari, founder of artisanal mill Mulinum, for his generous assistance to DA-Italy at the Obama event.

* Ginger DiGaetano is current vice chair of DA-Italy. Claudia Flisi is a past chair and vice-chair of DA-Milan. Theresa Morelli founded the DA-Milan chapter and is former DA-Milan and DA-Italy chair and is currently DA-Milan co-chair. Ryan Turner is current chair of DA-Italy.
Article Credit: Claudia Flisi, former DA Milan chair.
Do you like this post?