Monday, July 17
ajijic, Mexico
July 17 Meetup: Saving Democracy
RSVP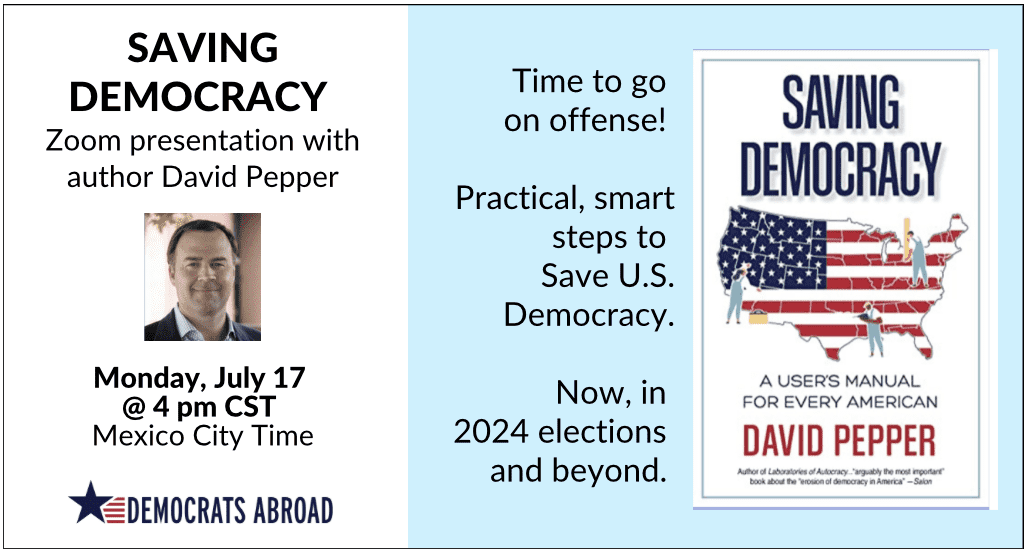 JOIN US AT THIS MONTH'S THIRD MONDAY MEETUP via ZOOM...

As author David Pepper takes us through his new book, Saving Democracy: A User's Manual for Every American.
Most importantly, he provides the inspiration and specific solutions you've been looking for.
RSVP now so we know about how many people will attend. 

Thanks for doing what you do to Save Democracy!
---------------------------
About our presenter:
DAVID PEPPER is a lawyer, writer, political activist, former elected official, adjunct professor—and served as Chairman of the Ohio Democratic Party (2015–2021).
He has engaged in numerous voter suppression and election law fights. Based on this work, David appeared in All In—the documentary highlighting Stacey Abrams' nation-wide fight for voting rights.
He has written several books, including Laboratories of Autocracy, about the countrywide attack on U.S. democracy.
REMINDER: This is a ZOOM-only presentation. 
WHEN
Monday, July 17, 2023 at 04:00 PM Mexico City Time
CONTACT
Colleen Beery
[email protected]
61 RSVPs